Online mortgage lenders have grown in popularity in recent years—and with good reason. But there are also downsides. Here is everything you need to know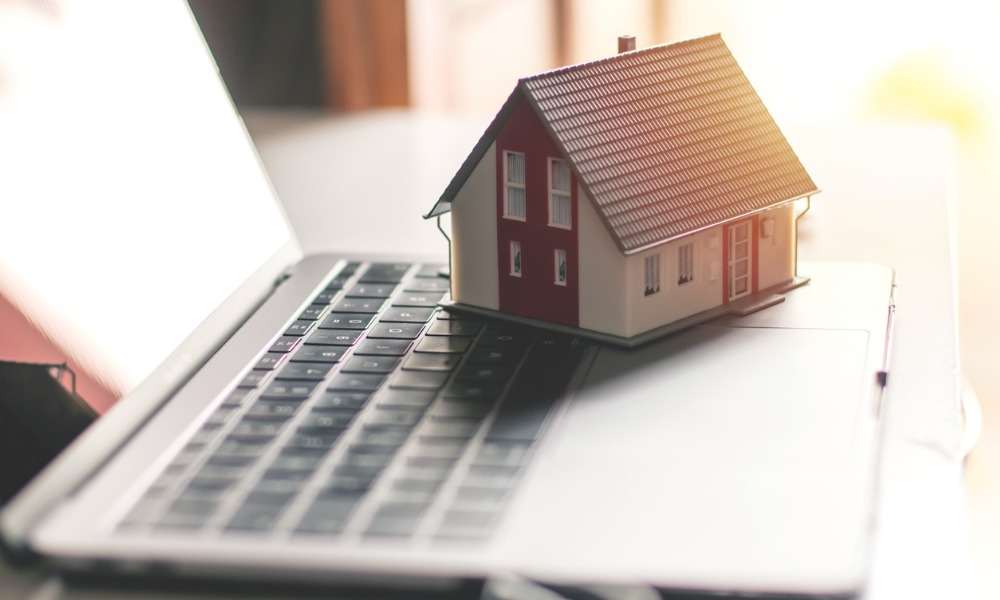 Twenty-five years ago, turning to online mortgage lenders to secure a home loan would have been taboo, if they were offered at all. Now, due to changes brough on by the COVID-19 pandemic—such as young people moving to rural areas where home prices are more affordable—and shifting demographics, online mortgage lenders are more popular than ever.
Despite this rise in popularity, questions and concerns surrounding online mortgage lenders remain. One major question is: Are online mortgage lenders reputable and therefore trustworthy? Another question is: How do rates compare between online mortgage lenders and traditional brick-and-mortar lenders?
If you do decide to go the online route, we also have a list of the top 10 online mortgage lenders below!
Due to the factors discussed above, the demand for online mortgages is higher than ever. According to a study conducted by the Federal Reserve Bank of New York, annual fintech lending also grew by 30%.
Here is a list of the 10 best online mortgage lenders in the US right now (in alphabetical order) and a brief summary of their offerings and requirements:
1. Ally Bank
Ally Bank, headquartered in Utah, offers competitive rates and closing fees from 2% to 5% of the home loan. While offing limited line up of loan products (excluding FHA, VA, and USDA loans, Ally Bank boasts one of the fastest pre-approval times among online mortgage lenders—about three minutes. First-time home buyers can also use Fannie Mae's HomeReady program through Ally Bank.
2. Better.com
Based in Virginia, Better.com is a 100% online mortgage lender, from the loan application process to closing. Better.com is also up 24/7, meaning you can manage your mortgage application any time. This lender's rates are competitive, and they offer a transparent computation system in real time. Due to the absence of underwriting and origination fees, Better.com's closing costs are lower than its competitors by 1%—equivalent to $19,000 average savings over the loan's life.
3. eClick Lending
eClick Lending, which is based in Oakbrook Terrace, Illinois, is an online mortgage lender that loans between $1 and 2$ billion each year. eClick Lending offers both conventional loans and government-backed loans, as well as refinancing. It usually takes less than 24 hours to get mortgage pre-approval and it takes 15 days on average to close. And depending on your financial situation and if you are in good standing with your payments, eClick Lending clients may receive a discount on costs.
4. Homefinity
Headquartered in Madison, Wisconsin, Homefinity is an online mortgage lender that is licensed in 48 US states (excluding New York and Nevada) and Washington, D.C. Launched in 2018, Homefinity stands out with its speedy underwriting process—with closings for a purchase averaging about 30 days. This online lender also gives you the option to refinance and offers guidance from a loan officer, who you will likely work with throughout the entire process.
5. loanDepot
loanDepot, which is headquartered in California, is one of the largest non-bank lenders in the US and offers a wide selection of mortgage products. Not only does loanDepot cut down on paperwork, but, in some cases, its fintech solution cuts down on the need for home appraisals, which can speed up closing by as much as 17 days. If your property was originally financed by loanDepot, you can also enjoy zero refinancing fees.
6. Mr. Cooper
Formerly Nationstar, Mr. Cooper is a non-bank mortgage originator and servicer that was founded in 1994 and is based in Coppell, Texas. Among the mortgage options offered by Mr. Cooper are low-down payment conventional loans, investment property loans, and FHA and VA loans—as well as free 45-day rate locks. If you are buying a new property with a conventional loan, Mr. Cooper also offers a close-on-time guarantee.
7. New American Funding
New American Funding, which is based in Orange County, California, has over 170 branches across the US. New American Funding is focused on minority communities and aims to provide $25 billion in loans to Hispanic borrowers by 2024 and $20 billion in loans to black borrowers by 2028. New American Funding's loan program I CAN Mortgage lets borrowers choose their repayment period between eight and 30 years.
8. Sebonic Financial
Sebonic Financial, a division of Cardinal Financial, is a privately held lender and is based in Charlotte, NC. Sebonic Finacial's proprietary technology, Octane, provides borrowers with the ability to drag-and-drop documents and sign e-signatures, as well as real-time updates.
9. SoFi
Since it began offering mortgages in 2014, SoFi has funded more than $50 in loans, everything from auto loan refinancing to wedding loans. SoFi offers a wide range of services, from credit cards, investing, and checking accounts for over four million members. If you want, and are eligible for, a mortgage, you can pre-qualify through SoFi online in under two minutes. SoFi usually issues conditional approvals in one or two business days. Currently, closing purchases average 30 days.
10. Tomo
A relatively new name in the mortgage business, Tomo was founded in 2020 and has since expanded to numerous states and Washington, D.C. While it does not offer refinancing, Tomo offers unique points of differentiation, which includes 120-day rate locks, a price-matching program against competitors' offers, and an offer to save $750 on closing costs if you work with one of their affiliated real estate agents to find a property.
The short answer is, yes, you can get a mortgage entirely online. In fact, most lenders offer mortgages online, and it has become one of the best ways to shop around. Securing a home loan online has become so popular it has led to substantial housing growth over the last 10 years.
But getting a mortgage entirely online is not perfect; it can come with significant downsides. There are still scams that happen online targeting the mortgage industry and it can be frustrating to get a home loan from a major online lender if they offer weak customer support. This caution is not meant to deter you but is merely a reminder that you should consider whether getting a mortgage online is the right fit for your situation.
Let's look at some of the benefits and drawbacks of getting a mortgage entirely online. First, the benefits:
Lower rates and fees
Less time-consuming
Easier approval
Here is a closer look at each of the benefits of getting a mortgage entirely online.
1. Lower rates and fees
Because they usually have less overhead than brick-and-mortar banks, online mortgage lenders are often able to pass on savings to their customers such as lower fees or lower interest rates. You might be able to save thousands of dollars over the life of your home loan if an online lender offers you a rate that is even a quarter of a percent lower than what brick-and-mortar lenders offer.
2. Less time-consuming
For most traditional mortgage applications, you are obligated to provide your lender with a lot of paperwork and a long list of documents (and copies). This part of the process alone can take days or weeks, since it can be time-consuming to track down tax forms and statements.
Online lenders, on the other hand, usually simplify this process. Rather than making copies of financial documents such as tax returns, you can simply upload them online. It is a very simple way to speed up an otherwise lengthy process.
3. Easier approval
Credit scores play a significant role in determining whether you will qualify for a home loan. Conventional loans, as well as FHA, VA, and USDA loans, each have minimum credit requirements; but, to weed out borrowers who are a potential credit risk, individual mortgage lenders can raise the credit requirements. While it is not a sure thing, online lenders may be more willing to grant you a loan if your credit is less than ideal.
Clearly, there are benefits to getting a mortgage entirely online. However, there are drawbacks as well. Here is a quick look at a couple of those:
More difficult to get help
Rates are not guaranteed
Here is a closer look at the drawbacks of getting a mortgage entirely online.
1. More difficult to get help
When you are applying for a mortgage through a more traditional lender, local bank, or a broker, a major perk is being able to pick up the phone to ask someone if you have any questions throughout the process. And asking questions is quite common, since the process can be quite complex. If you get a mortgage through an online lender, however, it may be more difficult to speak with someone directly when you have a question or need assistance.
2. Rates are not guaranteed
Choosing an online mortgage lender for the lower rate on offer may backfire—it may very well turn out that you are ineligible for that deal. There are no guarantees. And if you are already well into the process, you may find it is too late to back out, meaning you will wind up paying more for your mortgage than you had originally planned or budgeted for.
What is the easiest type of mortgage to get approved for?
Low-income home loans are the easiest type of mortgage to get approved for in the US. Low-income mortgages are for low-income home buyers who are struggling with debt, low credit, and large down payments. Low-income home loan programs usually help buyers in these ways:
Lowering down payment requirements
Reducing closing costs
Discounting mortgage insurance
Offering more affordable interest rates
Offering more flexible credit requirements
In fact, many low-income home loan programs prohibit home buyers with incomes above a certain level from participating.
Among the low-income home loan programs available in the US, a Federal Housing Administration (FHA) loan is perhaps the easiest type of mortgage to get approved for. FHA loans are funded by approved lenders and are for home buyers with a credit score of less than 620. For this reason, FHA loans are perhaps the best option for buyers who are unable to reach the 620-credit threshold required by most conventional loans or who struggle to pay for the closing costs on a loan.
In fact, you can qualify for an FHA loan if you have a credit score as low as 500. You should be aware, however, that you may have to make a larger down payment. Regardless of your down payment or your credit score, all borrowers must pay upfront and annual mortgage insurance premiums. If you get an FHA loan and put down a minimum of 3.5%, you will have to pay FHA mortgage insurance for the life of the home loan.
Typically, yes—online mortgage lenders have lower rates compared to more conventional brick-and-mortar lenders. The reason online mortgage lenders can offer lower rates is they generally have less overhead than brokers or banks. Many online lenders therefore boast that they can pass on those savings to you, the customer, often in the form of lower fees and lower interest rates.
Usually, yes, online mortgage lenders are trustworthy. As with any significant loan, mortgage or otherwise, it is critical to conduct your research to ensure that your online lender is reputable and therefore trustworthy. If so, loans from online lenders are usually as safe as loans originating from larger banks, lenders, or brokers.
How do you determine whether a lender is trustworthy? Most reputable lenders—whether online or not—check your credit, disclose the costs and terms of the mortgage loan, and check to verify that the home loan will not destroy your finances before approving your application.
Not necessarily. In fact, there is no definitive answer to whether online mortgage lenders have better rates than banks. The reason is that the mortgage rate that you are ultimately offered is based on various factors, such as your credit score, your current debt, and the location of the home. Other factors that determine the rate you receive include the down payment you make and the size of the loan you want to apply for.
There are many perks to securing your mortgage online. Because they have lower overhead costs, they can transfer those savings on to customers in the form of better rates. You may also find that getting your mortgage online is less time-consuming and even easier to get approved for.
However, there are also drawbacks. Before committing yourself to getting your mortgage online, do your research, such as checking in on what the best mortgage lenders in your area can do for you. That way you can find the option that best fits your financial situation, both now and in the future.
Have experience with online mortgage lenders? Let us know about your experiences in the comment section below.