We examine the most popular loan products for home renovation projects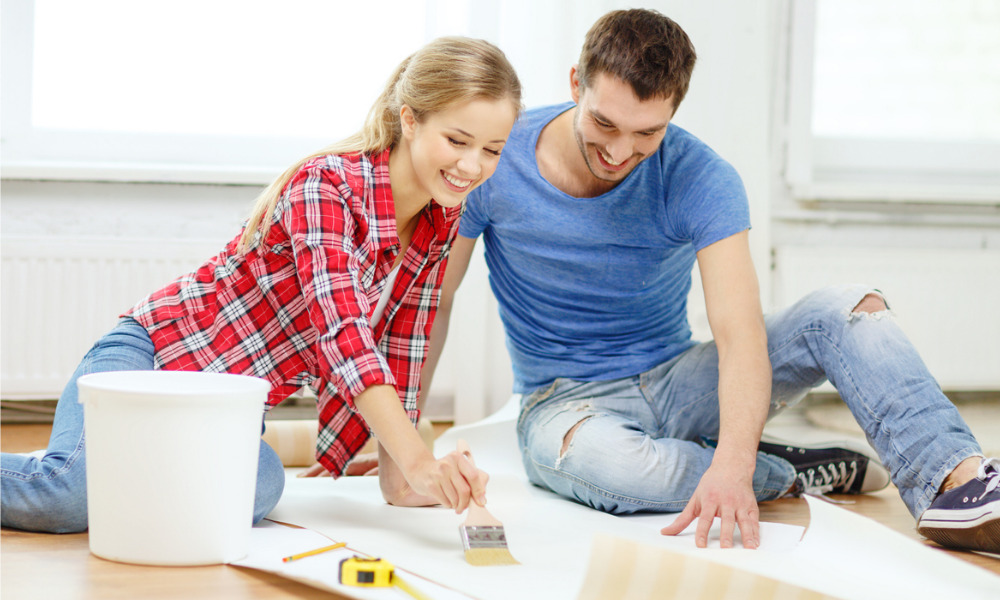 Renovating your home is a great way to increase your property's value – however, home improvement projects can be expensive and financing them may require you to take out a loan.
Fortunately, banks and non-bank lenders offer different types of home improvement loans to front the cash that you need, though interest rates can be higher than most conventional mortgages.
Here are the most popular loan products for home renovation projects and their respective pros and cons.
Read more: Coronavirus shutdown couldn't foil home renovation plans this year
1. Home equity loans
Home equity loans, or HELs, use the equity in your property as collateral, This means a lender can legally take possession of your home if you default on your loan.
However, as a secured type of loan, you can qualify for lower rates on HELs since the risks are lower from a lender's standpoint. Perhaps the trickier part is understanding how equity works and how much money you will get.
Equity refers to the portion of your home that you own based on its market value, less the amount of any liens attached to it. For instance, you have $100,000 in equity if your home value is $400,000 and your remaining mortgage balance is $300,000. As you make more monthly payments, your equity will increase until you own the property completely.
Homeowners can borrow up to 85% of their home equity on average, though some lenders will allow up to 100%. For example, if you have $100,000 in equity, you can expect to borrow around $80,000 to $100,000 but not any higher.
If you meet the requirements and pass the extensive underwriting process, you'll get your money in one large lump sum that you can use to fund your home improvement project.
Pros:
Fixed rates are lower than other home improvement loans
Longer loan terms that can last between five and 30 years
Suitable for funding big projects like remodels
Cons:
Most lenders and credit unions charge additional closing costs
You need to make a second monthly repayment if you still owe part of the original mortgage
2. Home equity lines of credit
Also known as HELOCs, home equity lines of credit can also be used to finance your home renovation. It is largely similar to a HEL, but it functions more like a credit card.
Borrowers can get a pre-approved limit from a lender. Once you pay it back, you can borrow from it again.
Like HELs, HELOCs are secured against your home equity. Most lenders will require you to have at least 20% equity in your home to be eligible, and you can borrow up to 85% of your equity once you qualify.
The biggest difference between HELs and HELOCs is that you don't receive a lump sum with the latter. Instead, you can borrow from it up to the credit limit to finance your home improvement expenses.
Hence, interest accrues based only on your outstanding balance and not the maximum limit. In other words, you are not borrowing or paying for money that you don't need yet.
Pros:
Borrowers access funds on an as-needed basis
Fixed loan term that lasts between five and 20 years, on average
Minimal closing costs and origination fees
Cons:
The underwriting process is longer than HELs and simple personal loans
Interest rates are adjustable and usually higher than HELs
Read more: More borrowers using home-equity loans for renovations
3. Personal loan
If you don't have enough equity in your property, you can consider getting a personal loan to finance home improvements. You can apply with most retail and private lenders and qualify without using your home as collateral, as long as you have a good credit history.
Borrowers with a FICO credit score of 720 or above will likely get an annual percentage rate (APR) of 11.8%, according to finance company NerdWallet. On the other hand, people with a score of 630 and below have an estimated APR of around 30%.
As an unsecured loan, you can also obtain a personal loan much faster than HELs or HELOCs, but the repayment term is also much shorter at just two to five years. Closing fees are typically higher as well.
These loan terms might sound unfavorable, but personal loans are more accessible than most other loan types on this list. They are suitable for funding emergency repairs like a damaged heating system or broken water pipes.
Pros
Fast application process and possible same-day funding
Suitable for emergency home repairs
Does not use your home as collateral
Cons
Higher interest rates and shorter repayment term
Interest rates heavily rely on credit history
Some lenders have steep late fees and prepayment penalties
Read more: HELOCs remain the renovation financing option of choice for many
4. Cash-out refinancing
This type of mortgage refinancing taps into the equity you've built in your home. In a nutshell, you have to replace your original mortgage with a bigger one to receive cash.
For example, let's say you've already built $100,000 in equity but still owe $200,000 from your mortgage lender. If you want to make renovations worth $30,000, you can get a cash-out refinance to pull that amount.
When finalized, the equity in your home will be lower at $70,000 while your new mortgage will have an outstanding balance of $230,000.
Refinancing may also be a good opportunity to get a lower mortgage rate if you bought your house when interest rates were higher.
"A cash-out refinance can be a good option to finance your home improvements without adding a separate monthly payment to your budget," says Rocket Mortgage. "But you will be further away from paying down your mortgage."
Pros
You can use the money for debt consolidation
Interest rates are lower than HELs and HELOCs
Cons
You will pay for mortgage insurance if the new loan exceeds 80% of your home's value
Paying off your mortgage will take longer
5. FHA 203(k) rehab loan
Similar to cash-out refinancing, FHA 203(k) bundles your home improvement costs and mortgage into a single loan.
As a loan product backed by the US Federal Housing Administration (FHA), it allows low- to moderate-income borrowers to purchase homes that are in need of repairs. Essentially, you will rehabilitate an existing property and it will become your primary residence.
Moreover, you don't have to be a first-time homebuyer to qualify for this government-insured loan. Your down payment can be as low as 3.5%, and you may qualify with a credit score of at least 500.
Note, however, that the FHA is the insurer and not the lender. You must find an FHA-approved lender to start your application.
Moreover, not all home improvements and major structural repairs are eligible for the loan. All renovations must also be completed by a licensed contractor, subject to approval by an FHA appraiser or a consultant from the Department of Housing and Urban Development (HUD).
Learn what is a cash-out refinance FHA, and how does it work in this article.
Pros
Low down payment and credit score requirement
Has lower closing costs than other home improvement loans
Cons
You will pay mortgage insurance upfront and on a monthly basis
Intended only for fixer-upper homes and older properties
Not for DIY home renovations
Read more: A way into the $500 billion home improvement market
What is the best loan for home improvement?
There's no single answer to this question since it largely depends on your renovation needs and financial situation.
For home repair emergencies, getting a personal loan is a viable option because of its fast application and approval process. However, you should carefully weigh the benefits against a potentially high interest rate.
If you don't need the funds immediately, you might consider getting an HEL or HELOC. Interest rates are generally lower, but that amount you'll get may not be substantial if you haven't built much equity.
Getting a cash-out refinance is another option that taps into your home equity. Just note that you are exchanging your current mortgage for a bigger one, so loan terms and interest rates may be different.
Lastly, an FHA 203(k) may work for you if you're looking to buy a home and renovate it at the same time. Its eligibility requirements are lenient, but FHA rules limit the use of money for specific home improvement projects only.