Problem-solving is her superpower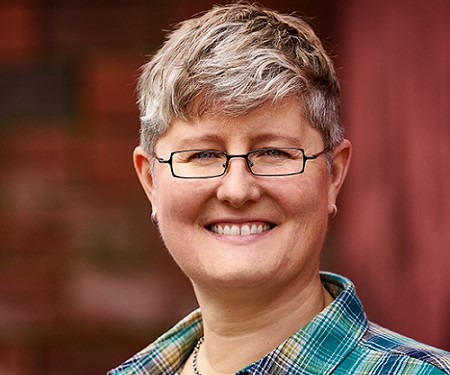 There are (at least) two ways to look at mortgage loan originators. One is as a trusted advisor, making a massive impact on people's lives and financial futures; another is as a salesperson, charming referral partners and clients alike, selling themselves to everyone they meet.
Julee Felsman, vice president of mortgage lending at Guaranteed Rate, doesn't really see herself as either.
Yes, she's a trusted advisor, yes, she's a salesperson, but what she loves most about origination isn't the fact that she helps people get into homes or interacts with interesting people—although those are bonuses. It's that each and every day, she's able to solve real problems with high stakes outcomes.
"It's not even a joke to say that my job is, on a very literal level, solving fifth grade story problems: my clients have this much money and this much income and the rules are this and the train left the station going X miles an hour, literally for a living," Felsman said. "You have to know your products, know your loan guidelines . . . and I keep myself abreast of all that so that I can do my job and solve the story problem correctly. And there are story problems that have more than one answer, so I'm oversimplifying it a little bit, but man, I loved story problems in the fifth grade, so now to make a good living doing something that, it's like a dream job."
As an originator, Felsman is process-driven and structured. She didn't move to Guaranteed Rate for their technology advances, but she utilizes their advanced technology options to manipulate the process and increase efficiency in places where it doesn't detract from the client experience, enabling her and her team to spend more time being "inefficient" when it comes to having deep conversations with clients.
She is an "extremely checklist- and process-driven originator" who has checklists for each stage in the origination process. Using checklists ensures that all of the relevant bases are covered and allows her team to provide a consistent level of service.
"We're dealing with these very complex multi-step processes, and operating off of the checklists just seems absolutely not just logical but almost imperative to make sure we're living up to responsibilities to our employers and our clients to get everything right," Felsman said.
She also stressed that the checklists are living documents, meaning that they can be changed at will when something goes awry. The first task is to make things right for the client, but the next task becomes looking at the checklist and seeing where in the process the problem could've been avoided. "Then you insert an item onto your checklist and then that problem will never happen again because now, every single time, you're doing whatever thing it was that would've avoided that problem."
Felsman spent most of her career working in-house at a real estate office. Because she was a rookie and wasn't surrounded by other originators, she decided to find a niche and became an expert in 203k loans. This gave people a reason to reach out to her and it also boosted her confidence, which in turn gained her more clients. Ultimately, she said, she's a bit of an introvert, and she had to figure out how to get what she needed from the industry with that in mind.
"A lot of the training in the mortgage origination world is around sales. I don't like sales and I don't like being sold to, and I really don't like thinking of myself as a salesperson (although I'm willing to admit that that's what I am at the end of the day), but there's room in this industry for people who want to take a more consultative approach," Felsman said.
Throughout her career, she rejected the notion that there is a prescribed recipe for success as she ran up against trainings and scripts that didn't work for her. It wasn't that they weren't effective, but they weren't authentic to her personality. As with any other endeavor, she had to learn to play to her strengths.
"You can pay a lot of people a lot of money to tell you how to do something or give you scripts. I see a lot of scripting where, if I opened my mouth and said that, it would just sound so inauthentic and so weird that nobody would do business with me. People would literally run the other way," Felsman said. "Figure out why you're doing this, what it is that makes you happy about it. The problem solving is my thing, both the individual transactions, but the business has turned into a problem solving puzzle for me, how to work efficiently as a team, that's what I really love. And so if you don't figure out your why, or what it is that has you showing up every day, it's going to be hard."
Another way that Felsman does business authentically is by responding to client needs and expanding her reach through video. Not video marketing (although she does that too, releasing a brief informational video to her referral partners each Friday), but by doing a lot of video meetings. Traffic is always snarled, schedules are always conflicting, and by doing video meetings, Felsman can meet with clients even if any or all of them are in different locations. This strategy has allowed her to expand her market area while still developing a great rapport with her clients.
"They're really tech savvy, they use video meetings for work all the time, and so it's very natural for this population of clients to have a video meeting, and I can share my desktop just like I would print things in my office to show a client numbers or scenarios. In fact, I'm able to do more because I could pull up a website or two while we were talking about something and share things with them on my screen," Felsman said. "It's more efficient for them, and I could basically go from one meeting to the next with the click of a mouse very efficiently for me, too . . . so it's been a really great way to run the business."
There's no one mold for successful originators. There's room for all personality types in the mortgage industry, with any number of talents. Felsman found hers, and inside, her fifth-grade self is smiling.