Following your conscience is the best business decision of all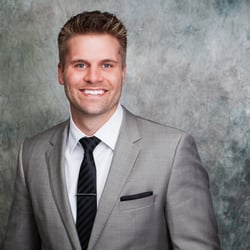 Sure, everyone wants a lender who will provide professional service, competitive rates, and efficient loan processing. Ryan Grant, mortgage lender and branch manager of The Ryan Grant Team at Fairway Independent Mortgage Corporation, does just that. But Grant also believes that the industry has a responsibility to its clients to help them manage what, for many, will be the largest asset they'll ever have, and created a way to solve the ethical failing that so many homeowners have experienced.
"For the life of me I could never understand why, in the real estate and lending world, why realtors and lenders would provide people with the largest asset and the largest debt that they've ever had in their lives, and then we're just okay with them handling that on their own for the rest of their lives," Grant said. "If I was a financial advisor and you gave me half a million dollars and then you called me a year later and you said, 'Ryan, how's my money doing?' And I said, 'I'm not sure, I haven't looked at it.' Wouldn't you be kind of upset? So I don't understand why we're any different."
Grant saw a need for advice and management long after the ink dries on the loan documents and created the position known as a post-closing manger to help clients manage their asset and incorporate it into their financial future. He sees it as the most important aspect of his business.
"We have a fiduciary responsibility to help them professionally and proactively manage that debt. And we're not doing it to get refinances, we're not doing it to find more transactions. We're doing it because we fundamentally believe that we are uniquely suited to help the consumer grow their wealth over time, if we manage their debt appropriately. Because as people's lives change and evolve, the way they pay their mortgage, the way they handle their real estate assets, the way that they manage their liquidity really should change and evolve with it. But most people don't have that advice."
While many brokers partner with financial advisors, Grant saw the post-closing manager as an opportunity to make sure that no one falls through the cracks, and that, as the ups and downs of life happen, there's always someone available for homeowners to turn to and assist in making decisions about their home purchase and wealth. Each year, the team talks to their clients about asset allocation, income changes, current and future real estate goals, and life changes. Many homeowners believe that understanding the complexities of their mortgage and their real estate situation is a burden that lies solely on their shoulders, and Grant doesn't believe that to be the case at all.
"We really use an educational-based approach towards the home financing process, which is, in my opinion, a lost art, and it's something that is absolutely necessary," Grant said. "I think most loan officers think their job is just to preapprove people and then ultimately fund that loan but in reality, our job is to help someone overcome the anxiety, fear, and frustration behind buying a home and trying to replace that with education, excitement, and confidence."
Much emphasis is placed on the possibilities of business: faster, harder, stronger, simpler. With the evolution of technology that's now available to brokers, it's never been easier to be more efficient, but there still exists a need to walk consumers through what is a complex process to those who are unfamiliar with the ins and outs of mortgages. Those people still need an advice-based, consultant-based approach in order to navigate through the weeds. It's not that they don't want that assistance, but to some extent, they're being sold the idea that they don't need it. Moreover, Grant says that people are often being told what they can do, but not necessarily what they should do, which isn't necessarily the same thing.
"Getting a loan has become very commodified, unfortunately, and I think that a lot of marketing dollars are being spent to tell the consumer why they should do this online or why they should get an app and go into a significant level of debt without getting much advice or information," Grant said. "I think it's disserving the real estate market as a whole because it's downplaying the legitimacy and the grandiosity behind what someone is doing when they're buying the most important asset of their life and going into the largest debt position of their lives."
In Grant's case, fulfilling that moral obligation has paid off – not just in customer loyalty, but in numbers: Fairview is consistently ranked number one in Orange County, California in both volume and customer satisfaction. And right now, even as interest rates are rising, Grant says the only place to go is up.
"I think if you believe in the value that you provide the consumer, if you believe in the value you provide to your business partners, you really should be in a growth mindset at the moment," he said. "I think that a lot of people are scared, a lot of lenders are afraid, they're nervous, they're trying to cut back on expenses, and they're cutting marketing and they're cutting off their nose to spite their face . . . I'm really excited about the opportunity to grow in the face of what some people might think of as a difficult market, I think it's a phenomenal market. I think a really well-versed lender or mortgage advisor that provides an educational, consultancy service is more in demand now that they've ever been. And so you really want to try and capture market share when others may be letting go of it."
Related stories:
Rejuvenating your business!!
New Association of Independent Mortgage Experts aims to rebrand industry