CEO says he has the answers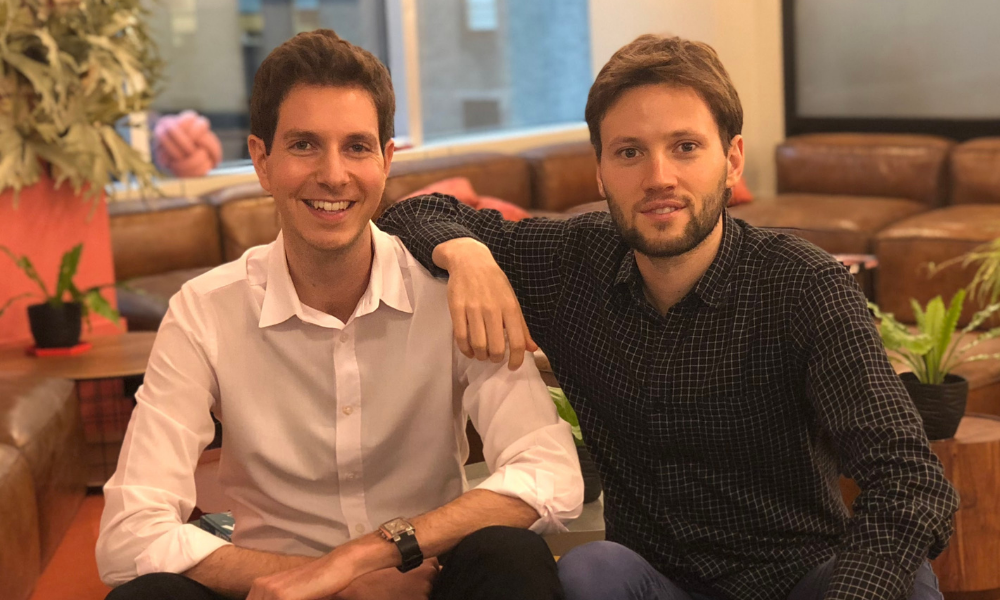 It's not every day you get to talk to someone in the mortgage industry who believes they have genuine solutions to the housing affordability crisis, but Cyril Berdugo (pictured, left, alongside co-founder Tom Petit), the co-founder and co-CEO of tech start-up Landis, is convinced his company has the answers.
"The affordability crisis is not just a result of the lack of supply in property," he said. "The one thing that everyone is missing in the industry is actually improving people's financial profiles and financial health in order for them to be able to afford property.
"We should focus on improving the health of low to moderate income Americans, so that they can afford to play in the housing sector.
"And if you're able to transition renters to homeownership, you can actually do a lot of good, and that's the end goal - that's the reason why we built the company."
According to US Census Bureau figures, there are between 43 million and 44 million people who are renter occupiers, while renter-occupied units made up 30.8% of the inventory in the second quarter this year.
For many Americans, however, homeownership is an unattainable dream, more so this year due to record-setting home value appreciation, which reached 16.6% in May, according to the Case-Shiller National Home Price NSA Index.
Read more: What's causing the rise in inequality?
Berdugo, who founded the company in 2018 with Tom Petit, believes that by leveraging technology and working closely with brokers and realtors, Landis can increase owner occupancy by helping low to middle income individuals make the transition from renting to owning their own home.
The company model is simple enough. Clients select their home - previously bought by Landis – and rent the property for up to two years while they build their credit rating and down payment. Once they are ready, they buy the property from Landis at a predetermined price, which is never higher than 3% of the price Landis purchased it for.
The start-up typically targets people who are unable to get a mortgage due to their poor credit rating.
Landis, led by Sequoia Capital, appears to be on solid financial ground to achieve its aims. In July, it closed $165 million in debt and series A equity financing, bringing the total to $182 million since it was launched.
Celebrities Jay Z and Will Smith were reportedly part of the latest investment deal through their own companies, Roc Nation and Dreamers VC, respectively.
Read more: Muted response to housing start numbers
"At the core of everything that we stand for is financial stability, financial inclusion and financial literacy," Berdugo said.
"Our technology knows when people are able to access homeownership for the first time in their life. We tell them to go find a property that they would love to buy, we buy it on their behalf because they cannot yet move in, and we keep coaching them.
"Sometimes we need to help them on their credits, their down payment or on their debt-to-income ratio, and at any point in time they can buy the property back from us."
The process normally takes anything from three months to two years.
Landis makes cash offers only for properties priced between $100,000 and $400,000. Clients are given an affordable budget, calculated by the company and which naturally takes debt-to-income ratio into account.
Up to 80% of them reputedly buy the houses back from Landis.
Berdugo was keen to stress that his company is neither a rent-to-own nor a rent-to-buy platform.
"We're a homeownership program. Rent to own is a landlord generating rent and creating incentives that may not be the right incentives for the client to eventually buy the property. It doesn't coach clients to buy the house, and it has a repurchase price that is really high for them," he said.
Asked about the 3% Landis made on each property, he said: "We're probably leaving a lot of money on the table, but that's fine."
Real estate professionals also remain the agent of record when referring clients who don't qualify for a mortgage to Landis.
"If the real estate agent sends that client to us, and we end up buying a property for that client, the agent represents Landis on that acquisition and makes their full commission. In other words, we're allowing agents to make commissions on transactions that would not have happened without Landis, and the NAR loves that," Berdugo said, adding that it was a "win-win situation" and one of the benefits of partnering with the National Association of Realtors.
"We also work with mortgage lenders a lot, and in addition to real estate agents they have been a great source of growth for us as well," he added.
Asked why he became involved in what many would consider to be a high-risk venture, he said: "It's deeply personal. I grew up in Paris. My parents are Moroccan immigrants and when they moved from Morocco to France, they had a really tough time reaching homeownership.
"They were at the mercy of their landlords for years, and then the French government subsidized their access to homeownership.
"When I moved to America, I realized that homeownership was even more important in terms of financial stability here than it is in Europe. But there was a lack of fairness and access to basic financial services.
"I thought this was a really big problem that I wanted to devote my entire life to."