How a top VA lender will emerge from the COVID-19 pandemic stronger than before, thanks to strong governance from four female leaders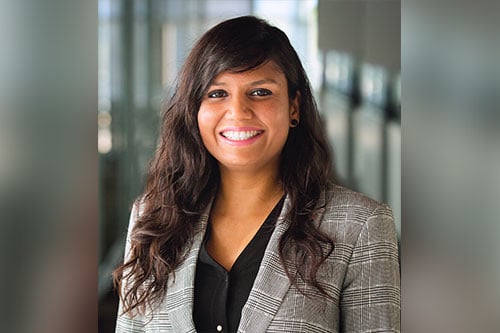 A top VA mortgage lender is seeing significant growth and providing continued support to military families, while boasting grand hiring goals, all while navigating the challenging environment of a global pandemic. Much of this is owed to four female leaders that hold c-suite positions at the organization. Chief financial officer Chao Deng, chief administrative officer Maylene Tan Khieu, chief compliance officer Crystal Raines and senior vice president of human resources and communications Pooja Bansal make up one-third of the leadership team at NewDay USA. Not only are they proud of the highly educated and experienced women who lead the company, but Bansal says three out of the four are also women of color.
"That combination is very lucrative in the sense that we get perspective from every angle. Having people from different backgrounds coming up with different ideas is extremely powerful," she says. "Not only that, it encourages diversity throughout the entire team."
While no one was prepared for the coronavirus pandemic, it was Khieu and Raines who were the key architects behind transitioning more than 90% of its 500-plus employee workforce to a work-from-home structure, while implementing the business continuity plan.
"This required great investment in time, technology and infrastructure," said Bansal. "Taking care of our existing team, hiring, and equipping each person with everything they needed to productively and comfortably work from home was a huge undertaking."
Bansal, who was actually hired during the pandemic, was tasked with finding ways to engage people in this new environment. Ingraining a sense of diversity and inclusion into training and company culture was a priority for Bansal.
One new initiative was a weekly leadership webinar, where leaders from within the company, but also other leaders from different industries and companies shared tips on staying motivated and being productive in this new environment. Guests included war veterans, Baltimore Ravens head coach John Harbaugh and university professors to bring new perspectives to the table. They also created a one-on-one mentorship program to keep new hires accountable and connected.
"Throughout the pandemic, we really focused on the human side of things. Just having more women in the c-suite, we were able to remind others about the importance of empathy and compassion in a crisis."
NewDay USA also reimagined their training program to be entirely remote, with a focus on not just the mortgage industry, but also a culture of diversity and inclusion, infusing those elements into the curriculum. The lender set a goal of expanding their team from 500 employees to over 1000 by 2021. When it comes to recruitment, Bansal says there's no commitment per se, but there is a strong focus on equal opportunity for all. Through their referral programs, she says they are able to find talent through many channels and communities.
"We hire through a 'sphere of influence,' where our current team members can recommend new recruits," she said. "When you prioritize diversity from the beginning, this trend naturally continues and amplifies."
Bansal added that she's not only a big proponent for women in the finance industry, but particularly women who hold leadership roles.
"Big change doesn't happen overnight, rather it's a series of moments," she says. "That's why we host leadership webinars to showcase our differences so young professionals can visualize themselves in leadership roles."