CRM software creates a competitive advantage for mortgage brokers and mortgage lenders. Here's how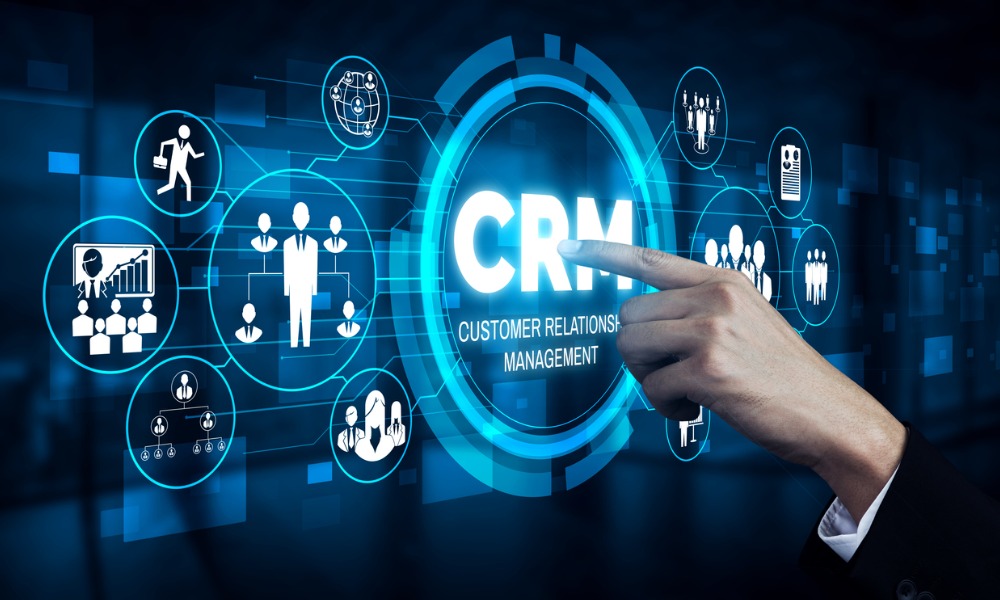 CRM software creates a competitive advantage for mortgage brokers and mortgage lenders. How? CRMs automate marketing tasks, market to borrowers, deliver engaging content, meet compliance regulations, and use the latest technology to recruit top talent. To name a few.
Certain automation features also free employees from repetitive tasks to do more creative work that requires a human touch.
But what exactly is CRM software? How does it benefit mortgage companies? And what are the best CRM software options on the market? In this article, we will answer these questions and more. Here is everything you need to know about CRM software.
Customer relationship management (CRM) software is designed to help professionals, in this case mortgage professionals, run their front-end operations. Mortgage CRM software generally includes applications for contact management so that mortgage lenders can organize client data into one accessible location.
CRM software essentially connects different departments within an organization, from marketing and sales to customer service. CRM software organizes their activities, notes, and metrics into a single, cohesive system. It also enables all users easy, direct access to real-time client data.
CRM software not only improves coordination across departments and teams, but it also provides clients with a personalized, one-on-one customer journey.
There are many uses of CRM software in the mortgage industry. The obvious benefits are that mortgage CRM software helps mortgage brokers and lenders excel at numerous tasks that are confidential, time sensitive, and business building, including the following:
Automating marketing efforts
Centralizing all communication with current clients
Closing mortgage deals
Maintaining communication with leads and prospective leads
Following up with realtors
Not only are there many uses of CRM software for mortgage companies, but there are numerous options when it comes to CRM software providers. To see which one would work best for you and your mortgage company, here is a look at the CRM software that Mortgage Professional America has highlighted in our Mortgage Broker Software Reviews:
Pipedrive
Pipedrive is a sales CRM and pipeline management solution that allows mortgage companies to plan their approach to sales and monitor business dealings.
Pipedrive streamlines each action involved in converting a potential deal to an actual sale. Since it is a cloud-based application, Pipedrive can be accessed from anywhere at any time, using any dedicated mobile app or web browser.
Pipedrive is fast and easy; with its simple user interface, you can spend less time working on understanding and troubleshooting the software and more time working toward finding the right mortgage for your client.
LeadSquared
LeadSquared is a cloud-based CRM and marketing automation solution for mortgage companies of all sizes. Among the tasks that LeadSquared helps clients automate are marketing, sales CRM, lead capture, reporting and analytics. Through LeadSquared, you can also offer landing pages, lead scoring, insights into marketing and sales, segmentation, and role-based user access.
LeadSquared is a new-age SaaS platform providing end-to-end marketing, sales, and onboarding automation solutions. It is designed specifically to solve sales challenges for high lead-volume, high velocity companies that have numerous sales teams and channels.
Keap
Keap is an all-in-one CRM and sales and marketing software that can help grow your mortgage business. This platform not only organizes your client information and daily work, but it also frees you up from repetitive tasks. This gives you more time to focus on striking more mortgage deals and growing your company.
Aside from offering built-in invoicing and multiple payment processing integrations, this CRM platform offers checkout cart features to produce a higher volume of conversion rates and average cart values. Keap CRM's simple automations can save customers up to 10 hours per week by cutting down on manual tasks like sending email follow-ups and texts and recording fresh leads instantly.
Thryv
Thryv is a cloud-based marketing and CRM software solution designed for helping small businesses manage interactions with their clients. Through Thryv, businesses can grow their online presence, build on relationships with their customers, and streamline payment processing.
Thryv can also run marketing campaigns with email marketing and manage activity on numerous social media platforms like Instagram, Twitter, LinkedIn, Facebook, and Google+. You can also use Thryv's appointment booking module to manage team schedules, book appointments from a single location, and synchronize calendars.
Jungo
Jungo is a cloud-based mortgage and real estate customer relationship management (CRM) system that lets you automate more repetitive tasks, bolster your company's marketing, and enhance communication.
Jungo's primary strength is that it is customized to the mortgage industry, allowing users to harness the incredible power of Salesforce without getting bogged down by needless utilities. One particular perk is that the closing email of the week provides you with weekly content for both your prospective clients and existing clients alike.
monday.com
Through monday.com, your mortgage team can shape their projects and workflows, code free, with a CRM platform that can easily adapt to changing needs—and quickly. Not only can monday.com free your team from tedious manual work, but it can also connect them in a much more collaborative workspace.
monday.com gathers leads with forms, integrates customer emails, and refines marketing campaigns by using meticulous analysis that improves your mortgage company's relationship with customers. Beyond that, it also creates more business opportunities. How? In part because it is an easy-to-use platform that simplifies organizational tasks for your sales and marketing teams.
GoMax Mortgage Broker CRM
GoMax Mortgage Broker CRM users can develop customized action plans and events through its system to promote ongoing communication with clients and leads. And for simplified contact management, GoMax also keeps track of interactions.
GoMax Solutions Inc. utilizes industry-leading technology and a single-point-of-entry platform. Not only does GoMax Mortgage Broker CRM help mortgage professionals build customer relationships, but it also helps grow a long-term business model for companies in the mortgage industry.
Insightly
Insightly also offers mortgage professionals bright, easy-to-read dashboards that you can customize. This allows you to access the data and information you need to instantly understand what you are looking for. It also features some integrations that we will look at a little bit more deeply below.
Insightly will benefit your sales and marketing team, helping you to build stronger working relationships and improving your business intelligence. If you are a small- to medium-sized mortgage business, you can use Insightly to improve your leads, projects, and sales.
EngageBay
EngageBay CRM is an all-in-one marketing software that is ideal for the mortgage industry. EngageBay combines CRM, email marketing, lead generation, marketing automation, and social media engagement to better connect you with prospective clients and homebuyers.
Designed to help mortgage companies acquire, engage, nurture, and close leads, EngageBay enables users to automate marketing processes and sales funnels and create email campaigns. Not only does this cloud-based platform help you generate leads, but it also creates and automates the distribution of email marketing content. It also manages customer relationships using the in-built CRM.
Zendesk Sell
Zendesk Sell allows mortgage sales teams to gather, organize, and properly track leads. Not only that, but salespeople can also funnel leads using numerous sources, such as websites and spreadsheets, among other marketing platforms. Thanks to a robust sales reporting feature, Zendesk Sell users are able to track sales and gain full visibility into the sales pipeline.
By managing teams and regions through Base, sales team leaders can monitor sales processes. And through your smartphone or other mobile devices, you can use Zendesk Sell to establish and monitor quotas and goals for specific reps and teams.
While different CRM products and methodologies vary in their focus and features, CRMs can be divided into the major categories:
Collaborative CRM
Operational CRM
Analytical CRM
Let's take a closer look at the three types of CRM:
Collaborative CRM
Collaborative CRMs allow all teams in your mortgage company to have up-to-date client data, regardless of the channel or department they work in. For instance, customer support has all the information that the sales and marketing teams collected when working with prospective clients. And agents working in call centers have updated data on client interactions that occurred over messaging channels and emails. Essentially, collaborative CRM treats every interaction as a part of a bigger, integrated conversation between customer and brand.
Operational CRM
Operational CRMs streamline an organization's processes for client relationships, providing tools to better visualize and handle the entire client journey. That customer journey begins with their first interactions with a company's website and continues through the lead management process and into the sales pipeline. It even includes their behaviors after they have become clients.
Many operational CRM systems provide automation features, such as marketing, sales, and service automation, which offloads work employees would otherwise have to do. These features free up time for employees to do more creative work that requires a human touch.
Analytical CRM
The primary focus of analytical CRMs is to analyze client data to gain valuable insights. Digital platforms and tools make it easier to gather large quantities of data. Analytical CRMs offer features that help companies use data to discern trends on how your clients behave. This can give you a clearer understanding of the steps that lead to sales and client retention.
Because there are different types of CRMs—and even more uses—it is important to do your own research to see which CRM will most benefit your mortgage company. Visit our mortgage software reviews section for our take on other software tools for your mortgage company.
Do you have experience using CRM software? Share your experience in our comments section below.