Jump to winners | Jump to methodology | View PDF
TRANSFORMING THE INDUSTRY LANDSCAPE
The mortgage industry is easy enough to break into, but carving out a viable long-term career is tough. The market shifts, margins fluctuate, financial crises happen – yet some industry professionals have thrived for decades. The cream of the crop is recognized in Mortgage Professional America's inaugural Housing Industry Icons list.
From mortgage tech trailblazers to real estate disruptors, the Housing Industry Icons report celebrates the men and women who have moved the industry forward and improved the home-buying and lending processes on every level.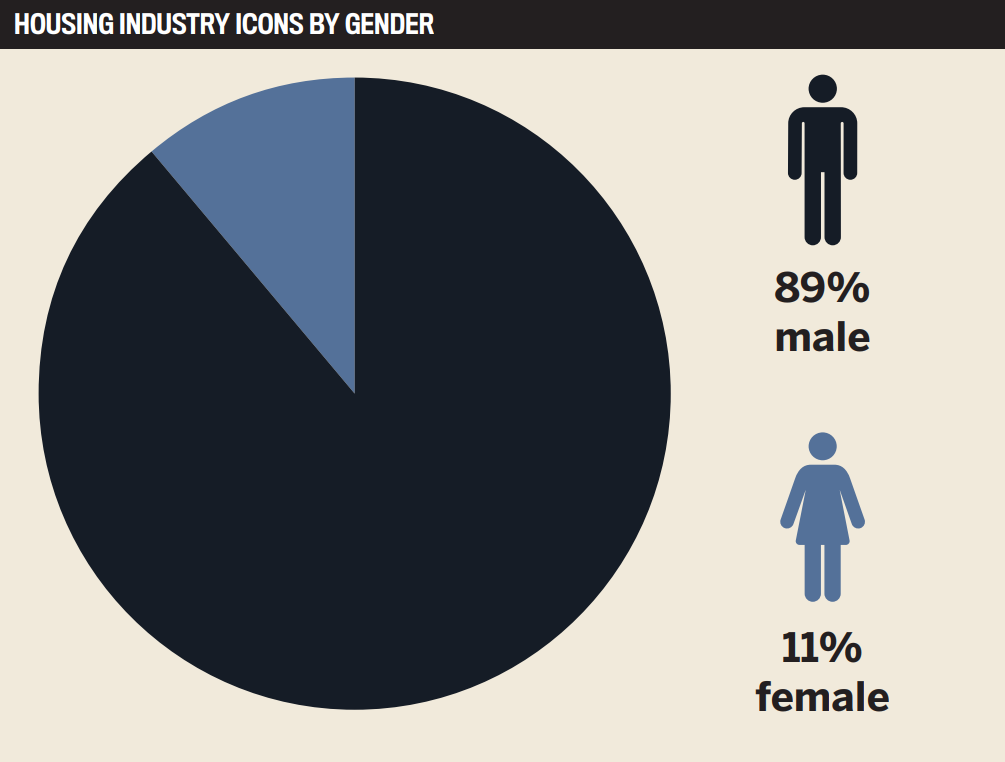 What makes an industry icon?
Many would likely agree that mortgage is a lucrative career. But as the adage goes, "money is a good servant, but a bad master". That's why Laura Brandao, president and partner of American Financial Resources and one of this year's Housing Industry Icons, remains vigilant about keeping her why in focus.

"Our industry is not so much about what we do, but why we do it," says Brandao.

"It is vital that we continue to revisit what brought us here in the first place and remember the impact we make as an industry and the families we serve. I am determined to leave our industry better than when I arrived. This fundamental desire to give back to the industry that has supported me and my family fuels my dedication to a number of organizations and initiatives beyond my work as president of AFR."

For Taylor Stork, chief operating officer of Developer's Mortgage, success isn't simply a matter of why or even what, but who.

"I'm fortunate to have been influenced, developed and mentored by great people over the last 25 years," he says. "From each one, I've acquired knowledge and skills, or somehow improved because they took the time to help me. It continues to this day, and I hope it never stops. Whatever value I have to offer is just the culmination of what others have put into helping me grow. And I believe it's my obligation to continue the process forward with others."

In the past 25 years, Brandao and Stork have both been busy figuring out the needs of the mortgage industry and tinkering with unique products to support the ever-changing demands of the housing market.

"If you want to stick around in this business, you need to continually assess the needs of the housing market and respond. You can't shy away from new product development or integrating technology."

"Spend time actively listening to your clients and work to meet or even anticipate their needs as the landscape shifts. Adapt to the changing market or be left behind," Brandao says. But at times when rolling with the waves is easier said than done, Stork believes the key to thriving among market shifts starts with simply surviving them.

"I think you need to always be looking at yourself and your business with a critical eye asking the hard questions: Where are you strong, where are you weak, and will you survive your worst-case scenario? You need to be sufficiently fortified and prepared to survive hard times so that you can be resilient when opportunity presents itself because they typically appear simultaneously. Then, when an opportunity presents itself, you can jump on it with laser-like focus and intensity."

Winning strategies
Stork's strategy is similar to that of Bill Dallas, president of Finance of America Mortgage and also a Housing Industry Icon.

"My firms are built to grow in the dips. We build our business and stay focused on a robust yet simply stated strategy for the inevitable shift," Dallas says. "We don't panic and move the deck chairs to the other side of the Titanic."

Dallas has spent 20 years of his career establishing a company that offers proprietary non-agency products with its own guidelines so that it can help remove some of the roadblocks homebuyers face today, such as affordability and supply constraint issues.

Mike Fierman, managing partner and co-CEO of Angel Oak Companies, shares Dallas's sentiment on niche products and how they can help fill the gaps where traditional agency finance is lacking. He says that non-qualified mortgage loans allow companies to write their own guidelines and continuously update accordingly with flexible requirements for affordability.

"Specialized loan programs are needed for many reasons," Fierman says. "There are increased bank lending restrictions today that shut more people out of the agency market. This is where non-QM comes in and why Angel Oak is currently setting records in non-QM volume. The demand is there and always will be.

"As far as housing supply constraints, again, our vertical integration with an asset management team is a benefit. As the end investor, we don't have to go outside our company for third-party approval to do loans. When we say we can do a loan, we do it and get it closed quickly. We minimize delays, which is important in a competitive market with low inventory."

Fierman believes that a healthy non-QM market should be upwards of $200 billion per year. "Anyone not utilizing non-QM should do so to capitalize on the opportunity that exists right now," he says.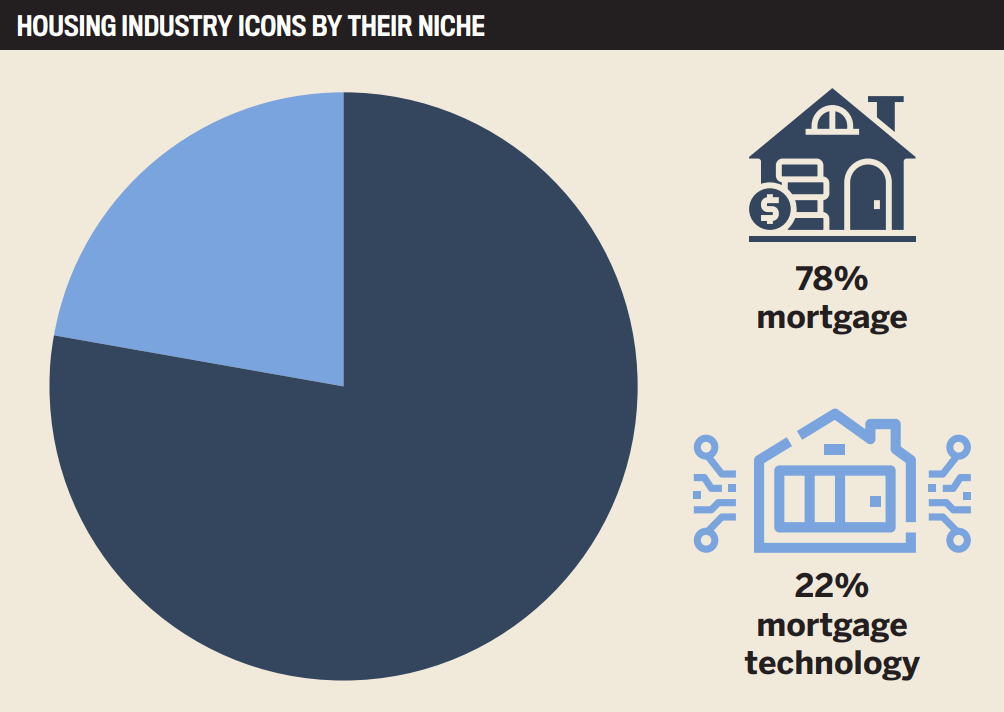 What's next?
It's unanimous: the Housing Industry Icons agree that the niche will swallow the whole, and it's crucial for originators to have a wide variety of purchase products in their arsenal, including non-QM.

"I firmly believe that the niche areas will grow. The challenge is market liquidity, not opportunity," Stork says. "I see non-QM lending growing exponentially, provided that the secondary market and warehouse lenders continue to support the space. I also think we're going to see a significant increase in low- to moderate-income borrowers and tract mortgages. The various government agencies and regulators are pushing hard to increase access to credit. This will probably come in the forms of 'home ready' and 'home possible' programs."

"To be a leader in this market, you must securitize your own product with your own guidelines," Dallas says. "We have dominated fix and flip, reverse, and home renovation and are turning our sights on agency."

"AFR has already established itself as a leading specialty lender, and I will continue to develop programming to help brokers enter the niche space and become experts. I want to continue to empower them to expand their offerings and become comfortable and confident in a large variety of programs, so they can expand their outreach to help realtors and a wider range of borrowers in their communities," Brandao says.

"I am personally committed to bringing new talent into the industry, growing diverse and capable leaders, and leaving the industry that I love better off."

Mortgage
Aaron Samples


CEO and member of board of directors

Bill Dallas


President, Finance of America Mortgage

Brenda Rodriguez and Joe Rodriguez


Owners, Capstone Capital

Dan Hanson


Executive director in market retail, loanDepot

David Aach


Chief operating officer, Blue Sage Solutions

Faith Schwartz


Founder and CEO, Housing Finance Strategies

Gagan Sharma


Chief executive officer, BSI Financial and Bizzy Labs

James Hedvall


Chief capital markets officer, Mann Mortgage

John W. Mallett


President and broker, Mainstreet Mortgage

Laura Brandao


President, American Financial Resources

Michael Cooksey


Founder/Executive managing director of production, The Cooksey Team/Mid America Mortgage

Mike Fierman


Co-chief executive officer, Angel Oak Companies

Richard Taylor Stork


Chief operating officer, Developers Mortgage

Sean Cahan


President, Cornerstone First Mortgage

Steve Jacobson


CEO and founder, Fairway Independent Mortgage

Thomas Furey


Co-founder and SVP of revenue and growth, Neat Loans

Mortgage Technology
Brent Chandler


Founder and CEO, FormFree

Bryan DeShasier


Chief administrative officer, Promontory MortgagePath

Christy Moss


Head of sales and marketing, FormFree

Dominic Iannitti


President and CEO, DocMagic

JP Kelly


President, OpenClose

Mark Mackey


VP and general manager, International Document Services
In June, exceptional mortgage executives with at least 10 years of experience were nominated by their industry peers for this year's Housing Industry Icons list. Nominators were asked to provide details of their nominee's standout professional achievements, along with their contributions to diversity and inclusion in the industry and how they've given back through volunteer roles and charity work. The MPAm team reviewed all nominations, examining how each individual had made a meaningful contribution to the industry, to narrow down the list to the final 27 Housing Industry Icons.