Industry experts are not surprised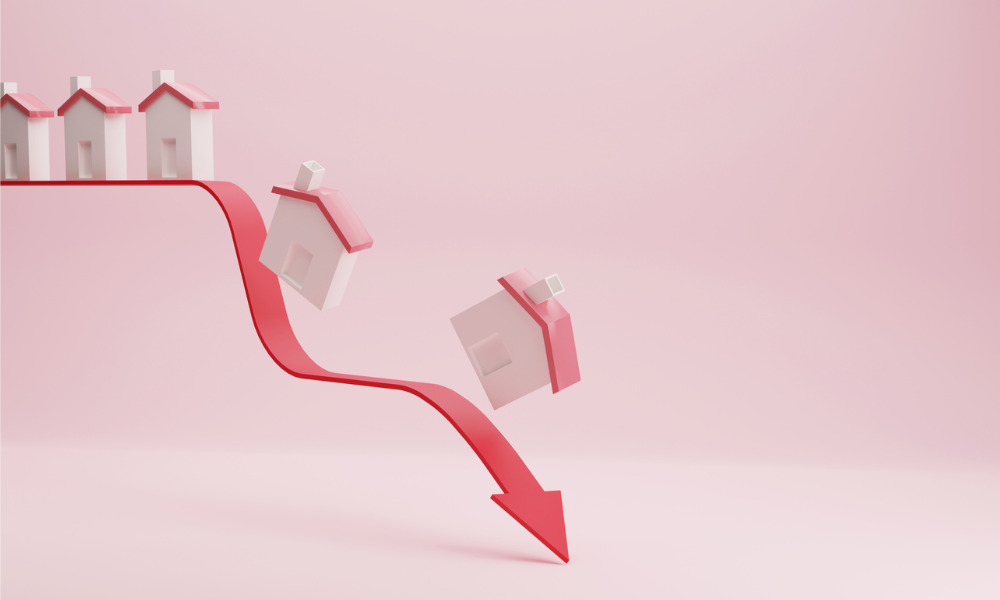 UK house prices further fell to £259,153 in August, recording a 0.8% decrease on the previous month's figure and a 5.3% drop year on year.
According to the latest Nationwide House Price Index, last month saw the weakest rate of annual house price growth since July 2009, with the price of a typical UK home around £14,600 below the August 2022 peak.
"The further softening in the annual rate of house price growth is not surprising, given the extent of the rise in borrowing costs in recent months, which has resulted in activity in the housing market running well below pre-pandemic levels," commented Robert Gardner, chief economist at Nationwide Building Society.
"Nevertheless, a relatively soft landing is still achievable, providing broader economic conditions evolve in line with our (and most other forecasters') expectations."
James Briggs, head of intermediary sales at Together, said the fall in house prices is likely to have been, in part, due to buy-to-let investors leaving the market, leading to more properties becoming available for first-time buyers and home movers, which in turn has eased demand and prices have become marginally more affordable.
"Against this backdrop, lenders will continue to compete with each other for prime borrowers with strong affordability, while the specialist lending market will look to support those who fall outside the standard criteria requirements," Briggs added.
Emma Jones, managing director of mortgage broker When The Bank Says No, said the Nationwide August House Price Index shows the full impact of the "new, brutal mortgage environment we are in."
"Borrowers now need to be savvy," she continued. "If the past few months have taught us anything, it's that rate offerings are not around for long, so if you like the look of a deal today, ensure you secure the rate now rather than miss out.
"It is positive to see more and more rate reductions on a daily basis, but we need to see lower two-year deals as most borrowers don't want to commit to five-year fixes at the moment, where most of the savings are."
Meanwhile, the Nationwide report also revealed that cash purchases – though down from the 2021 highs – have been remarkably resilient, while purchases involving a mortgage have slowed much more sharply.
"The relative weakness of mortgage activity reflects mounting affordability pressures as a result of the sharp rise in mortgage rates since last autumn, which would not have affected cash buyers," Gardner said.
"Indeed, a first-time buyer earning the average wage and buying a typical first-time buyer property with a 20% deposit would now see their monthly mortgage payment absorb over 40% of their take-home pay – well above the long run average of around 29%."
Learn how much deposit do you need for first-time home buyers here.
Mark Harris, chief executive at mortgage broker SPF Private Clients, stressed that until there is a consistent and more considerable decline in mortgage pricing, buyers relying on mortgages are inevitably going to be more price sensitive in coming months on the back of affordability concerns.
"With another 25 basis points interest rate rise expected from the Bank of England later this month, we are not out of the woods just yet when it comes to rising mortgage costs," Harris said.
"However, a number of lenders have been reducing their fixed-rate mortgages on the back of better-than-expected inflation news. This has led to a calming of swap rates, which underpin the pricing of fixed rate mortgages after a period of considerable volatility and bodes well for further reductions in coming weeks."
The Nationwide report also found signs that buyers are now looking towards smaller, less expensive properties, with flats seeing a smaller decline.
"This shift may, in part, reflect the ending of the Help to Buy scheme, which helped those with a smaller deposit purchase a newly built home," Gardner pointed out. "Flats have also remained relatively more affordable; average prices have risen by only 13% since the onset of the pandemic, compared with 23% for detached properties."