Fun-filled event has existentialist theme at its core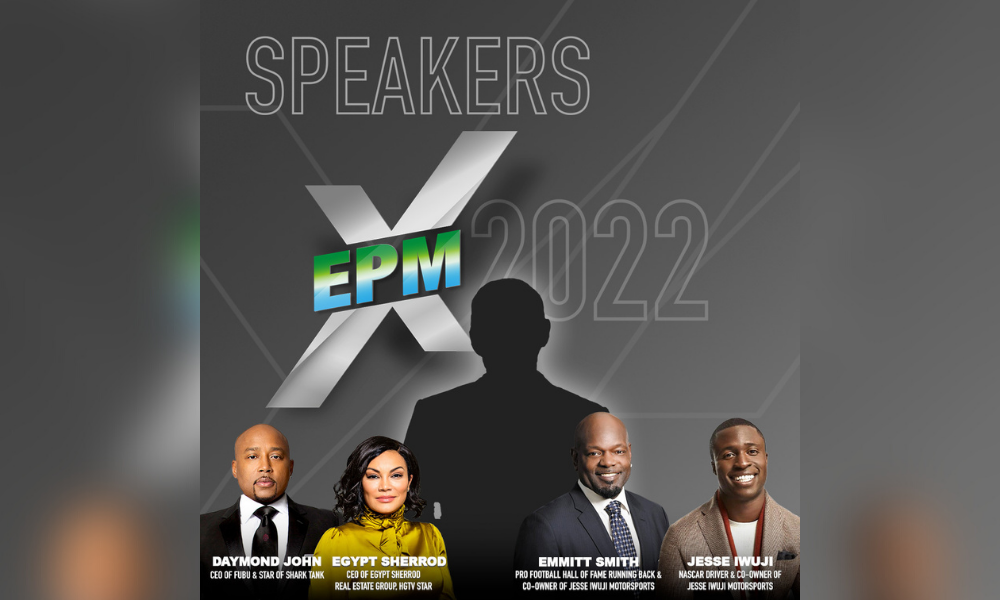 The upcoming EPMX 2022 – a panel-rich housing industry summit tailored for mortgage and real estate professionals slated for Atlanta later this month – is unlike most conferences of its type. Its organizers point to changing industry dynamics as triggers for the gathering's uniqueness.
The event will feature star power to help lure the throngs: National Football League legend Emmitt Smith, the league's all-time leading rusher; motorsports racing driver Jesse Iwuji; Daymond John, CEO of hip hop apparel company FUBU and star of the reality show "Shark Tank"; as well as television and radio personality Egypt Sherrod.
But at the event's core will be discussions speaking to prevailing issues facing those in the mortgage and real estate industries already beset by a growing backdrop of inflation dotted with mercurial interest rates. The common thread among panels will be talk of the growing specter of technology some promote as a favorable alternative to traditional ways of doing business.
Such arguments hinge on rivals' misconceptions that loan officers, for example, make too much for tasks that could easily be done by computers requiring no remunerations. Such pronouncements have created an industry disruption the conference hopes to debunk, suggested Jason Frazier, chief strategy officer and executive vice president of marketing, at event organizer Equity Prime Mortgage (EPM).
"The disruption is not to fight, but by showing why a local mortgage expert is the best solution for a consumer," Frazier said. "Working for with a local real estate agent and mortgage professional will be the narrative that everyone on stage talks about – that technology isn't about replacing; it's about enhancing the expertise that we already have."
That existential battle cry at the heart of the unique conference is buttressed by its lack of a profitable aim. A full 100% of ticket proceeds will be donated to the Pollack Family Foundation, an organization with a mission to educate individuals, families and communities on the benefits of nutrition and exercise. Moreover, the conference will feature no vendors, Frazier said.
"That's how you build a disruption-proof business," he noted. "By taking what others are using to disrupt you and using it for yourself to win in the micro so you can defeat the narrative in the macro."
The point is to empower professionals, Frazier said, noting how Empower People More also doubles as an acronym extrapolated from the company staging the event. "This conference, EPMX, is the embodiment of our empowering people more movement," he said. "It's agnostic; it isn't about getting us business."
To that end, scheduled panel discussions reflect the shared narrative:
Keynote speaker René F. Rodriguez, known among other things for his trademarked AMPLIFII personal development experience, will offer a primer on the essence of sales math to complement his success methodology. Rodriguez is also renowned for the podcast "The Neuro Side of Influence and Leadership" delving into applicable neuroscience to develop better communicators, influencers and leaders.

Author and executive coach Christine Beckwith will teach attendees how to execute on their vision for success.

For his part, author, CEO and executive coach Darius Mirshahzadeh plans to teach conference attendees how to scale their businesses by going all in on their core values.

EPM's founder and CEO Eddy Perez is a featured speaker, slated to discuss "…how empowerment is the key to success in the new world and how that is changing the narrative in our industry from the American Dream to the American Gift," organizers wrote on the conference website.

David Greenspan, CEO of Mindshare, will touch on the importance of owning one's database, digital marketing and why social media should not be one's sole path in building a business.

The moderated panel "Empowering Your Partners" will feature top-producing professionals from real estate and lending. Speaking on the importance of empowering partners during the home loan process to create "a successful and unforgettable experience for your clients" will be moderator Jamie Cavanaugh, COO of Amerifund Home Loans, Inc.; and panelists Todd Bitter, a mortgage broker at JKS Mortgage; Barb Betts, owner of RE Collective; Kenneth Travis, branch manager of Trademark Mortgage; Mary Mattingly, VP of sales at My Mortgage Group, Inc.; and Katie Clancy, VP of sales at The Cape House.

Author and top-producing luxury Realtor Michael LaFido, owner of LUXE Real Estate Group, will present his talk "Prove Them Wrong: Building an Unstoppable Brand" as he shares how to beat the competition by growing one's market share.
Sotheby's realtor Liz Vaynerchuk-Novello will teach the difference between "top of mind" and being "known" in one's market and steps to be taken to avoid being a "secret agent" in one's community.

Rounding out the day's series of panels will be Smith and Iwuji speaking on the importance of workplace diversity in a talk moderated by Dalila Ramos, EPM's executive VP of diversity.
And that's just the first day.
The collaborative vibe is reflected in the second day of panel discussions as well:
Jackie Dunlap, mortgage broker of Next Generation Home Loans, will kick off the second day with opening remarks.

Top-producing realtor and industry thought leader Karin Carr will explain the need for a YouTube strategy to dominate one's market.

Moderated panel "The Heart of Housing" will comprise three industry professionals who will teach how "…putting your heart into your business will lead to success both personally and professionally." Panelists will include Blaine McCarty, culture resource director at EPM; Laura Brandao, president and partner at AFR; and Katie Clancy, vice president of sales at The Cape House.

Frazier himself will take a turn as moderator during a panel discussion on marketing. Panelists include Molly McKinley, executive vice president of Global Marketing at Rate My Agent; Glenda Baker, CEO at Glenda Baker & Associates; Shane Kidwell, executive vice president of production at Victorian Finance; and Mike Cox, broker at Mortgage Nerds.

Serving and empowering veterans will be the subject of a panel comprising moderator Nathan Knottingham, CEO of Vetted VA, slated to feature panelists Jason Sharon, mortgage broker at Home Loans Inc.; Dianna Dominguez, realtor at Aspire Realty Group; Sam Ruben, Realtor at Keller Williams; and Isabel Williams, co-owner and COO at Debt Does Deals.

"Building a Future-Proof Business" amid disruption will be the focus on a moderated panel featuring Christine Beckwith, president and COO of 20/20 Vision Your Success and panelists Mike Kortas, CEO at NEXA, and David Landsman, vice president of sales at Lantern Real Estate Group.

"Empowering Others Through Associations & Advocacy," will unite – for the first time ever – leaders of the major industry associations MBA, AIME, NAMMBA and NAHREP. The heavyweight summit will feature panelists Sara Rodriguez, president of NAHREP; Katie Sweeney, CEO of AIME; Tony Thompson, founder and CEO of NAMMBA; and Bob Broeksmit, CEO and president of the MBA. Each will share the stage to discuss how their focus on advocacy helps empower both their memberships and the communities they serve.
After a pair of intense yet thought-provoking days, the event wrap-up will have attendees' letting their collective hair down. The immersive finale at World of Coca-Cola will allow for dancing and singing with great food and soothing music providing nourishment for body and soul, respectively. Transportation will be provided from the host hotel to the World of Coca-Cola and back for all guests attending EPMX 2022.
The conference is scheduled from Jan. 28-29 at the Westin Atlanta Perimeter North in Atlanta. For more information and to buy tickets, click here.