Chosen for a monumental event, he decided to take his father along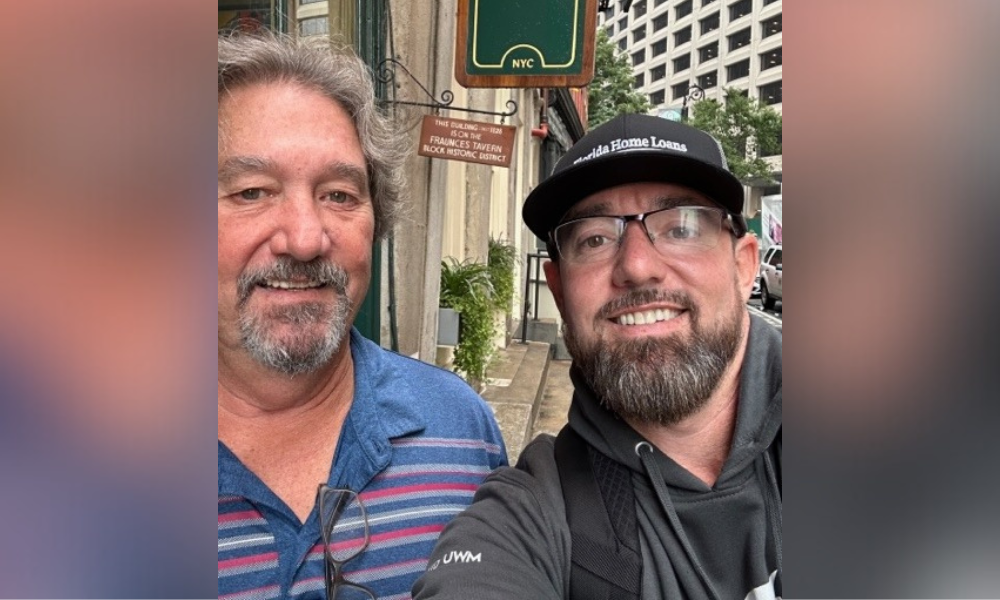 It sometimes takes some coaxing to discern the most memorable deal experienced by a mortgage broker. One incentive to share could be a trip to the New York Stock Exchange to help ring the closing bell on the trading room floor.
Eric Coleman (pictured), of Florida Home Loans, gladly took the bait, recently joining executives from United Wholesale Mortgage to celebrate National Mortgage Brokers Day. To participate he shared his most memorable transaction with UWM – a story that resonated enough with judges to allot him one of 100 spots to join UWM executives on the trading room floor.
"I told them about a specific loan that I had just closed recently," he said. "It was a jumbo loan for some client that were friends of friends that were paying cash for a property. They were moving a $500,000 down payment," he said of his clients, two women who wanted their son to attend the best school for his particular sporting talents.
It was a fight against time
"I called United Wholesale Mortgage, and they understood the urgency," he said. "I was able to meet these people in person and we closed the mortgage loan in six business days."
Coleman said he didn't go into too many specifics about the deal, only describing his clients – two married women who had adopted a child they wanted close to an exceptional school.
"It was a very simple paragraph," he said of his entry to join UWM officials on the trading room floor. "I didn't write 10 pages."
Thinking of dad
Yet that was enough to resonate with the UWM judges. Honored to be chosen, Coleman wanted to capitalize on the moment by taking his father, who had just beaten prostate cancer. He thought of the ringing of the bell at the trading room floor to signify the end of the business day as similar to bell ringing among patients rid of cancer and decided to take his dad on the trip.
"I took him to the Empire State building, took him on a helicopter ride and he got to do the whole Wall Street thing, and I got to ring the closing bell," Coleman said.
After Coleman rang the bell on the floor of the New York Stock Exchange, he decided to surprise his father with the helicopter ride after learning he could secure a chopper via an app – not unlike ordering a car through Uber. "It was $250, and it was four minutes," he said of the trip over the Hudson River.
But he agreed the trip was well worth it as he created indelible memories for his father. Getting to New York City, Coleman ensured his father would fly first class to ensure his comfort.
"We play in a dart league together and on the Tuesday night, he was on another team," Coleman said. "His teammates on that night said 'Oh my God, what you did for your dad'," Coleman said.
Coleman launched Florida Home Loans with Jorge Magana in 2020. "We both have been in the business for a while," Coleman said. "Jorge has been in the business from back in the crazy days of the industry in the early 2000s."
A standout football player in school as a defensive back, Coleman said he was virtually recruited to the mortgage industry from friends who owned a company. As it happens, he had just been laid off from a company that had been sold to another firm.
"I told them I was working for the government – as a joke because I was getting unemployment," he said.
Flash forward to the present, and Florida Home Loans has distinguished itself in the industry. "Florida Home Loans is on the radar as a young company," he said, noting his selection by UWM in going to New York City was not due to his efforts alone. "It's not just me there," he said "I wouldn't be there if it weren't for my processors, for Jorge, or anybody who works for us. Our loan processors are the driving force and the reason the paychecks keep coming in. I couldn't do this as a one-man show."
Want to make your inbox flourish with mortgage-focused news content? Get exclusive interviews, breaking news, industry events in your inbox, and always be the first to know by subscribing to our FREE daily newsletter.