After fast-paced growth in the sector for years, will flexible office space continue to skyrocket in 2020, or will its popularity wane for businesses?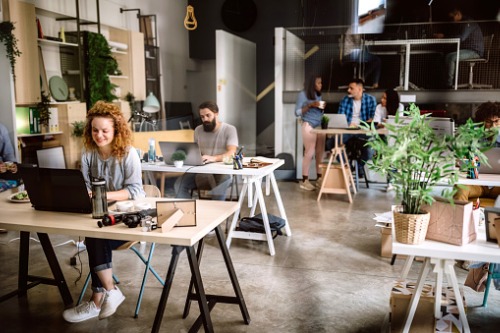 Flexible office spaces saw explosive growth over the last decade, and some industry experts believe this trend will continue for another 10 years at least. The sector is expected to account for 30% of the office markets in the US by 2030, according to research by commercial real estate services firm JLL.
"The way companies are built today has changed, so it's time for the leases that those companies are signing to change too," said Jonathan Wasserstrum, CEO of SquareFoot, a commercial real estate tech company.
Tech companies are a huge driving force behind the growth of coworking space, but Wasserstrum says a variety of businesses from multiple industries are showing interest.
"Once flexibility is on the table, a lot of people start raising their hands, and that's regardless of the type of company they are," he said.
SquareFoot recently acquired PivotDesk, a flexible office space marketplace that connects companies with excess office space with other companies that need it, whether that's a single desk in a shared office or a purpose-built coworking space. They also rolled out a service called FLEX by SquareFoot, where office tenants can opt for much shorter lease periods than they were able to before.
According to JLL, businesses are adopting a flexible workplace models for reasons like reduced occupancy costs, avoiding the long lease terms, increased collaboration and increased agility during growth periods.
"It's a challenge for these business owners to predict what their headcount will be just a few years down the line. FLEX opens up the opportunity for them to make better decisions around what's best for their companies," said Wasserstrum.
Coworking office space has grown an average of 23% each year since 2010. While this shows a tremendous amount of growth, Wasserstrum said flexible space is still a relatively small percentage of the overall market, leaving a ton of room for continued expansion.
"More companies are looking for flexibility around their leases, and that's going to grow over time. Even if it's the perfect solution for every company, change can't take place overnight. The average company is already in a lease since flexible solutions weren't as common a few years ago, but as older deals come up for renewal, we are going to see that change," he predicted.
While the sector continues to grow, it may not be right for every industry. There are companies that don't want to pay the premium for flexibility and then there are those that may not need it. Some companies, he said, may specifically need intensive or complex space so that they actually want to sign longer term leases instead.
In total, the US has more than 80 million square feet of flexible workspace, making it the global leader in terms of coworking real estate, according to Coworking Resources. New York is home to a large chunk of the industrial coworking spaces in the country and will likely continue to expand its reign considering it's got the nation's highest concentration of freelancers and small businesses, but the market will expand in other areas as well.
"Coworking space is everywhere. As far as markets for SquareFoot to expand into this year, we are looking at Houston, DC, Chicago and Dallas," said Wasserstrum.