But the growth may not be at a rate shareholders would prefer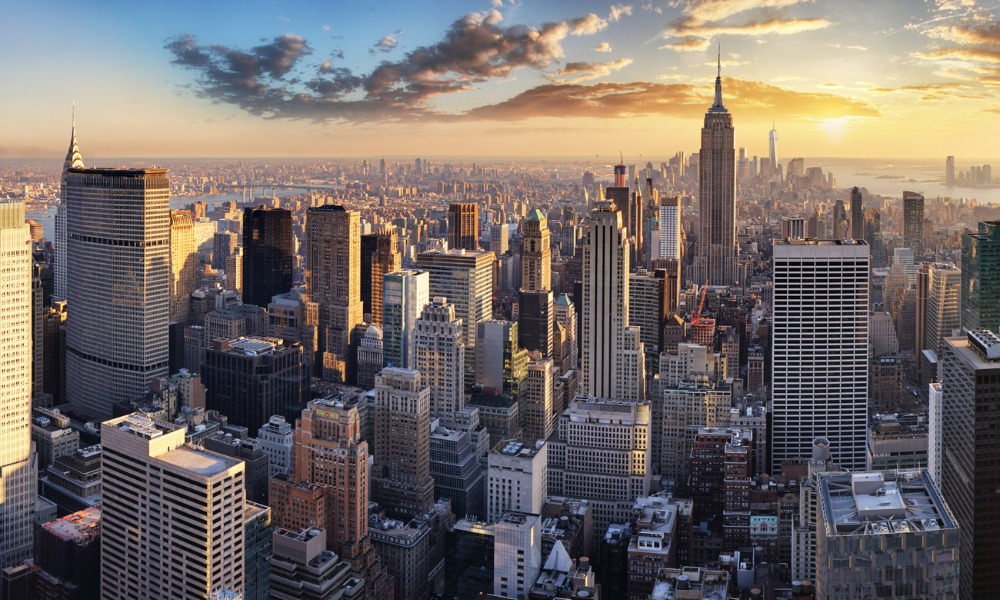 New York City REIT Inc., owner of a portfolio comprising high-quality commercial real estate properties in the five boroughs, reported an increase in revenue to $16.2 million in the second quarter compared to $15 million during last year's comparable period. But it reported a net loss attributable to common stockholders of $11.3 million versus $11.1 million in last year's second quarter.
CEO Michael Weil touted continual growth of the company's portfolio: "The second quarter was very positive for us, especially with respect to leasing," he said during an earnings call. "We executed three long-term renewals, including leases with the GSA [Government Services Agency] at 123 William Street and for the operation of two parking garages that we own encompassing over 120,000 square feet.
"On the strength of new leases signed during the quarter, our portfolio occupancy continued to grow to $85, up 20 basis points from the first quarter. Our top 10 tenants are 71% investment grade, showing the quality of our tenant roster."
In another positive sign, Weil pointed to lease term extensions: "We also extended our weighted average remaining lease term to 7.1 years from 6.8 years at the end of the first quarter and from 6.7 years in the same quarter last year. These gains illustrate the benefits of our proactive asset and property management strategy, the significant relationships we've built with tenants and brokers over the years and the hard work of our dedicated management team."
Weil added the lease extensions further reflect well on the high quality of the company's assets under long-range demand for New York City real estate – where nearly 40 of the company's leases extend beyond 2030. "Based on our fundamental belief in the necessity of New York City office and retail space, we remain highly confident in the long-term strength of our $854 million, 1.2 million square foot portfolio of New York City real estate."
Read more: REIT investment touted amid housing shortage
The REIT's portfolio consists of eight office and retail condominium assets located in New York City, primarily in Manhattan. The portfolio comprises a number of large investment grade tenants, including City National Bank, CVS, TD Bank and a number of government agencies.
Occupancy is expected to grow modestly: "We built a robust leasing pipeline of 23,400 square feet that is expected to increase occupancy by an additional 2% and straight-line rent by $1.2 million once all of the leases go into effect," Weil said. "As we've discussed in previous quarters, we've continued to be successful in leasing up space at 9 Times Square and 123 William Street that was formerly leased in hotel."
He spoke of the company's conservative debt load and a prescient locking in of historically low interest rates – a strategy that is currently paying off amid a hike in rates. "We have a conservative, well-positioned balance sheet with net leverage of 40.1% and 4.7 years of weighted average debt maturity. We don't have any debt maturities this year or next and minimal maturities until 2027. All of our debt is fixed rate. As we've previously discussed, we locked interest rates while they were broadly at historic lows, a strategy that has been validated as interest rates are rising."
Read next: Two commercial mortgage REITs plan merger
The nature of the balance sheet, Weil said, will enable the REIT to heighten its geographical focus: "Our conservative balance sheet is well positioned for NYC to continue to pursue our Manhattan-focused strategy," the CEO said. "We believe that there's a significant potential for our pure-play NYC portfolio to create meaningful value for years to come. To that point, we believe NYC's independent board members, adviser and its affiliates remain well aligned with shareholders as they continue growing their significant collective holdings of NYC."
Weil vowed to pursue value for the REIT's stakeholders: "As of Aug. 1, NYC's independent board members owned over 80,000 shares of NYC and, separately, NYC adviser and affiliates owned approximately 1.9 million shares of NYC. As we move ahead, it's our intent to continue to build value for all stakeholders."
Despite the rosy outlook, some reports indicate the REIT hasn't grown at a pace desired by stakeholders. Simply Wall St. reported last week that shareholders had endured share price declines over the last year – down by a hefty 66% during the time, the site reported. "Shareholders have had an even rougher run lately, with the share price down 60% in the last 90 days," according to the report. "We note that the company has reported results fairly recently; and the market is hardly delighted."
Simply Wall St. did note the REIT's 26% revenue growth in the last 12 months. But: "We think that is pretty nice growth. Unfortunately, it seems investors wanted more, because the share price is down 66% in that time. It may well be that the business remains approximately on track, but its revenue growth has simply been delayed. For us it's important to consider when you think a company will become profitable, if you're basing your valuation on revenue."