Clarion call is made amid Women's History Month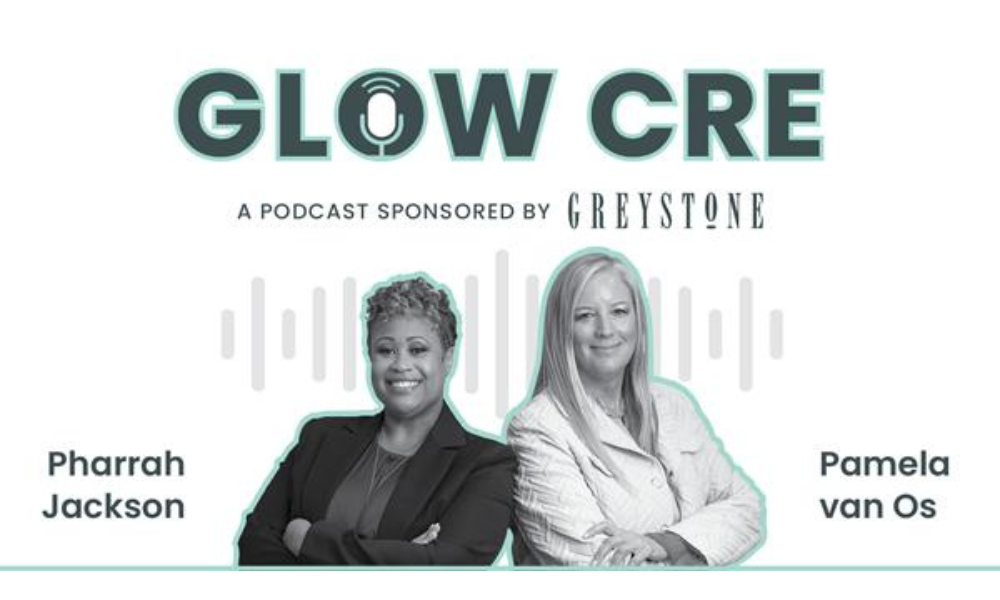 A new podcast called GLOW CRE launched this week, focusing on what it means being a woman working in commercial real estate – a sector that is largely dominated by men.
Mortgage Professional America got a sneak peek of the discussion. Hosted by CRE finance industry veterans Pharrah Jackson and Pamela van Os, the presentation is intended to engender an open dialogue delving into the challenges and opportunities women face in the CRE sector.
GLOW CRE, which stands for "Gaining Leaders, Originators and Women in Commercial Real Estate," seeks to advance equity for women in CRE by discussing how some of the industry's most successful women got to where they are in their careers, and by fostering an open dialogue about the challenges and opportunities women face in the CRE sector, its creators said.
How many women are in commercial real estate?
"I actually started out in investment accounting," van Os said. "In that role, I was introduced to real estate accounting. After many years in accounting, I realized I was working until midnight, and I saw the guys in real estate have a work-life balance and had a quality of life. So I eventually moved over and got my feet wet, specifically multifamily, and from there I moved into underwriting and credit and that's where I spent most of my years until recently when I transitioned over to production management where I'm now the West Coast head of production managing a team of originators. And I am loving this role. It's been a great transition."
She gave advice to women wanting to manage a production team: "I do think there's a lot of value in the underwriting and credit in the first year to really understand product knowledge and feel confident when you transition over to origination to be able to select a product you confidently understand," she said. "It's key you have mentors and support. You don't want to be the lone wolf in origination. You really need a strong origination team to join under it or have a strong mentor. I think that's when you get the most success."
Bounty hunter dreams
For her part, Jackson never intended to find a career in commercial real estate after witnessing her mother toil for Fannie Mae. "I never wanted to be in commercial real estate," she said. "My mom is going off on these sites inspections, she's got to see these properties – it seemed to take her away from us so much. I didn't think she had a good life-work balance. I told her early on as I can remember, 'I don't want to do what you do'."
Her perspective changed as she matured: "I actually went to school for criminology," Jackson said. "I wanted to be a bounty hunter or FBI agent or something exciting. Then as I grew up and matured, I needed those summer internships and those part-time jobs and I was able to get those jobs at commercial real estate firms where my mother had connections."
Her stance toward the profession gradually evolved: "I started developing a love for it. My current job and even what I've been doing the past 20 years has been centered around affordable housing, and being able to do something I'm passionate about in an ever-changing market has been so amazing."
In their Press advisory, Jackson and Os – both with backgrounds in multifamily credit underwriting and loan production – said they want to encourage women to pursue careers in CRE finance. The hope, they said. Is "to bring light to the many types of industry roles available that can bring both personal and professional fulfillment."
"I think it's critical to share the knowledge we've gained over decades of struggles and successes in this industry in order to cultivate the next generation of CRE women," van Os said. Added Jackson: "In general, women don't tend to promote their career successes, and we look forward to providing a platform for very deserving women in CRE to do just that on the GLOW CRE podcast."
The podcast comes in the midst of Women's History Month being celebrated through March 31.
The GLOW CRE podcast, available on Apple Podcasts, Spotify, and Amazon Music, is sponsored by Greystone, a leading national commercial real estate finance company and top FHA, Fannie Mae and Freddie Mac multifamily lender.