A foreclosure might just be your best option for an investment property—as long as you're willing to put forth the effort required to make the deal work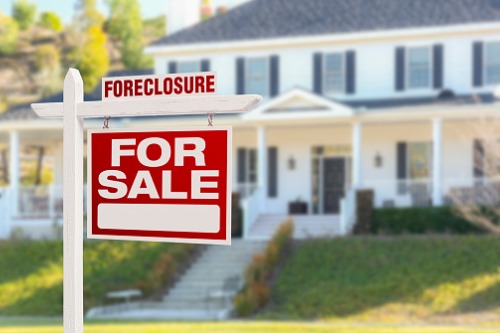 Foreclosure properties are a great option for the ambitious real estate investor. Before you jump in, however, consider the time, energy, and effort it will take to make these investments profitable.
Foreclosure properties require a significant amount of work. Civic Financial offers some important points to consider if this seems like the type of investment to add to your portfolio.
"If you pick up a foreclosure that's been neglected, has poor infrastructure, or maybe just needs some heavy cosmetic work, you'll have a lot to do before you can re-sell," said Civic. Taking time to learn about home improvement DIY will help immensely as this type of project can be time-consuming and expensive. "Get quotes on necessary work before you sign off on the purchase to make sure you really have the money needed to flip or rent the house."
Take time to research local foreclosure laws as these can differ state to state. Civic advises investors to understand the rules and regulations that govern purchases within an individual jurisdiction, because discovering that you are not compliant means delays, a potential loss in profit, and potenitally missing out on valuable tenants. Review your states' Attorney General website to get the latest on compliance and regulation requirements.
Be ready for the total cost including property taxes, homeowners insurance, mortgage payments, and maintenance. These can all decrease or eliminate potential profit. If you are waiting on repairs or buyer/renter, it could take months, or even years, before you see profitable cash flow.
Review the title to make sure it is clean and ready to go. If you don't have this, you may have to pay outstanding liens against the property.
"Your best bet is to contact a professional title company or real estate attorney to perform a title search and verify that the title is clean," said Civic. "There's an expense involved, but it's well worth it in the long run."
Hiring and utilizing an inspector before purchasing a foreclosure can help uncover unseen problems. Electrical, plumbing, and foundation can require serious repairs and can cost investors significant profit. The American Society of Home Inspectors is a great resource to help with this part of your investment journey.
Real estate-owned (REO) properties are bank-owned and are slightly different from a foreclosure, so make sure to check out REOs before you start. Foreclosures must go to auction before reverting to bank ownership.
"Since most banks and financial institutions aren't interested in managing real estate," said Civic, "they're often willing to negotiate a lower selling price for REO properties to recoup some of their original investment."