Smart technology isn't just a fad, and adding some features to your next investment property can help set it apart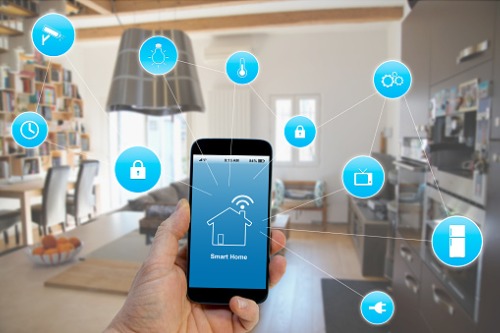 Many real estate investors are seeing an increasing demand to add technological or "smart" upgrades to their properties. This is attributed to both an increase in desire from prospective tenants/homeowners and to the additional value these smart upgrades add to the properties.
According to Consumer Reports, smart home features can boost a home's resale value by 5% and a survey of Realtor's showed that 42% of clients were interested in smart home devices. Investors can target this tech savvy market by incorporating smart upgrades into their investment properties.
Below are smart home benefits for both investors and buyers/renters:
Smart Homes are Safer
The most common smart home add-on is a security device. This can include the use of cameras and sensors that can detect a break-in, smoke, fire, carbon monoxide, moisture levels to detect flooding and other items to keep you and your property safe.
Smart home security devices can even be as simple as a smart lock, where you can lock your front door with an app on your phone. You'll never have to wonder now if you forgot to lock up for the day, whether it be your primary residence or flip project.
Both of these devices will not only be a selling point for prospective home-buyers but also give landlords a peace of mind about the safety and security of their properties.
Smart Homes Save Money
Smart thermostats allow you to control the temperature in your home at all times, including when you are not on the property. According to a recent study by Nest, a smart thermostat company, smart thermostats can save homeowners an average of 10%-12% on their heating bill and an average of 15% on their cooling bill, which can translate to over $170 saved in a year. Saving money is a huge selling point for many buyers, and as a landlord, you can factor these savings into the total rent cost maximize profits.
Remote Monitoring
With these new smart home devices listed below, home-owners and landlords can keep an eye on their property at all times. Now as an investor you don't have to check in on a vacant property or your current flip project every day to ensure there is no flooding, freezing pipes, break-ins, etc. Now you can check your phone and connect to the smart devices on the property. Giving landlords, investors, and home-owners a peace of mind.
Bridge Loan Network is a leading online marketplace that was founded by leading industry experts with decades of experience in both real estate and online marketplaces. Our asset-based marketplace includes a unique loan origination system and web applications that are specifically built for the private lending industry. Additionally, the marketplace greatly increases the efficiency and lowers the cost of the lending process giving users the ability to order credit reports and property valuations within the platform.
Erica Sikoski is the marketing coordinator at Bridge Loan Network, responsible for maintaining and evolving the presence of the company. Since 2016, Erica's focus has been on creating informative and thought-provoking content to strengthen Bridge Loan Network's marketing and tradeshow initiatives. Erica manages Bridge Loan Network's social media channels, email campaigns and digital and print campaigns.