… but they are still below pre-pandemic levels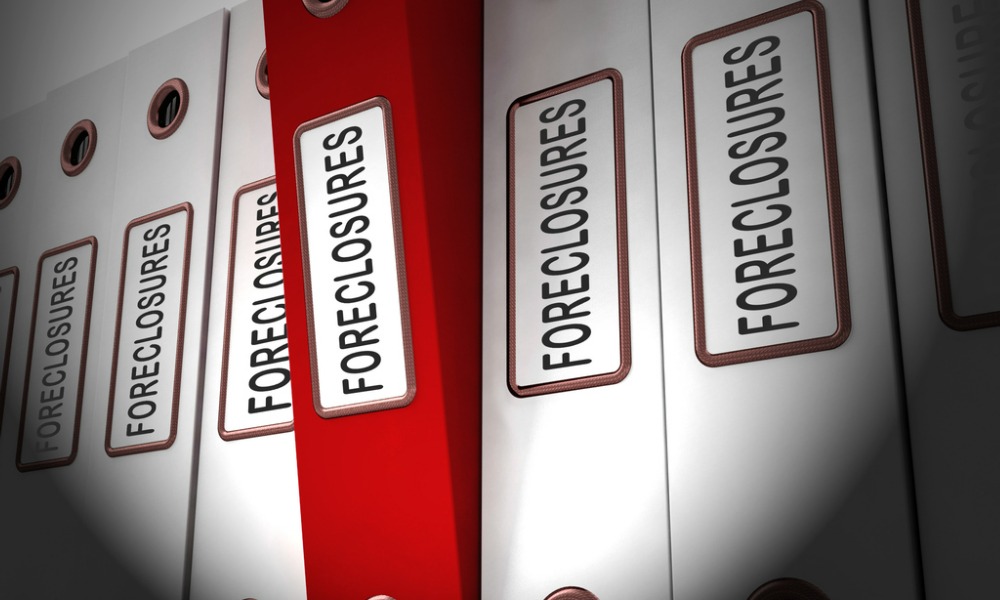 Foreclosure activity year on year has shot up by 57%, with foreclosure starts increasing by a whopping 98%, according to a new report by real estate data firm, ATTOM.
The November 2022 US Foreclosure Market Report shows that a total of 30,677 properties had foreclosure filings last month - namely default notices, scheduled auctions or bank repossessions.
Across the country, one in every 4,580 properties had a foreclosure filing in November, while the states with the highest foreclosure rates were Illinois (one in every 2,401 housing units), followed by Delaware (2,736), and New Jersey (2,916).
Large metropolitan areas with the worst foreclosure rates included Cleveland along with Chicago (one in every 2,221 housing units); Riverside in California (2,294); and Philadelphia (2,539).
Lenders started the foreclosure process on 20,686 properties in November, and the states reporting the greatest number of starts were in California, Texas and Florida.
The foreclosure process normally starts when a borrower has received a default notice after missing four monthly mortgage payments in a row, although most lenders will reportedly send a notice of default when they are 90 days – or three months - past due.
California had 2,244 foreclosure starts, followed by Texas with 2,114 and Florida with 1,709.
Read more: Housing markets most at risk of downturn
Large metropolitan areas with the greatest number of foreclosure starts last month included: New York with 1,593, followed by Chicago (1,028) and Houston (685). Miami reported 657.
On a slightly more positive note, although foreclosure starts have jumped by 98% compared to last year, they were down 5% from last month. In addition, foreclosure completions were also down during the same November period (9%).
Foreclosure completions
Data from ATTOM shows that lenders repossessed a total of 3,770 properties through completed foreclosures (REOs) across the country in November.
States with the largest number of REOs included Illinois (343 REOs); New York (313); Pennsylvania (220); Michigan (210); and Ohio (208).
Major metropolitan statistical areas (MSAs) with a population greater than one million reporting the greatest number of REOs last month included: Chicago (278 REOs); New York (174 REOs); Philadelphia (103 REOs); Detroit (77 REOs); and Houston (59 REOs).
Despite the monthly drop, foreclosure completions shot up by 64% compared to last year.
Below pre-pandemic levels
Rick Sharga, executive vice president of market intelligence at ATTOM, nonetheless noted that foreclosure starts were "still just above 80% of pre-pandemic levels", in spite of nearly doubling from last year's numbers.
He said: "We may continue to see below-normal foreclosure activity, since unemployment rates are still very low, and mortgage delinquency rates are lower than historical averages.
"We may be at or near a peak level of foreclosure activity for 2022. While foreclosure starts and foreclosure completions both increased compared to last year's artificially low levels, they declined from last month, and lenders often put a moratorium on foreclosures during the holiday season."
Read more: US foreclosure activity soars to almost pre-pandemic levels
According to the Institute for Housing Studies at DePaul University, data is often used not only to understand the activity of foreclosure filings throughout the country but to assess the cumulative impact of the crisis on properties and, significantly, as an indicator of distress in a local housing market.
The Pew Research Centre described a foreclosed home as "a visible symbol of today's housing crisis", in reference to the 2008 market crash. At the height of the crisis there more than 2.3 million homes (1.8% of all housing units) with reported foreclosure filings in 2009 alone.