Back in April, President Trump said he wanted to give Dodd-Frank a "major haircut." His budget proposal would go even further with the CFPB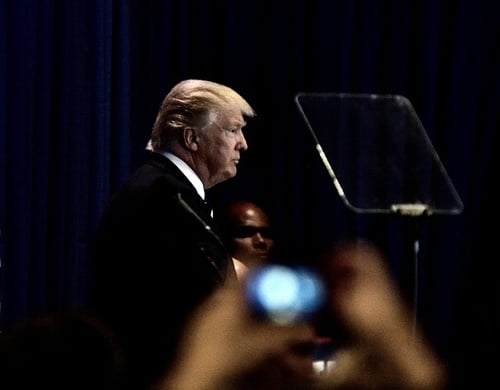 Back in April, President Donald Trump told business leaders he intended to give the Dodd-Frank Act a "major haircut." If his budget proposal is to be believed, Trump intends to go even further with the CFPB; instead of a haircut, his budget may well cut off the agency's head.
The Trump budget would shift the CFPB's funding from the Federal Reserve to a congressional appropriations process. It's a move Republicans have pushed for years, saying that Congress needs more power over the CFPB's purse to make the agency more accountable.
But Trump's budget goes even further, slashing the CFPB's funding by $145 million in 2018 and calling for cuts to increase in each subsequent year. By 2021, under Trump's proposal, the agency's funding would be slashed by more than $700 million.
According to HousingWire, the CFPB's current projected 2018 budget is about $668 million. Trump's proposal for a $145 million cut would come out of that figure. The following year, Trump's budget proposal calls for a $650 million cut to the agency's budget. According to a
HousingWire
report, a cut that deep would eliminate nearly all the CFPB's estimated funding for 2019.
"Restructuring the CFPB to refocus its efforts on enforcing enacted consumer protection laws is a necessary first step to scale back harmful regulatory impositions and prevent future regulatory hurdles that stunt economic growth and ultimately hurt the consumers that the CFPB was originally created to protect," the budget proposal said. "Furthermore, subjecting the reformed Agency to the appropriations process would provide the oversight necessary to impose financial discipline and prevent future overreach of the Agency into consumer advocacy and activism."
Congressional Democrats pilloried the proposal.
"The Trump budget mirrors efforts by congressional Republicans to roll back Wall Street reform and take us back to the bad old days of weak oversight, lax enforcement and taxpayer bailouts," Rep. Maxine Waters (D-Calif.), ranking member of the House Financial Services Committee, said in a statement. "The budget proposes to functionally terminate the Consumer Financial Protection Bureau, the only federal agency with the sole purpose of protecting consumers, and once again expose communities across the country to predatory financial institutions."
Related stories:
Trump promises 'major haircut' on Dodd-Frank
Poll: Majority of voters want changes to CFPB leadership