In a party-line vote, the Senate has invoked the "nuclear option," ending Republicans' ability to filibuster presidential nominees.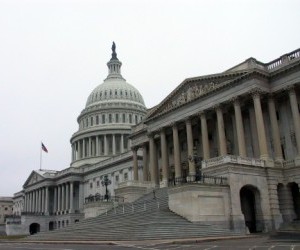 They finally, really did it -- they blew it up.

The Democrat-controlled Senate today invoked the long-threatened "nuclear option," effectively stripping Republicans of their ability to block President Obama's nominees. Voting along party lines, the Senate reduced the number of votes needed to end procedural gridlock from 60 to 51, according to a Reuters report.

The change simply means that Republicans will no longer be able to filibuster presidential appointments, Reuters reported – it doesn't apply to legislation.

But today's vote changes the way the Senate has handled the confirmation process since the mid-19th century.

Obama praised the change, calling the filibuster ""a reckless and relentless tool to grind all business to a halt," according to Reuters.

But Republican senators objected bitterly. Senate Minority Leader Mitch McConnell (R-Ky.) insisted that the rule change was unnecessary, and Sen. Charles Grassley (R.-Iowa) called the maneuver "a naked power grab."

Democrats will likely use their new power to clear the way for Rep. Mel Watt (D.-N.C.) to be confirmed as head of the Federal Housing Finance Agency. Although Watt has broad support from industry groups, Senate Republicans have been blocking his nomination.