The company posted nearly $1 billion in volume last year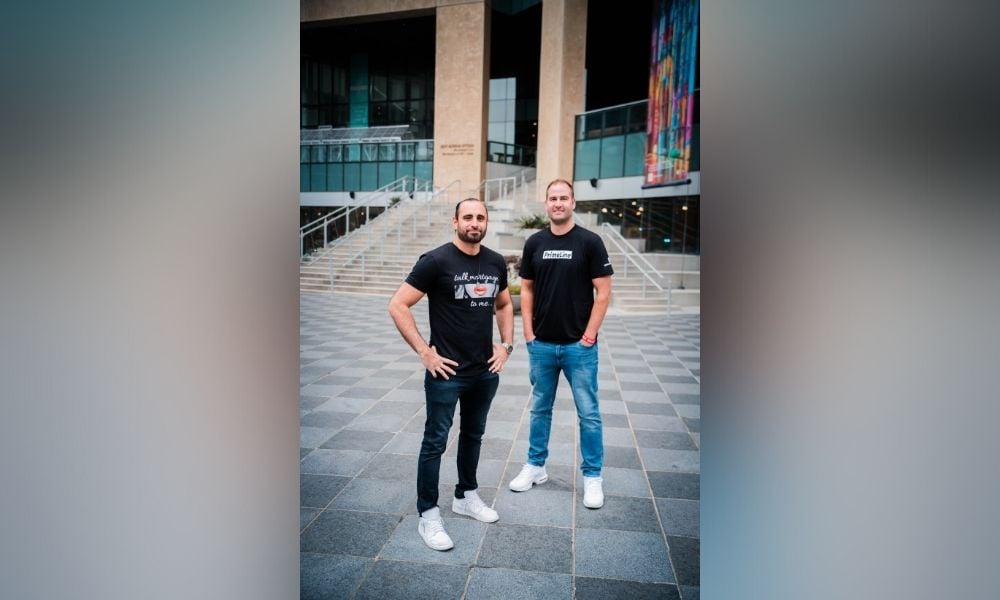 Sometimes, the buddy system can be very effective in launching a business. Just ask the founders of Charlotte, N.C.-based PrimeLine Capital, whose company posted nearly $1 billion in volume barely three years after the company was launched.
Brad Lawson and Fernando Escaffi (both pictured) took time to chat with Mortgage Professional America to discuss the secrets of their success and detail what they've done to stay ahead of a changing marketplace that has yielded some measure of anxiety for many.
The two formerly worked together at Wyndham Capital Mortgage, a company also based in Charlotte that provides residential mortgage loans through a direct-to-consumer, online lending model. Entering the industry in 2012, Lawson started off as a loan officer, moved to running a team, and then running an even larger team, he said. Escaffi was on his team, and distinguished himself by being one of the top producers year after year, Lawson recalled.
"We just worked really well together," Lawson said. For a variety of reasons, they both grew disenchanted working at Wyndham Capital and decided to venture out on their own. "We ended up partnering up and decided to open our own company," Lawson said, with the opening dates of January 2019 etched in his mind.
Escaffi suggested he was immediately on board. "When we decided to leave for multiple reasons, I was going to start a consulting company training mortgage companies," he recalled. "But Brad was ready to go and I thought instead of training other companies to do what we're really good at doing, let's do it for our own people," he ultimately decided.
The decision to venture out on their own has paid off. Starting out with around seven people at the outset, the company now has a staff of some 72 workers. Last year, the company posted some $970 million across 2,479 loans. So far this year, from January to February, the company has already posted $130 million in volume across 365 units.
Read more: US housing boom – why rising mortgage rates won't bring it to an end
Impressive numbers, especially considering how the company was launched in the middle of a pandemic. Having overcome that challenge, the company is now faced with a new set of challenges in the form of higher interest rates and a limited housing stock.
Undaunted, they have a plan to negotiate around those issues too.
"There's still plenty of refis out there," Lawson said. The refinancing boom of the last couple of years may be gasping its last breaths under the suffocation of increased rates, but: "We're doing mostly cashout refinanances," Lawson said. Indeed, the company has increased its share of refis from around 10% last year to a level that hovers around 30% now.
Escaffi expounded: "When rates go up, we switch to cashout refis and purchase refis," he said. "Cashout is not dead because with home prices going up there's more equity to be tapped into. The other thing that impacts it is are constraints of supply in the market with buyers having a hard time buying homes. If they can't buy homes, they're trying to make their current homes even nicer. So they're tapping into their equity to do home renovations and home improvements. There's still a lot of opportunity. Across the board, everybody's numbers have gone down but, relative to the competition, we're holding strong."
The two have also been looking more closely at providing non-QM loans – a segment that has emerged prominently as industry players pivot their tactics amid mercurial rates. "Back in December, and even into this year, we spent a pretty good amount of time trying to figure out how to incorporate non-QM into our business," Lawson said. But after reaching out to a lender for insights, nobody was able to explain ways to market the segment to a potential customer base, he said. "We just talked to another lender, and are getting signed up with them," he said, adding that the goal is to have the product available by April to represent some 10% of the company's business.
Escaffi is similarly unpanicked by a changing landscape "We're both very confident," he said. "The industry is definitely going to shrink. When interest rates get higher, and the market just gets tougher on mortgage companies, what happens is the pie becomes smaller and companies and loan officers usually fall out. But we're firm believers that the cream always rises to the top. If you're really good at what you do, take a bigger share of the pie. We're not worried about the market getting tougher it's just the environment we have to play in now."
Read next: Changing the narrative: Non-QM vs. subprime mortgages
Yet the firm had to be quick to adapt, so it trained staff on purchases while testing purchase lead sources, Escaffi said. "We're going into this with momentum having known that the rates were going to go up," he said. "There was preparation there."
Not that either is blissfully ignoring the reality of a metamorphosed market: "Of course there's a little hesitancy and nervousness," Lawson said. "It's very uncertain, especially this year, given the way rates have gone up so fast and how the housing market has stalled up to this point. That definitely creates some uncertainty. But one thing that has given us full confidence is that we have been notified by LendingTree – because we do buy LendingTree leads – that we are their number one converter on their network. Our conversions are number one compared to every lender across the board, which might be thousands. That gives us confidence to know we're doing something right. Compared to the competition we're already beating them. But that doesn't necessarily always pay the bills, so we gotta make sure we're always bringing in loans to ensure that we run a sustainable business."
Taking care of one's workers also figures prominently in the young company's corporate culture. Given current challenges as rates go up, workers aren't judged harshly if they have a week of anemic numbers following a stronger showing, both said. The upcoming Lending Confidence Classic to take place at the Pine Island Country Club on May 11 extends the company ideals further as it relates to valuing employees. The May 11 golf competition is designed to raise funds for the family of an employee recently killed in a motorcycle accident, leaving a wife and three children behind.
It's been said the measure of a company is how it treats its employees. By that standard, PrimeLine Capital sets itself apart just as it continues to distinguish itself with its performance across a rocky landscape.