Reuters reported that some officials hope to reach a deal before Wells Fargo reports its earnings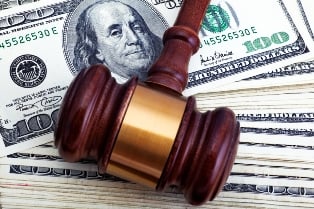 The Consumer Finance Protection Bureau is seeking a settlement with Wells Fargo that could reach as much as $1 billion, according to a report by Reuters.
Three sources with knowledge of the plans told the publication that potential settlement related to auto insurance and mortgage lending abuses. In case of a settlement, it would be the first entered by the CFPB under Mick Mulvaney, who assumed leadership of the bureau as acting director after appointment by President Donald Trump in November.
Some officials hope to reach an agreement with Wells Fargo before the bank reports its earnings April 13.
Although settlement terms are not yet final, three sources with knowledge of the discussions told Reuters that Mulvaney is pushing for a figure as high as $1 billion.
The CFPB is working on the sanctions alongside the Office of the Comptroller of the Currency, the bank's day-to-day regulator. Reuters reported in March that the two offices were prepared to penalize the bank for layering extra insurance on drivers and collecting commissions on those policies.
In addition, the CFPB and OCC have been looking into Wells Fargo's levying of fees on mortgage borrowers.
Mulvaney is seeking an amount that would settle the two matters, according to Reuters. Sources familiar with the talks said the potential amount will exceed the $100 million settlement Wells Fargo entered with the CFPB in September 2016 to settle its phony accounts scandal. That fine had been the CFPB's largest ever.
The settlement would fulfill Trump's promise to seek tough penalties against the lender. Reuters in December reported that Mulvaney had set aside sanctions against Wells Fargo related to mortgage-lending abuses.
"Fines and penalties against Wells Fargo Bank for their bad acts against their customers and others will not be dropped, as has incorrectly been reported, but will be pursued and, if anything, substantially increased. I will cut Regs but make penalties severe when caught cheating!," Trump later tweeted.
Related stories: