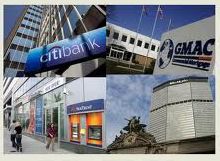 (TheNicheReport.com) -- 3/16/2012 -- The results of the stress tests conducted by the United States Federal Reserve on the largest American banks show that most are enjoying solid financial health. The stress tests, which simulate extreme and adverse macroeconomic conditions to evaluate the strength of the banks during times of crisis, have been carefully conducted since 2008.
Out of the 19 banks evaluated by the Federal Reserve, 15 proved resilient under the conditions simulated by the stress tests. The adverse conditions include a hypothetical record unemployment rate of 13 percent and a sudden depreciation of the American housing market by 21 percent. The four banks that did not meet the test are Ally Financial, Citigroup, MetLife, and SunTrust.
The inclusion of Citigroup was surprising, since it expected to fare much better under the stress tests. Citigroup was at one point the world's largest financial services provider. Ally Financial is the former GMAC, a significant recipient of the Troubled Asset Relief Program (TARP) deployed by the U.S. government during the George W. Bush Administration to help fend off a total financial meltdown. MetLife is a very strong insurance company that has been considering selling its banking operation for almost a year. SunTrust is one of the largest regional banks in the United States, and in a press release the bank stated that the Federal Reserve's testing methodology differs from their own and that investors should not worry.
Overall Good Financial Health
For the 15 other banks that showed they can an extreme financial downturn, news of the positive results boosted their ratings and financial standing. Investors reacted positively to the news after JP Morgan Chase, one of the best performers of the stress tests, announced the results. For the banks that were recipients of TARP, the stress tests are also important in the sense that positive results in more investment leeway given by the government. In the case of JP Morgan Chase, the government agreed to loosen its leash a bit and now it is free to raise cash by repurchasing stock. Dividend payouts were also increased significantly for JP Morgan investors, from 5 cents per share to 30 cents.
The fact that most of the banks obtained good marks is a clear sign that the American economic recovery is underway. As for the criteria of the stress tests, the scenarios were very rigorous, although a sudden downturn of the European banking industry could still bring some additional pain to American banks.
Other bank holding companies that proved resilient to adverse conditions include American Express, BB&T, KeyCorp and PNC. These holding companies can now repurchase their own share and increase dividends, two factors that are sure to catch the attention of investors.