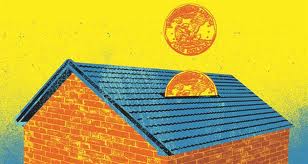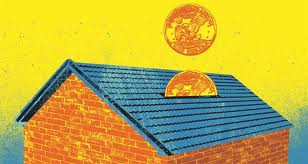 After the housing bubble burst in 2008, the prospect of selling a house at a reasonable price has dimmed significantly. Many families are forced to sell their homes for less than the purchasing price, leading others to believe that the best course of action is to simply stay put and wait for the market to improve.
There are, however, a few things you can do to improve your home's value in the meantime. Some renovations do little to add to a house, but others have a significant return on investment and may mean the difference between a house selling within the month and stagnating on the market for a year.
Keep Things Modern
Certain rooms have a greater remodeling ROI than others, but the entire house should be kept looking fresh, clean and modern to appeal to buyers. Touch up paint in rooms where it's gotten dingy, and replace old carpeting that has seen better days. Furniture should also be relatively new, and try to keep your decorating cohesive and aesthetically pleasing. Although furniture will not play any part in a buyer's life in the house, it can inspire feelings of comfort, whereas shabby furnishings will only hurt a prospective purchaser's impression.
The Kitchen and Bathrooms
The best rooms to remodel in a home are the kitchen and bathrooms. These are the rooms that have the most appliances, and thus are a major factor for anyone thinking about buying a home. Outdated counters and machines represent additional costs and headaches to future homeowners, but a stylish kitchen will help assuage any other concerns they may have. Similarly, clean bathrooms are a major perk. A kitchen or bathroom remodel can each yield approximately
90% ROI
, by far the best investment you can put into your house.
Expansions
A far more expensive option, but one which can significantly improve a home's odds of selling, is to increase floor space through an expansion. However, this must be considered carefully to determine whether or not it's worth the time and money. A house that is already 3000 square feet, for example, probably doesn't need any extra room. A smaller home with only one bathroom or guest bedroom, on the other hand, would benefit from having additional space. If you decide to expand your house, make sure you hire a professional that can seamlessly integrate the new walls with your existing infrastructure. If you have the money to put into it, expanding can be an excellent way to make your house more desirable.
The Exterior
Finally, there's no better way to make a first impression than improving and maintaining your yard. A poorly-kept lawn can bring down an entire neighborhood's property values, let alone your own home. At the bare minimum, you should keep your grass mowed and weed-free, but it's better to put some real effort into whatever yard-space you have. Plant some flowering trees and prune them once a year, and install some flower beds to brighten up your doorway. Don't allow junk or children's toys to accumulate in the driveway. A fresh coat of paint can also vastly improve your house's appearance.
If you're lucky, you will have the luxury of taking your time and completing renovations as you can afford them. Sometimes, however, a home needs to be sold as quickly as possible, and its owners are left wondering where to start. In such a scenario, it's best to stick to the basics and consult your real estate agent. Even a simple deep cleaning can give your home the face-lift it needs to find a buyer quickly.
Karl Stockton frequently writes on real estate, investment, general finance and current events. He believes that with intelligence, persistence and well-researched advice, all people have the potential to fulfill their particular home ownership goals. This article was written on behalf of Patton Law Practice. Contact them in the future for your medical malpractice legal needs.