More Americans are searching for high performing, efficient homes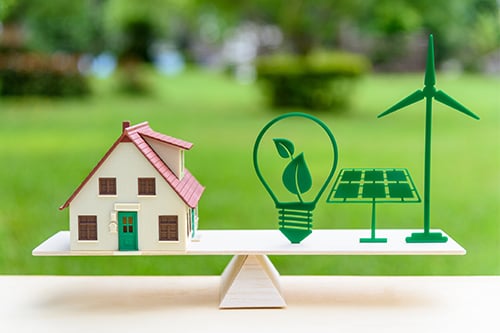 The marketplace for sustainable homes has grown considerably over recent years, and buyers are seeking brokerages with the same values to help them find efficient homes, according to the National Association of Realtors (NAR).
NAR reported that more buyers are looking for homes that prioritize comfort, durability, wellness, and affordability, with the number of homes certified to the National Green Building Standard spiking to 60% since 2017.
A forum at the 2020 REALTORS Conference & Expo touched on the longer-term value proposition for brokerages integrating sustainability as a primary business value.
During the session, Craig Foley, chief sustainability officer New England-based LAER Realty Partners, said that consumers have become more aware of how companies should take responsibility for their footprint in the world.
"Consumers have realized that companies need to step forward to advance a sustainable future," he said. "LAER Realty Partners is actively engaging consumers, staff and agents with our sustainability initiatives. These include not only how we walk the walk in our day-to-day decision making, but in how we support homeowners, sellers and buyers that are looking to decrease their carbon footprint, lower operating costs, and live in a healthy home and community."
"The work we have done with sustainability at LAER Realty Partners is about how we can all be better neighbors," said Stacey Alcorn, owner of LAER. "We all have a collective responsibility to do what we can as community members to advance a sustainable future."
Amanda Stinton, the host of the discussion and director of leadership and sustainability at NAR, noted that roughly 82% of S&P 500 companies published a voluntary corporate sustainability report a few years ago, up 20% from the figures recorded in 2011.
"With today's homebuyers looking for healthier, more efficient homes, NAR continues our work to promote the benefits of home performance," said NAR President Vince Malta. "Green building practices often create homes that are more durable and require less maintenance, ensuring our clients and America's homebuyers are able to afford the highest quality home for the lowest possible price. We are excited to drive these critical conversations forward as Realtors strive to help US consumers find the high performing, efficient home of their dreams."