Builders are pausing construction activity due to headwinds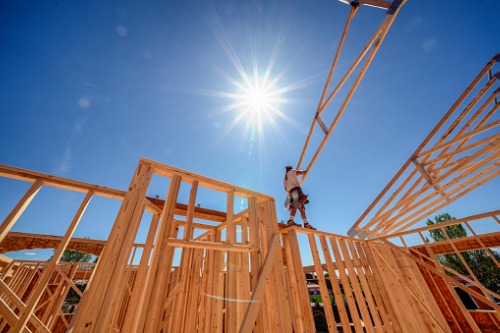 US housing starts plunged 9.5% in April due to escalating lumber prices and supply bottlenecks.
Driven by the decline in single-family starts, overall housing production fell 9.5% month over month to a seasonally adjusted annual pace of 1.57 million units, according to a report from the US Department of Housing and Urban Development and the US Census Bureau. Single-family starts were down 13.4% month over month to a 1.09 million annualized rate. Meanwhile, the multifamily sector (apartment buildings and condos) inched up 0.8% to a 482,000 pace.
Read more: The 7 most popular types of mortgage loans for home buyers
"Single-family starts in April dropped more than 13% compared to last month, but permits to build single-family homes saw a smaller decline," said MBA chief economist Mike Fratantoni. "This is consistent with reports that builders are delaying starting new construction because of the marked increase in costs for lumber and other inputs. Moreover, builders are also reporting difficulty obtaining other inputs like appliances."
Frantantoni added that these challenges are pricing out potential homebuyers from an otherwise hot housing market. But even with these constraints, there are approximately 640,000 new homes under construction right now – a helpful addition to low supply levels.
Overall permits in April were at a seasonally adjusted annual rate of 1.76 million, up 0.3% month over month. Single-family permits posted a 3.8% month-over-month dip to a 1.15million-unit rate, while multifamily permits jumped 8.9% to a 611,000 pace.
The number of single-family homes permitted but not started construction is on an upward trend, rising to 131,000 units – 47% higher than a year ago. Housing completions, on the other hand, were down 4.4% from the revised March estimate of 1.52 million units to the April rate of 1.45 million units.
"The fundamentals driving new home sales are strong – low rates, limited supply of existing homes for sale and demand driven by millennials. The pandemic and the desire for more space has accelerated this lifestyle decision. You can't buy what's not for sale, but you can build it," said First American Deputy chief economist Odeta Kushi. "Builders want to build. May's Home Builder Sentiment Index remained unchanged from April's strong reading of 83. Of the index's three components, sales expectations increased by one point. However, the cost and availability of building materials remain a challenge."