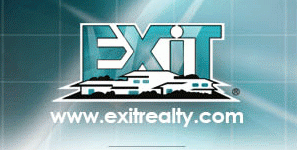 New leadership team formed to support company's aggressive growth
Woburn, MA (Grassroots Newswire) October 10, 2012 – EXIT Realty Corp. International announced yesterday the appointment of five Divisional Presidents to aid in the company's aggressive regional growth.
This announcement comes on the heels of the recent appointment of Tami Bonnell as CEO. "EXIT Realty has very aggressive growth plans for 2013 and beyond," said Bonnell "Having the Divisional Presidents in place to support that growth is essential. All five of the people we have chosen are leaders in the industry first, then leaders within EXIT. We are proud of their accomplishments and look forward to EXIT's next chapter."
The Divisional Presidents will report to Bonnell and act in a supporting role to her as well as to the Regional Owners who are spearheading growth in their respective states throughout the U.S..
Craig Witt, formerly EXIT's Michigan Regional President will oversee the North Central Division comprising Montana, Idaho, Wyoming, North and South Dakota, Nebraska, Kansas, Minnesota, Iowa, Missouri, Wisconsin, Illinois, Michigan, Indiana and Ohio.
Victoria Rivadeneira, formerly EXIT's Regional Director of Upstate New York will oversee the North East Division comprising Maine, Vermont, New Hampshire, Massachusetts, Rhode Island, Connecticut, New Jersey, Delaware, District of Columbia, New York, Pennsylvania, Maryland, West Virginia and Virginia.
Janice Petteway, veteran Franchisee of EXIT Real Estate Results in the Orlando Florida area, will oversee the South East Division comprising Kentucky, Tennessee, North and South Carolina, Mississippi, Alabama, Georgia and Florida.
Bob McKinnon, former Senior Regional Consultant and 42-year industry veteran will oversee the South Central Division comprising Utah, Colorado, Arizona, New Mexico, Oklahoma, Texas, Arkansas and Louisiana.
Susan Ebert, award-winning Franchisee of EXIT Twin Advantage Realty in Murrieta California will oversee the Pacific West Division comprising Washington, Oregon, Nevada, California, Alaska and Hawaii.
"EXIT's leadership team is unrivaled anywhere else in the real estate industry," said EXIT Realty's Founder and Chairman, Steve Morris. "Their depth of experience, drive and commitment to the success of our Regional Owners, Franchisees and Associates are an unbeatable combination. EXIT owns the next decade."