Foreclosures have been steadily dropping in most of the country – but these states are bucking that trend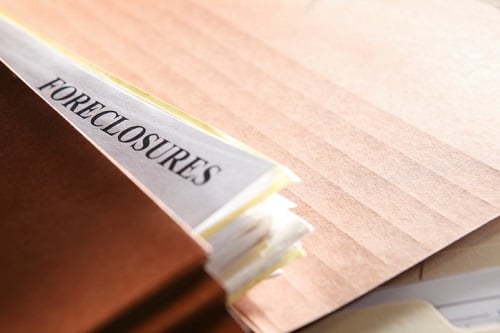 The foreclosure rate is broadly in decline across the country as the economy continues to recover from the 2008 recession. But some states are still struggling with high foreclosure rates, according to a report from Experian.
Overall, residential foreclosures dropped 27% last year to 676,525 – the lowest level since 2005, Attom Data Solutions reported. On average, one in every 1,776 US homes is currently in foreclosure.
According to Experian, it's primarily coastal states where foreclosure numbers are still trending high. The credit rating agency recently looked at the 10 states with the highest foreclosure rates:
10. New Mexico
One out of every 1,386 homes are in foreclosure, and the three major foreclosure categories – pre-foreclosure, auctions, and bank-owned home repossessions – are all up significantly, according to Experian. Pre-foreclosures were up 17.7% in the state during the first quarter, while bank-owned repossessions spiked by 34.9%.
9. Nevada
The city of Las Vegas alone recorded about 500 home foreclosures per month in the fourth quarter of 2017 – up from just 32 per month in the third quarter.
"A state government law that changed the way Nevada handles foreclosures seems to have stalled foreclosures as the law rolled out, but home repossessions are back up again as banks and lenders have a better grip on how the new legislation works," Experian said.
8. Ohio
One in every 1,289 homes was in foreclosure as of March. The state had a "skyrocketing" one-month bank-owned foreclosure rate of 77.3% from the middle of February to the middle of March, Experian reported.
7. South Carolina
One in every 1,120 homes was in foreclosure in the first quarter, with 59.1% in pre-foreclosure, according to Experian. The state say auction, pre-foreclosure and bank-owned foreclosure all up more than 20% in the first quarter.
6. Florida
Florida is still in the top 10 states with the most foreclosures, but "does seem to be on the comeback trail," Experian said. The state had 24,215 foreclosures filed in 2017 – compared to 43,772 in 2016.
5. Connecticut
One out of every 1,468 homes were in foreclosure as of March, Experian reported. However, the foreclosure situation in Connecticut seems to be improving, as bank-owned foreclosures dropped 35.8% between March of 2016 and March of 2017. However, in the last year, bank-owned foreclosures have risen 6.3%, Experian reported.
4. Illinois
Illinois has a 0.86% foreclosure rate, one of the highest in the country – and is also losing residents left and right. Between July of 2016 and July of 2017, more than 33,000 residents left Illinois – the most in the US – many due to onerous tax burdens.
3. Maryland
Maryland had a 0.95% foreclosure rate at the end of 2017 – about one in every 1,069 homes.
2. Delaware
Delaware saw a 16% spike in foreclosures last year, according to Experian. The state has a 1.13% foreclosure rate.
1. New Jersey
New Jersey has the highest foreclosure rate in the nation, with one in every 605 properties in some stage of foreclosure in 2018, Experian reported. That's a 1.61% foreclosure rate. Bank repossessions in New Jersey hit an 11-year high last year, while the rest of the United States saw repossessions hit an 11-year low.