Home builders weren't quite as confident in the market this month, but most remained positive about home sales prospects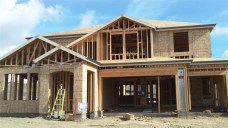 Builder confidence slipped slightly in May, but most home builders still feel the market is doing well, according to new data released by the National Association of Home Builders.

Confidence in the market for new single-family homes dropped two points this month to a level of 54 on the NAHB/Wells Fargo Housing Market Index. A reading above 50 on the index signals that most builders are confident in the market, while a reading below 50 indicates that a majority of builders lack confidence in the market. May's reading is still well in positive territory, and a nine-point improvement over May 2014's reading of 45.

"Despite this month's slight dip, builder confidence in the new home market remains above the 50-point benchmark," said NAHB Chairman Tom Woods. "Overall, the second quarter of 2015 is shaping up to be very solid."

"Consumers are exhibiting caution, and want to be on more stable financial footing before purchasing a home," said David Crowe, NAHB chief economist. "On the bright side, the HMI component measuring further sales expectations has been tracking upward all year, mortgage rates remain low, and house prices are affordable. These factors should spur the release of pent-up demand moving forward."

The HMI component measuring sales expectations in the next six months rose one point to 64 in May, according to the NAHB. The index measuring buyer traffic fell a point to 39, and the component measuring current sales dropped two points to 59.

Regionally, the South and Midwest both saw overall gains in guilder confidence, with their index readings each rising a point to 57 and 55, respectively. Meanwhile, the Northeast dropped a point to 41 and the West fell three points to 55.