Is this the way of the future? Bank of America is making great strides in being on the forefront of mortgage technology with the addition of video mortgage bankers and the launching a new web-based tool that is aimed at guiding consumers to down payment and closing cost assistance programs available in their region.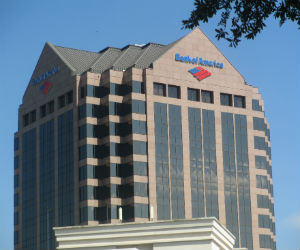 Bank of America (BofA) is adding video mortgage bankers as it continues to add video to the way it interacts with customers. According to the News & Observer, the bank plans to increase the number of branches equipped with video from 180 to 300. Customers can use the screens to talk to specialty bankers offering mortgages, small business loans or investment products.
Two years ago BofA began installing automated teller machines with video screens and testing screens in some of its branches three years ago. The bank's use of video to interact with customers is in contrast to some of its big-bank peers, who are taking a wait-and-see approach to the technology, accoridng to the media outlet.

The bank dropped to fourth place in U.S. mortgage market share market, as shares fell to 4.4% last year from 4.8% the year before, as the total amount of home loans it made sank to $54.5 billion from $89.8 billion, according to The Charlotte Observer.

Additionally, Bank of America has launch a new web-based tool that is aimed at guiding consumers to down payment and closing cost assistance programs available in their region. The Bank of America Down Payment Resource Center is powered by Down Payment Resource, developed by Atlanta-based Workforce Resource.
"Taking a few minutes to answer fewer than five questions can get you one step closer to homeownership. Through a simple process, you can find out immediately which federal, state or local down payment and closing cost programs you might be eligible for," said Dottie Sheppick, senior vice president of Affordable Housing for Bank of America. "With a wide variety of qualifying criteria, there may be a down payment assistance program for you."
In a recent survey Bank of America conducted with first-time homebuyers, about half of respondents indicated affordability was a barrier to purchasing a home. In addition, 70% of adults in the U.S. said they were unfamiliar with down payment assistance programs for middle-income homebuyers in their community, according to a NeighborWorks America survey.
"Lack of funds for a down payment has long been one of the most common barriers to buying a home," said Rob Chrane, president and CEO of Down Payment Resource. "Many buyers assume down payment programs offered by state and local housing authorities are only for lower-income candidates, but there are programs available for middle-income buyers, too. In fact, there are programs that cover a variety of non-income-based eligibility criteria, and every homebuyer concerned about affordability should investigate down payment assistance."
While visiting the Bank of America Down Payment Resource Center, customers can search a database of more than 1,300 down payment and closing cost assistance programs and also:
Learn how to use down payment and closing cost programs in combination with first mortgage loans to make homebuying more affordable.

Get information on preparing to purchase a home.

Connect with an experienced Bank of America mortgage specialist to explore options.
Workforce Resource has partnered with many nonprofit organizations, realtor associations, multiple listing services and financial institutions to share their web-based solution with real estate professionals and consumers. The partnership with Bank of America represents their first national partnership and first with a major lender.