With 35 straight months of home price gains, is the housing market in a recovery -- or riding a wave that's about to crash?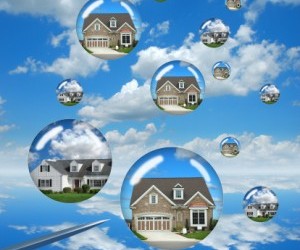 March's 4.1% year-over-year gain in home prices means that the housing market has now seen yearly gains for 35 consecutive months. That's good – but does it mean we're currently riding a housing bubble that's about to burst?

Probably not, according to the managing director and chairman of the S&P Dow Jones Index Committee.

"Given the long stretch of strong reports, it is no surprise that people are asking if we're in a new home price bubble," said committee head David M. Blitzer. "The only way you can be sure of a bubble is looking back after it's over."

Blitzer said that while some indicators would seem to argue for a bubble, he feels the housing market is currently in a recovery, not riding a wave that's about to crash.

"The average 12-month rise in inflation-adjusted home prices since 1975 is about 1.0% per year compared to the current 4.1% pace, arguing for a bubble," Blitzer said. "However, the annual rate of increase halved in the last year. … Home prices are currently rising more quickly than either per capita income (3.1%) or wages (2.2%), narrowing the pool of future home buyers. All this seems to suggest that some future moderation in home price gains is likely. Moreover, consumer debt levels seem to be manageable. I would describe this as a rebound in home prices, not a bubble and not a reason to be fearful."

In March, San Francisco and Denver led the nation in annual price gains. San Francisco saw a 10.3% spike, its first double-digit increase since last July. Denver was up 10% from March of 2014.

Cleaveland had the largest deceleration in price gains, down 1.2% compared to February's annual growth.