Black homeownership in particular is at a record low, and it will take some time to reverse the trend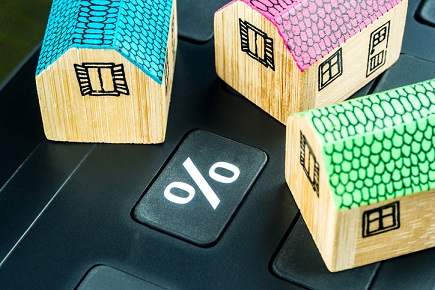 In the second quarter, the homeownership rate for all Americans fell to the lowest since 2017, and the number of new homeowner households grew by only 585,000, a third of the year-earlier level and the fewest since 2006.
The numbers are particularly discouraging for black homeownership. More than 50 years after the passage of the Fair Housing Act, which was established to protect minorities against discrimination in the selling, leasing and financing of homes, black homeownership dropped in the first quarter to the lowest level since at least 1970. It's fallen more than 8.6 percentage points since its peak in 2004.
The rate among black Americans was 40.6% in the second quarter, down from 41.6% a year earlier and the smallest share since the Census Bureau began keeping consistent data almost 50 years ago. Hispanic homeownership is on the rise, which marks the first time in more than two decades that Hispanics and blacks, the two largest racial minorities in the U.S., are no longer following the same path when it comes to owning homes.
"The trends in the homeownership rate reflect a broader racial chasm in who is able to acquire the American dream," Ralph McLaughlin, deputy chief economist at CoreLogic Inc., told Bloomberg. "Black homeowners are much more rare today than any time in last 50 years."
As starter home prices continue to climb and investors continue to compete for the homes that do come onto the market at the lower end of the scale, renters across the country are finding themselves stuck and unable to get onto the homeownership ladder.
The share of Americans who own their homes was 64.1% in the second quarter, the lowest since the third quarter of 2017, according to a Census Bureau report Thursday. It was the second straight decrease, down from 64.2% in the previous three months and 64.3% a year earlier.
This year's drop in mortgage rates and the strong job market have only added to competition for entry-level homes, driving up prices for a limited supply of properties and slowing sales. The median price of a previously owned U.S. home rose 4.3% from a year earlier to a record of $285,700, while sales dropped 2.2%, according to the National Association of Realtors.
Why does it matter?
Disparities in homeownership between blacks and non-Hispanic white borrowers aren't just about who gets to own a home and who doesn't. A racially segmented housing market has a direct impact on economic mobility, and that has a direct impact on the nation's economy.
"Segregation, disparate access to credit and homeownership, and the consistent devaluation of homes in black neighborhoods combine to constrict the ability of African Americans to build equity and accumulate wealth through homeownership," wrote Michela Zonta in her recent report, "Racial Disparities in Home Appreciation".
In the report, Zonta wrote that weakness in fair housing enforcement has undermined the ability of the Fair Housing Act to reverse housing segregation and eliminate housing discrimination. Home price appreciation is also a factor in lessened economic mobility, as even higher-income black homeowners are more likely to buy homes in heavily minority neighborhoods that haven't benefitted from the rise in home prices since the housing crash more than a decade ago.
"The forms of discrimination that were common in the past have been shifting over time, and housing discrimination—along with persisting residential segregation—continue to hamper African American homebuyers' ability to build equity," Zonta wrote. "African American home mortgage borrowers remain concentrated in residentially segregated areas where homes have failed to appreciate at the same pace as those in neighborhoods where white borrowers more predominantly buy their homes."
In other words, when white buyers are eventually able to get their foot into the door and into a home, they're likely able to do so in an area where the value of that home will appreciate over time.
The overall decline in homeownership rates is difficult to solve because the solutions are going to be different for the different demographics of borrowers. For white borrowers, shy of hoping building costs go down and the labor market loosens, the solution is going to be looking at alternatives to the single-family housing market; exploring modular or small multi-family housing units, options that may not be as attractive to investors. Zonta said that the actions that would make the biggest positive impact on black homeownership rates are to a) make local jurisdictions responsible for planning to achieve fair housing, 2) empower federal state, and local governments and nonprofits to fully enforce the Fair Housing Act, giving more funding specifically to the Fair Housing Initiatives Program and the office of Fair Housing and Equal Opportunity, and 3) Implore the Department of Housing and Urban Development to firmly enforce the Fair Housing Act's disparate impact rule.
With Congress and the CFPB rolling back reporting requirements for banks that were created to allow researchers to better understand the reason for credit denials and to identify loans with risky features, these suggestions are highly unlikely to be put into place.
The CFPB recently issued a proposal that would raise the coverage thresholds for collecting and reporting data about closed-end mortgage loans and open-end lines of credit under the Home Mortgage Disclosure Act (HMDA) rules. While CFPB Director Kathy Kraninger said that the proposed changes would "provide much needed relief to smaller community banks and credit unions", Bloomberg's Mark Whitehouse and Timothy Lavin are skeptical.
"This would potentially allow more than 1,700 lenders to go completely dark, and exclude information on about 10% of the multifamily loans crucial to financing low-income housing. It's also considering scrapping some of the data fields it added just a few years ago. This could, for example, eliminate all data on manufactured homes, an area rife with lending abuses," they wrote.