Even wildfire risk and the soaring insurance prices that attend it aren't stopping homebuyers from moving into some of the most fire-prone areas of the country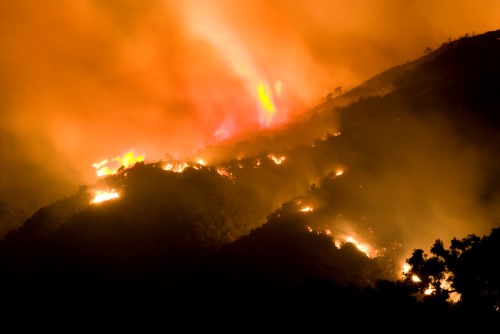 Wildfires threaten $1.5 trillion worth of homes in the US, according to new data.
That represents 7.7% of total US housing value – a disproportionately large portion, according to real estate website Redfin, which compiled the data. The counties most at risk – Los Angeles, Orange and Santa Clara, Calif. – are all among the most expensive housing markets in the country, and are already feeling pressure from inventory shortages. Still, high wildfire risk doesn't seem to be deterring people from buying homes in the area, local real estate agents say.
"People who are still in shock from losing their homes and possessions from the October fires are greeting one another at open houses while comparing notes on the hotels or rentals where they are temporarily living," Redfin Santa Rosa agent Starling Sholz said. "People view wildfire risk as a price of living in California that's well worth the rewards – beautiful weather, nature and well-paying jobs."
Redfin Santa Barbara agent John Venti said that people who still wanted to buy in wildfire-prone areas might get sticker shock when it came to insuring their homes.
"It's important to get a fire insurance quote before falling in love with a home," he said. "We've had people and properties receive exorbitantly high quotes for fire insurance. Others were flat-out denied coverage because the home was too risky or the buyer had a large outstanding claim from a previous fire. California FAIR Plan property insurance may be able to provide insurance for homes that have been denied coverage."
Seven of the top 10 counties most at risk for wildfire losses are located in the Golden State, according to Redfin.
"California is so predominant in the ranking not only because of the state's high frequency of wildfires, but also because of its desirable, expensive housing markets," Redfin said. "If demand for homes in these places doesn't subside, inventory shortages and affordability crises in these places will likely continue as wildfires inevitably destroy more homes each year."
The top 10 counties for wildfire loss risk are:
Los Angeles County, Calif.
Orange County, Calif.
Santa Clara County, Calif.
San Diego County, Calif.
Harris County, Texas
Riverside County, Calif.
San Bernardino County, Calif.
Dallas County, Texas
Ventura County, Calif.
Clark County, Nev.
Related stories:
CoreLogic: 9.1 million Californian homes at risk from wildfires
Home prices soar in disaster-prone areas