Experts say drop in sales suggest supply shortage is easing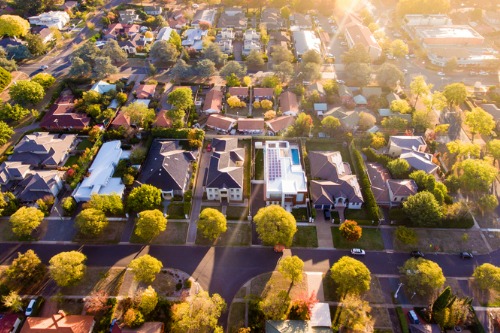 Sales of newly-built single-family homes fell to a pandemic low in June, indicating that the COVID-induced homebuying frenzy is calming down.
Estimates from the Census Bureau revealed that new home sales declined to a seasonally adjusted annual rate of 676,000 in June. The figure is 6.6% below the revised May rate of 724,000 and is 19.4% below the June 2020 estimate of 839,000.
"New home sales fell in June to their lowest level since the depth of the pandemic, in April 2020," said Holden Lewis, home and mortgage specialist at NerdWallet. "It seems that homebuyers are snubbing the highest-priced new homes and snapping up the lower-priced ones. That leaves a growing inventory of expensive homes, which are taking longer to sell. In short, home buyers are weary of fast-rising home prices, whether the homes are new or used."
Meanwhile, the supply of new houses is slowly catching up with the relatively high demand. There were 353,000 new homes for sale at the end of June, the highest monthly inventory since December 2008, according to Lewis.
Read more: Revealed: what's happening to US housing starts?
Fannie Mae chief economist Doug Duncan said that while the June sales were significantly lower than projected, the slump in sales was not surprising.
"Some of the slowing in the sales pace likely reflects a move toward normalization in homebuying demand following the pandemic-related surge," he said. "A recent measure of homebuilders' sentiment revealed a pullback in the buyer foot traffic metric, which reached the lowest level in nearly a year, while the June 2021 Fannie Mae Home Purchase Sentiment Index showed a further increase in the share of respondents indicating it's a bad time to buy a home. We believe many of the past year's buyers likely pulled forward their intended purchases to take advantage of low mortgage rates and remote working opportunities, while stimulus checks provided down payment support."
The median sales price of new houses sold in June was $361,800, while the average sales price was $428,700.
Read more: Mortgage applications post decreases across the board
Still, Duncan noted that the report provides ample evidence of ongoing supply constraints holding back potential sales.
"The number of homes for sale but not yet started jumped 11.7% and, as a share of total homes for sale, hit the highest share on record at almost 30%. In contrast, homes for sale that are currently completed remained near the lowest level recorded since the start of the series in 1999," Duncan said. "While today's release will likely result in a downward revision to our near-term sales outlook, new home sales are still expected to rebound somewhat as the recent pullback in lumber prices and likely loosening of the labor market leads to more home construction."