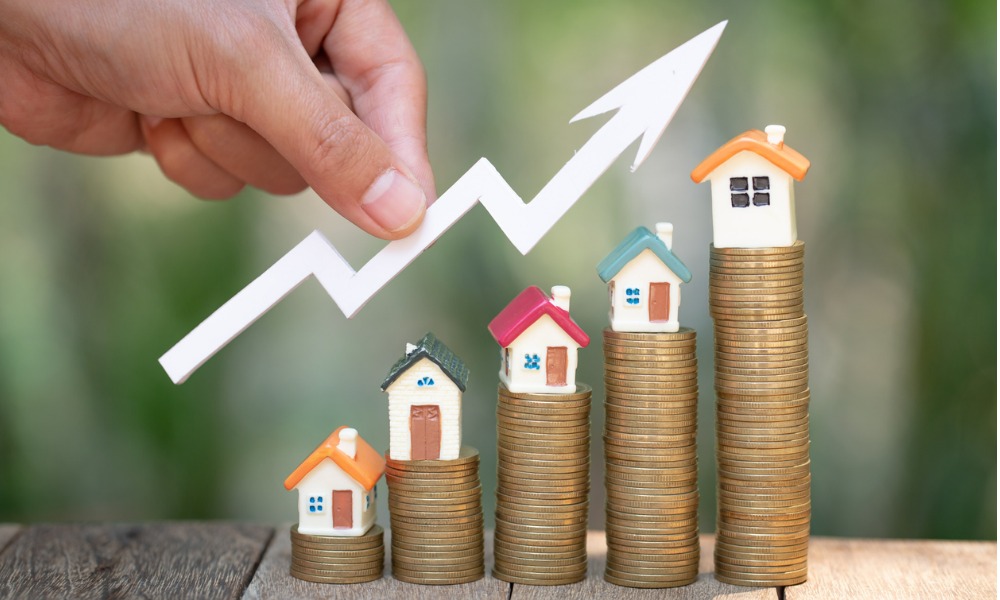 US home price growth in June subsided to an 18% annual pace – in line with the forecasts of housing market analysts.
The S&P CoreLogic Case-Shiller US National Home Price NSA Index rose 18% year over year in June – a significant slowdown from 19.9% in May. Month over month, house prices were up 0.3% on a seasonally adjusted basis.
"Housing market activity slowed considerably over the summer, leading to widespread deceleration in home price growth and rising concerns over recession in the housing market," said CoreLogic deputy chief economist Selma Hepp.
"Nevertheless, the rebalancing of buyer and seller expectations was inevitable after overheated and unsustainable demand and price growth, followed by a surge in mortgage rates and consequent constraints on affordability. Thus, cooling of price acceleration, as well as demand, will yield a healthier and more balanced housing market going forward."
Craig Lazzara, managing director at S&P DJI, noted that deceleration and decline are two entirely different things and that prices are still rising at a robust rate.
According to the National Association of Realtors, the median home sales price hit a record high of $413,800 in June before dipping to $403,800 in July. Existing-home sales price in July was also roughly 11% higher than a year ago.
Still, industry experts expect home price growth to slow considerably in the coming quarter. Goldman Sachs chief economist Jan Hatzius forecasted home price appreciation to stall completely, averaging 0% in 2023.
"While outright declines in national home prices are possible and appear quite likely for some regions, large declines seem unlikely," Hatzius said.
"Home-price appreciation continues to become more gradual as the Fed has worked to manage inflation and raised mortgage interest rates," said Steve Reich, chief operations officer of Finance of America Mortgage.
"Data shows there was a significant boost in inventory in June — active listings increased by about 18% compared to the same period last year. This spike can likely be attributed to the fact that more sellers put their homes on the market during the popular summer homebuying season, which may have reduced competition in certain markets.
Read more: Fed to focus on higher rates for longer, Powell signals
"While mortgage rates were higher compared to this time last year and the 30-year fixed mortgage is hovering above 5%, rates are comparable to pre-pandemic levels. For that reason, I believe that prospective homebuyers should look at the glass as half full as they continue or begin their home search. More inventory and slowing demand may provide some wiggle room, and savvy buyers may be able to take advantage of this opportunity."