Ben Caballero has an enviable record for selling real estate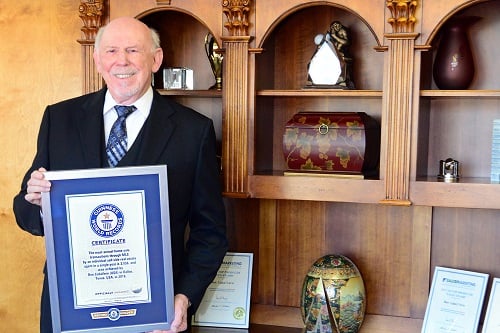 A world-record-holding real estate agent has smashed his own record by selling homes worth $1.9 billion in a single year!
Ben Caballero of HomesUSA.com in Addison, Texas, became the first to be listed as a Guinness World Record holder with his 2016 total of 3,556 homes totalling $1.444 billion.
His official listing is for: "Most annual home sales transactions through MLS by an individual sell side real estate agent."
But 2017 saw the super-seller go even further, with 4,799 home sales pushing him towards the $2 billion mark!
Caballero lists homes for more than 60 builders in the Dallas-Fort Worth, Houston, Austin, and San Antonio; and his record means he has sold an average 92 homes per week every week of last year.
"Texas is my not-so-secret sauce," said Caballero. "It's the nation's most vibrant home-building market, with Dallas-Fort Worth being the highest-ranked market for builders in the country. When one factors Houston's recovering from Hurricane Harvey, Austin's continuing its burgeoning pace and the unique qualities that make San Antonio attractive, Texas continues to prove itself a winner for home builders."
There is a good chance that he will break his record again by the end of 2018.