Can the burgeoning sector cope with potential changes ahead?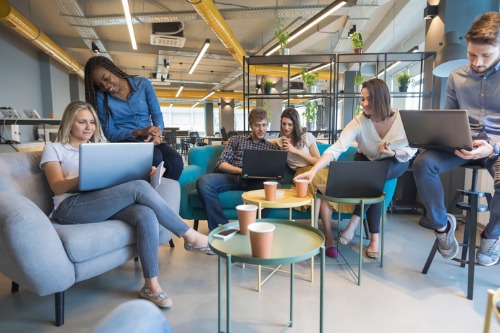 WeWork may grab many of the headlines but the co-working real estate industry is far from a one horse race.
But what happens when the much-talked-about recession bites? Can the industry cope with a downturn?
Those are the kind of questions that have been asked at a conference hosted by the NYU School of Professional Studies. The event was held Thursday in New York.
Bloomberg reports that real estate industry attendees had mixed feelings about what's ahead for co-working.
Scott Rechler, chief executive officer of developer RXR Realty, which holds a stake in co-working Convene, says that he can see a sharp fall in the short-term leases held by flexible workspaces in the coming 6-9 months.
"Pricing may need to be adjusted, and the question when it adjusts is, does it adjust to a level where a user is willing to pay that higher price for the flexibility," he told the conference. "I'm not sure if we know where that market is."
Rechler believes that co-working will be a long-term factor in the CRE market.
But Stephen Ross, founder and chairman of Related Cos., questioned how the industry will cope with a recession and whether the operators that rely on short-term leases and do not have large capital reserves will survive.
For now, client demand is strong.
Silverstein Properties owns office towers at the World Trade Center site and its CEO Marty Burger said prospective tenants always ask whether or not there's co-working space in a building.
Tenants from a wide range of industries are keen to know if there is access to flexible space close to their permanent offices that they can utilize on a temporary basis.