Jillayne Schlicke explains the process of becoming an originator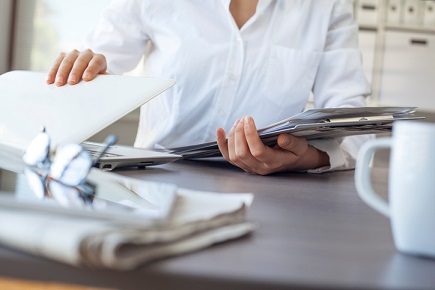 by Jillayne Schlicke
This article is the second in a series on how to become an originator, and will help readers who are not yet licensed understand what it takes to obtain a loan originator license. For example, a loan originator who is currently originating at a depository bank who wants to accept a position at a non-bank lender, or an unlicensed employee at a non-bank lender who wants to become a licensed LO assistant.
Licensing
The Federal Government took over loan originator licensing, testing and education in 2008 with the passing of The SAFE Mortgage Licensing Act, one of the first laws directed at loan origination during the financial crisis and the subprime mortgage meltdown. The SAFE Act created the Nationwide Mortgage Licensing System (NMLS).
All loan originators at depository banks and credit unions, non-bank lenders, and mortgage brokers, must either register (depository institutions) or become licensed. Read more about the differences between working at a bank or non-bank institution here.
I received a phone call yesterday from a Realtor who wanted to become a licensed loan originator so she could earn a fee on the mortgage loan for her homebuyers as well as the real estate commission. Her idea was to just originate loans from her home, on her own. I felt like we jumped into the way back machine and stepped out into the year 2008.
Today, individuals cannot originate loans unsupervised. All licensed LOs must be attached to another human being (typically your branch manager) who will be responsible for supervising you, and all licensed LOs are attached to a licensed firm. In addition, there are very few non-bank mortgage lenders that will allow a loan originator to also sell real estate at the same time. Most mortgage firms will want LOs focused solely on originating loans. A "part-time" loan originator with a divided professional focus is a high liability employee for the mortgage company. People who work part time are not able to keep up with the constant changing nature of loan origination, e.g., law and rule changes, secondary marketing guideline changes, individual program changes, underwriting requirements, and so forth. In addition, it is very, very difficult for management to supervise an LO who only originates at a home office and rarely comes into the branch office. State regulators are starting to issue consent orders against the LO, mortgage companies and the company owner for failing to supervise LOs, when the LO is caught violating state and federal law.
In order to become a licensed loan originator, you will need to take a pre-licensing education class, pass the LO licensing exam, submit fingerprints through the NMLS for a criminal background check, and authorize the NMLS to order your credit report. No felony convictions at all within 7 years of licensure and if the felony had to do with a financial crime, the felon is not ever allowed to hold an LO license. A gross misdemeanor involving financial fraud would also bar a candidate from obtaining an LO license in some states but would not bar that person from becoming an elected politician.
Education and testing
To become a state-licensed loan originator, the licensing candidate must complete a 20 hour Loan Originator Pre-licensing class and also complete any state-specific education requirement for each state in which the LO will be licensed.
All 50 states plus Guam, Puerto Rico and the U.S. Virgin Islands have adopted The National LO Licensing Exam with Uniform State Component—and it's a tough exam.
Everyone will have to devote some time to studying after completing the pre-licensing education because the required 20 hours of instruction is not enough. LO candidates should really be in the classroom at least 1 week or longer. We'd need to change The SAFE Act to get the number of classroom hours increased. Perhaps the law will change in the future.
Those who have taken and/or passed the test sign an affidavit agreeing to not share the test content. People caught cheating risk having their LO license revoked. Course providers are not permitted to take the LO exam with the sole purpose of telling students what's on the exam, and individual LOs who have failed the exam are not allowed to share what they saw on the exam.
The SAFE Mortgage Licensing Act does not require a high school diploma to become a licensed LO, to help people with arguably one of the largest financial decisions of their lives, though some states might require it. So the National LO Licensing Exam becomes the barrier to entry.
I recommend seeking out an NMLS Approved Course Provider located in a city near you for a live class if you have any of these challenges: Test anxiety, diagnosed or undiagnosed learning disabilities, trouble focusing with online classes, a preferred learning style that is better suited to a classroom setting, you're brand new or newer to the mortgage industry, and especially if you're a subprime mortgage industry veteran who received very little training, and left the industry around 2008.
Ask around about local course providers. Chances are there's at least one local company that teaches the LO Pre-licensing class live and does a really good job. That person's name will keep coming up. Pay the extra money and take the class from that person.
Yes, live classes are more expensive. That's because you're paying for the room rental, a book that's been printed out for you, the person who is standing in front of the room leading you through the material for 3 days, and access to that person's brain for 3 days and beyond.
You CAN try to take the 20-hour pre-licensing class online. It will probably be cheaper. The NMLS requires course providers ONLY teach INSTRUCTOR-LED pre-licensing classes. That means there is supposed to be another person online with you throughout your 20-hour class. I have yet to meet anyone who told me there was someone online with them.
If you think you're going to save money by taking the pre-licensing class online and you don't pass the test, now you're going to have to re-take the test and find a better way to learn the material. You really don't save money if you can't pass the test. By the way, NMLS approved course providers are not allowed to "guarantee that you will pass the test." Because that means we've taken the test and are now cheating by telling you what's on the test. Any website with this type of guarantee should be avoided.
Avoid purchasing practice quiz questions online. The only thing you're doing is memorizing the answers to those practice questions and you really don't know the test material. You'll score in the 90s on your practice questions but when you start the exam, NONE of those questions will ever be on the exam and you'll end up failing the exam. More money and time wasted.
There is no easy way to pass the test and that is how it should be.
The only way to pass this test is to study the material in a way that works for you. By the way, the NMLS published a revised test content outline in the spring of 2017. Make sure that your chosen course provider's material matches everything on this list.
Jillayne Schlicke, M.A., researches, writes, and instructs pre-licensing and continuing education courses for the mortgage industry as the owner of CE Forward, Inc. Jillayne also provides consulting services in the areas of compliance, mortgage lending law, mortgage fraud, ethics, and communications. Jillayne is an active member of the Washington State Mortgage Bankers Association, will be the keynote speaker on September 18, 2018 at the Spokane Mortgage Lenders Association dinner meeting. Jillayne has received 13 industry awards.