CoreLogic releases latest home price index findings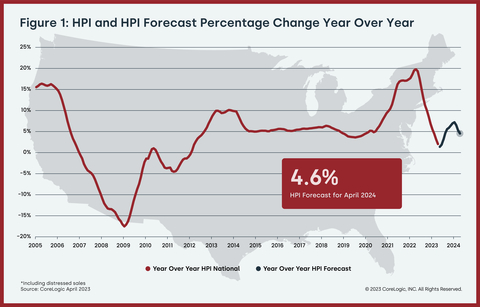 CoreLogic's home price index (HPI) posted a 2% annual increase in April, marking the sixth month of single-digit gains.
CoreLogic said that while home prices continued to grow for the 135th month, the single-digit increase reflects the market slowdown seen in the past year. Month over month, prices rose by 1.2% from March.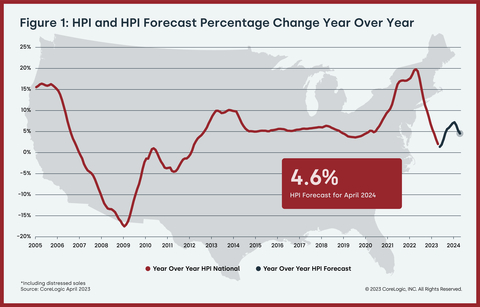 "Numerous economic concerns are contributing to buyer reluctance, including mortgage rate volatility and the related uncertainty surrounding the recent debt-ceiling debate," CoreLogic wrote in its HPI report. "That said, a continued shortage of homes for sale could keep pressure on housing prices over the next 12 months."
Annual home price appreciation is expected to decelerate further in 2023 before regaining steam to 4.6% by April 2024.
Miami saw the highest year-over-year home price gain of 13.2%, followed by Atlanta with 4.8%. Among states, Indiana and New Jersey registered the highest increase, at 7.3% and 7.1%, respectively.
On the other hand, 10 states posted annual losses, including Washington (-7.7%), Idaho (-5.9%), Utah (-4.9%), Nevada (-4.5%), California (-3.6%), Arizona (-2.6%), Oregon (-2.6%), Colorado (-2.1%), Montana (-1.1%) and New York (-1.1%).
"While mortgage rate volatility continues to cause buyer hesitation, the lack of for-sale homes is putting firm pressure on prices this spring, leading to above-average seasonal monthly gains and a rebound in home prices in most markets," CoreLogic chief economist Selma Hepp said. "Nevertheless, the recent surge in mortgage rates and continued inflation issues suggest that rates may remain elevated, leading home price appreciation to possibly relax this summer and return to average seasonal gains later in 2023.
"Still, while slim inventory is pushing prices up once again and constraining affordability. Recent trends suggest that home price growth in 2023 will fall in line with the historical 4% annual average."
Want to keep up with the latest mortgage news? Get exclusive interviews, breaking news, and industry events in your inbox, and always be the first to know by subscribing to our FREE daily newsletter.