Arch MI report also shows some markets are at risk of falling prices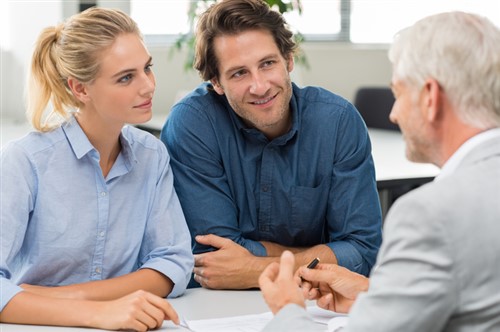 The cities that are attracting young homebuyers due to jobs growth and other success factors have been identified in a new report.
Mortgage insurer Arch MI says that although the markets identified as boomtowns are a diverse mix including Cape Coral, FL, and San Francisco, CA, they share some characteristics.
"We went looking for what is powering these modern American boomtowns. We found it is not just tech jobs, city size or affordability, even though those do help," said Dr. Ralph G. DeFranco, Global Chief Economist for Arch Capital Services Inc. "We think it's encouraging that there are multiple routes to becoming a magnet for economic activity."
Arch MI's Housing and Mortgage Market Review identified the 15 markets with employment growth of 16–23%, well above the national average of 9.4%.
"Strong growth can come from a favorable business climate, a strong tech sector and, of course, some luck in being well located for today's growing industries and younger workers' desire for outdoor recreation," added DeFranco.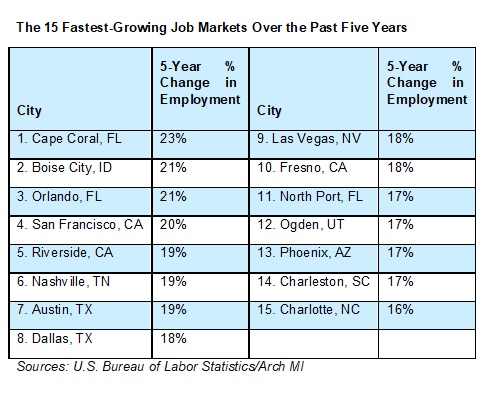 The slowest-growing job markets among the top 100 metro areas include three cities in Connecticut (Bridgeport, New Haven and Hartford); Gary, Indiana, and Buffalo, New York."We also looked at the flip side — where new boomtown residents are typically moving from, namely areas that are economically weaker and have much less job growth," DeFranco added.
Markets at risk of lower prices
While some markets are booming, there are others that are showing increased risk of falling home prices.
The Arch MI Risk Index shows the overall risk of lower prices in 2 years is 11%, up from 9% in the last quarter. The states with the highest risk are North Dakota at 24%, followed by Idaho and Oregon, both at 23%, and Colorado and West Virginia, both at 22%.
Nationally, the overall national risk of a decline in home prices remains well below 20%, the average from 1980 to today.