Economic analyst gives sober assessment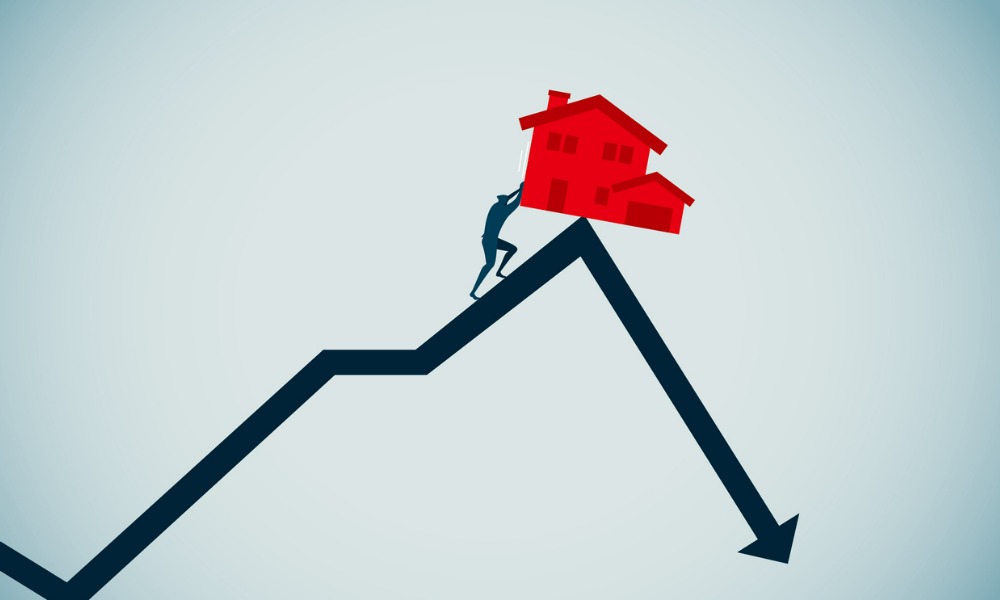 The fall in home sales as buyers are put off by soaring house prices is not a sign of an impending market bubble or crash, according to Lending Tree economist, Jacob Channel.
The senior economic analyst at the online lending shopping place told Mortgage Professional America (MPA) that it seemed "very likely" that there will be less demand for homes, in part due to the fact that people will not be able to keep up with "really crazy" home price growth.
He said: "Homes will probably end up sitting on the market for a little bit longer before they're sold. People won't be able to keep up with that really crazy home price growth and really crazy demand that we saw through 2020 and 2021."
His comments come as figures show that both pending and new home sales have been falling as the market responds to higher inflation and prices, and ever-increasing mortgage rates.
Pending home sales fell by 3.9% in April, according to data released last week by the National Association of Realtors (NAR), while sales of new single-family homes, which account for 9.5% of all home sales, tumbled to a two-year low last month, down by 16.6% - the fourth straight monthly decline.
Meanwhile, median home prices have jumped by 19.6% from a year ago to $450,600, just as sales of new homes are down by almost 27% compared to a year ago.
Read more: Is a multifamily bubble on the horizon?
However, Channel said the figures were evidence more of a slowdown than an impending market crash.
He said: "I think there's a big distinction between a cool off and a crash. The 2008 financial collapse is still really fresh in everyone's minds and it's really important to point out that distinction, because even if the market does cool and slow down a little bit, that doesn't mean that we're going to end up in the same situation that we were in 2008, when you had people defaulting on their loans left and right and the market was absolutely flooded with houses that were just dropping and dropping in value because nobody wanted to buy."
Turning his attention to brokers' concerns, he said: "If you're a mortgage originator, things this year are probably going to get a little bit trickier in terms of what you're going to have to do to attract customers than what you might have had to deal with when rates were at record lows. But I don't think that we're on the cusp of some massive housing crash that ends up kind of taking down the entire economy with it."
He said Lending Tree's own data reflected the trend, including the impact rising rates were having on prospective buyers.
"Since the start of the year, the average rate offered to somebody in Lending Tree has increased by more than 2%. Not only that, but we are seeing some slowdown in terms of the people who are actively house hunting and who are actively applying for mortgages, so our data really does match up pretty closely with what others are reporting."
He said the drop in demand was directly linked to potential homebuyers pulling back from the market because of concerns about high rates and the overall cost-of-living, together with the fact that underwriting standards were now much stricter than they were in 2008.
He said: "It's one thing to buy a $354,000 house when mortgage rates are at 2.5%, for example, whereas today they're over 5%. And because underwriting and lending standards are still strict, lenders still aren't particularly keen to just say, 'we'll wing it, just this loan that you probably can't afford' and hope for the best."
Read more: ARMs of mass destruction?
First-time buyers in particular, were more vulnerable, he added: "First time buyers, who maybe don't have a lot of cash for something like a down payment, haven't had as much time to build a good credit score, so they're probably going to have a harder time even getting a loan in the first place. Add that in with the fact that inflation is high and that it's just harder to buy basic necessities - and they need extra money for that."
Channel's views were echoed by fellow economist Lawrence Yun, from the NAR, who said the figures for pending sales "are telling" as "they better reflect the timelier impact from higher mortgage rates than do closings".
He predicted pending home sales "to be off by 9% this year", while home price appreciation will slow to 5% by the end of the year, representing a sharp drop from recent gains of almost 20% annually.