Deserving first-time homebuyers will have their mortgage payments taken care of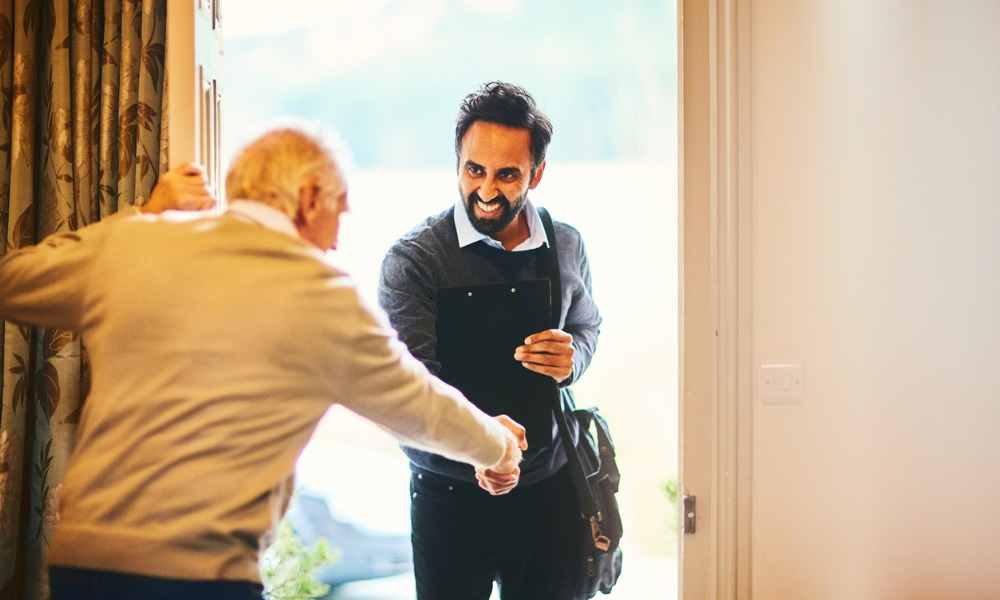 It's been said everything is bigger in Texas. Houston-based lender Envoy Mortgage is furthering the sentiment as it relates to generosity with this year's launch of its acclaimed "Gift of Home" program that extends through year's end.
Kicking off this month, the program began last year as a way to assist families who were experiencing the financially corrosive effects of the pandemic by providing mortgage relief. To date, some 50 families across the US have received gift tax assistance and mortgage payments paid by the lender as a result.
This year's focus will be on first-time homebuyers who have made significant contributions to their local communities – including first responders, medical personnel, active military members, veterans and more.
Those who are randomly selected for the program will receive a surprise visit from a local Envoy team delivering a "Gift of Home" award of up to $3,000 in mortgage payments and gift tax assistance, officials said.
Ron Millard, chief executive officer of Envoy Mortgage, described the program as something of an extension of the lender's corporate culture that places a currency on giving back to the communities it serves.
Read more: Envoy Mortgage brings on mortgage veteran as part of Northeast expansion
"Envoy Mortgage prides itself on our culture of caring and our purpose is to improve lives," he said. "Based on the success of last year's Gift of Home Program, we wanted to continue providing deserving customers with this special gift, focusing this year on our first-time homebuyers who we know often make significant personal sacrifices to achieve their dreams of homeownership."
The program reflects an empathy for consumers experiencing lingering hardships brought on by the COVID-19 pandemic, Millard added. "We also understand the many financial challenges our first-time homebuyers face, which have been compounded by pandemic aftershocks and tough economic times, and our hope is that this gift helps make a positive impact on the lives of these deserving customers."
Since launching the "Gift of Home" initiative in 2021, Envoy Mortgage has provided more than $160,000 in mortgage payment relief and expects to provide over $55,000 more in assistance this year, company officials said.
Read next: Envoy Mortgage opens new branch in New York City
The personalized attention Envoy Mortgage places on its customers has been recognized in the past. Last year, it was named the nation's No. 1 Top Large Division Mortgage Company in Customer Satisfaction by Experience.com, the industry's leading provider of experience management software.
Contest organizers at the time noted that the honor was highly competitive, as the rankings were based on millions of customer reviews on nearly 40,000 individual loan officers from more than 350 firms – representing the largest customer satisfaction index in the mortgage industry.
"Being named the best in the nation is an incredible accomplishment and speaks to the amazing work done every day at Envoy by both our loan originators and operations team to deliver only the top products and excellent service to our borrowers," Kelley Hailstone, Envoy Mortgage's chief revenue officer, said at the time.
According to organizers of the competition, the results considered survey completion rates, the number of reviews, and star ratings submitted to Experience.com, the experience management platform, by verified customers. To ensure data integrity, the integrated, cloud-based, platform is connected directly to each company's transaction data and requests are sent automatically to the borrower and the co-borrower on all closed loan transactions.
"We just couldn't be prouder to be named the top lender in customer satisfaction because it shows objectively that we deliver what we promise," Millard noted at the time. "These reviews help give borrowers the peace of mind that the team at Envoy will provide a seamless experience from application to closing, without hiccups along the way, helping them get into their new homes faster."
As well as announcing the top mortgage companies, Experience.com also named America's Top Loan Officers for Customer Satisfaction in 2021. Among those listed on the top 1% list were eight Envoy loan originators with almost perfect customer satisfaction scores.
"Our unique benchmark celebrates those outstanding mortgage companies and loan officers who consistently deliver great experiences for their clients," Experience.com CEO Scott Harris noted at the time. "I'd like to congratulate the 2021 individual and company winners who delivered the industry's highest level of experience-driven customer satisfaction. It is an incredible achievement."
Founded in 1997, Envoy Mortgage is an independently owned national mortgage lender dedicated to serving retail originators exclusively toward enabling them to serve their customers while growing their businesses, according to its corporate literature. "Envoy's overarching purpose is to improve the lives of our customers, in our communities and our colleagues," the company said. As a Fannie-, Freddie- and Ginnie-approved seller/servicer, Envoy offers a full menu of loan products with locations across the US, with licensing in 47 states.