Companies face working arrangement dilemma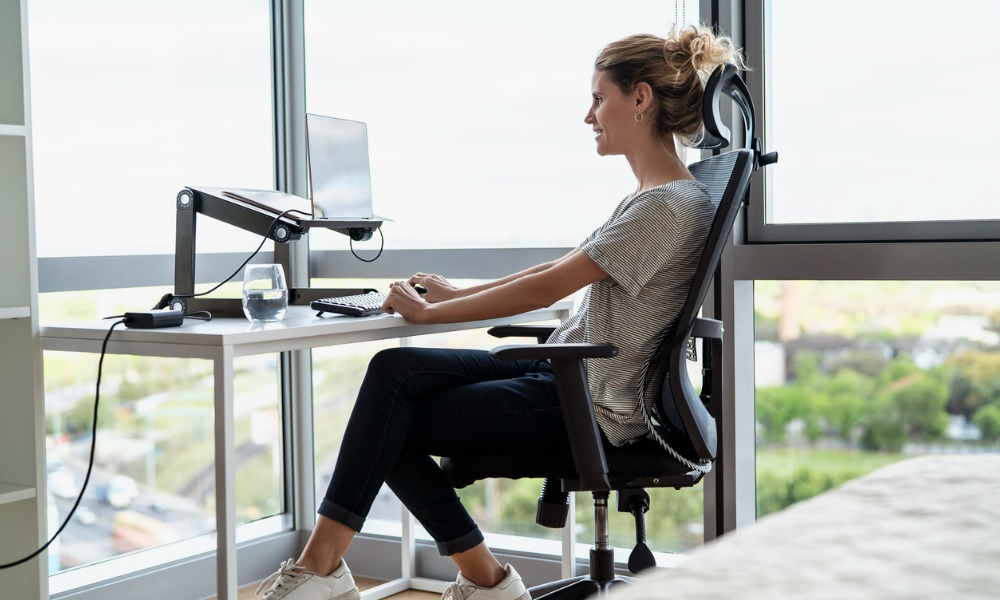 Workers have shifted their preferences in favor of hybrid working arrangements since the height of the COVID pandemic, a new survey by Apartment List has found.
The survey, conducted between April and December 2021, recorded the responses from approximately 5,000 employed workers, showing that popularity for remote work declined throughout last year - albeit marginally.
The survey observed a shift from working only-at-home to working mostly-at home. More than half of remote workers – 56% - were exclusively at home in April compared to 47% in December.
Read more: Remote work is shifting the landscape of where people buy homes
In addition, 51% of workers reported working from home at least half the time, but, by December, the share had dropped to 44%.
Transformational force
Telework, or remote working, was initially intended as a temporary stopgap measure to curb the spread of the pandemic, although it became an established workplace norm between 2020 and 2021.
According to Apartment List, the remote work revolution has been "a transformational force for the housing market".
It said that although employment was back to near pre-pandemic levels, office attendance was not, noting that housing markets had experienced rapid changes in availability and affordability as workers settled into new homes that suited their new working arrangements.
However, it is not yet clear how the workplace will look in the future now that restrictions have been lifted, with companies still trying to decide the long-term implications of working from home.
Workers were asked if their employer had signaled that their jobs would continue to be remote or transition back to the office post-pandemic. In April, 77% said that according to their employer, remote work would continue indefinitely. Significantly, that figure not only remained stable but increased slightly in December, with 78% stating the work arrangements were the same.
Housing market
Rob Warnock, CEO of Apartment List, told MPA that hybrid arrangements were gaining in popularity but were "pretty dramatic" from a housing market perspective, as they were significantly more restrictive than full-time remote work when it came to workers' abilities to relocate.
"Even just having to come to the office occasionally, it greatly reduces the radius around which you can live, and you need to be within that stone's throw of the office or the city center," he said.
Read more: How much of a bite will remote work take out of future demand for office space?
Warnock also said the shift from working only-at-home to working mostly-at home had as much to do with the perception that COVID no longer posed as severe a threat to people's health.
"For a lot of young people, the notion that COVID is this extremely risky threat that needs to prevent people from living their lives and enjoying society faded really quickly in 2021, and with it the notion that working from home is as much a measure of keeping you safe as it is convenient," he said.
The survey found that out of all the demographic groups, Generation Z was the least enthusiastic about working at home, with only 36% finding it "extremely desirable" compared with 62% of Boomers.
However, Warnock added that Gen Z or Zoomers were less likely to either want to buy a home in a city or be in a financial position to do so.
"The youngest generation is just at an age where homeownership is still out of reach financially for most people in their early 20s," he said.
Ukraine impact
But when asked to comment on how the war in Ukraine could change future work-at-home perceptions, given that fuel and commuting costs were likely to skyrocket as a result of sanctions, he said:
"It's certainly added an ironic turn of events from where it was in last week's State of the Union address, when President Biden explicitly said he wanted employers to encourage people to come back to the office for downtown to become bustling again…and that as an economy we needed to be ready to go back to the way things were," he said.
"But simultaneously, gas costs are going through the roof. To think we're going to require people to start maybe driving an hour each way to work while the cost of gas and the cost of everything is accelerating, is really a bit of a political nightmare for the current administration, but also a big question that I think companies have to grapple with.
"How willing are they going to be to subject their employees to that?"