Incorporate these easy must-dos when creating email content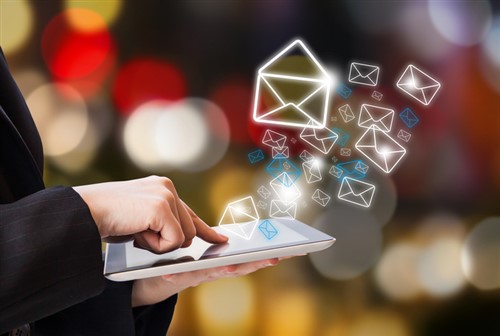 Chances are, your marketing strategy already contains an email component. Whether it's a newsletter, an explanation of a particular subject, or a holiday greeting, email is a great way to stay in touch with past clients as well as reach new ones in a shareable format.
Emails are of no use, however, if they go unopened or ignored.
Increase the chances of emails being opened by getting on a schedule. Whether automated emails are sent weekly, monthly, or otherwise, being consistent about when they go out means that people begin to expect that contact. They're likely to look for it and not dismiss or overlook it. Not only that, but once people begin to your emails regularly, those emails become less likely to be caught in spam filters.
Optimize your emails for mobile devices. As more and more people operate largely on a mobile device as opposed to a desktop computer, everything needs to be formatted for those devices. It doesn't just mean in terms of scrolling capabilities, but even in terms of making contact phone numbers clickable. If someone has to remember a phone number or copy and paste it in order to contact you, that's an extra step they have to go through—and another chance that they won't do it. Using a clickable phone number means that they can connect with you with nothing more than a tap. Making everything as convenient as possible, even via email, is a great way to increase reader engagement and response.
To that end, make your contact information easily sharable within that email. People don't want to have to scroll all the way to the bottom to find out how to reach you. As valuable as your content is, many people won't devour every word. Place your contact information in a place that is visually distinguishable from the rest of the text so that it pops, not only for your intended recipients, but for anyone who might receive that email forwarded from a friend or colleague.
Visuals in general are incredibly important. Not only in terms of readers absorbing information and finding information, but remembering that information.
"What we've found in a study is that 10% of the content that you write in an email is all that people will remember three days later. But they're 65% more likely to remember that visual. So it's really important to make the visual aesthetically pleasing but also have a visual that ties back to your message so that they're more likely to remember it," said Paisley Coxset, sales manager at focus IT.
Rather than overwhelming readers with a wall of text (and remember, it's likely to be read on a mobile device), incorporate some infographics or other visuals to underscore the point.
When writing or sourcing the content for the email, remember that it needs to be easily digestible and understood. That doesn't mean being condescending to your readers, but be very aware that most of the general public aren't well-versed in mortgage and finance, and even if they are, it rarely extends past their own experience. Write in plain language, and avoid any uncommon industry slang. There's a line between educating and overwhelming; the sweet spot is engaging them enough so they want to contact you to help them walk into the weeds a little bit more.
There are plenty of companies and options within existing CRMs that can help develop email content for you if you're unable to manage it alone. And if something doesn't work as well as you'd like it to, don't be afraid to change it. Try different messaging to see what works best for your clients and what gets the most responses and opens.
Email is a great way to keep in touch with an existing database and steer the conversation where you want it to go. Make the most of it by using these best practices.