Here are the largest international banks and mortgage lenders based on total market value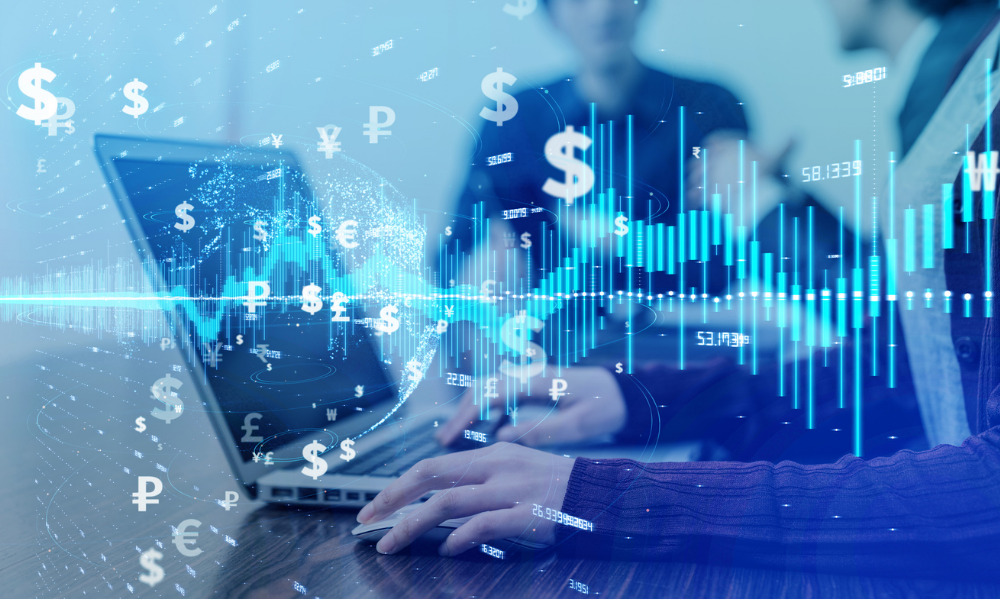 Mortgage lenders are financial institutions or banks that offer and underwrite home loans. While we often keep track of the biggest mortgage lenders in the United States, there are financial giants abroad that shape the international mortgage industry.
Below, we take a look at the biggest lending institutions in the world with a market cap of at least $10 billion.
Read more: 10 biggest wholesale lenders in 2021
What is market capitalization and why does it matter?
Market capitalization, also known as market cap or market value, refers to the total dollar value of shares from a publicly traded company.
Additionally, it is "one of the best measures of a company's size, which can tell you a lot about what to expect if you buy its stock," says the finance company The Motley Fool.
To determine a company's market cap, simply multiply the total number of its outstanding shares by the current market price per share.
Companies are broadly classified as large-cap, mid-cap, and small-cap entities. Those with a market value of $2 billion or less are considered small-cap, while those between the $2 and $10 billion marks are considered mid-cap.
Finally, we have large-cap companies with a market cap that exceeds $10 billion. These do not bring in large rewards over short periods, but they reward investors with steady growth in share value and dividends in the long run.
Ranking the world's biggest mortgage lenders
Being classified as a large-cap entity indicates that a company has matured in its respective industry.
"Large-cap stocks are typically blue-chip companies at peak business cycle phases," according to Investopedia. "They tend to move with the market economy because of their size. They are also market leaders and produce innovative solutions often with global market operations."
As such, we have chosen current market capitalization to be its metric in determining the most stable and biggest mortgage lenders on the international stage.
1. Bank of America Corporation
Market cap: $344.1 billion
Headquarters: Charlotte, NC (USA)
Number of employees: 213,000
Bank of America (BofA) provides retail banking, wealth management, real estate, and corporate banking services to over 60 million clients worldwide. About 56% of these are digital customers who use the bank's wireless payment channels, peer-to-peer money transfers, and its virtual banking assistant called Erica.
Locally, BofA has more than 4,600 retail financial centers in every state and 16,200 ATMs.
As a mortgage servicer, the company also directly competes with the retail banking divisions of US megabanks like JPMorgan Chase, Wells Fargo, and Citigroup.
Moreover, BofA is on MPA's list of the 10 largest mortgage lenders in 2021 based on Home Mortgage Disclosure Act data. It originated around 184,090 loans in 2020 with a total dollar value of $78 billion.
Read more: Bank of America provides mortgage relief amid COVID-19 pandemic
2. Royal Bank of Canada
Market cap: $146.5 billion
Headquarters: Montreal, Canada
Number of employees: 86,000
Also known as the RBC, this multinational finance company is the largest bank in Canada by total market value.
Besides retail and corporate banking, RBC offers various types of insurance and mortgage loans. In fact, RBC mortgages amount to 27% of Canada's $992 billion mortgage and housing market – making it the largest mortgage lender in the country, according to finance company WOWA.
The bank currently has 1,209 branches that serve approximately 10 million bank account holders and borrowers. It also has 41 branches and more than 3,000 employees in the Caribbean.
In the United States, RBC operates through its retail banking branch called RBC Bank (Georgia), N.A. This federally chartered bank is headquartered in Raleigh, North Carolina, and focuses on cross-border banking services for Canadian expats and tourists.
3. BNP Paribas
Market cap: $79.5 billion
Headquarters: Paris, France
Number of employees: 198,800
This French bank is formed by a merger of Banque Nationale de Paris (BNP) and Banque de Paris et des Pays-Bas (Paribas) in 2000. It is the largest banking group in Europe and the world's seventh-biggest bank in terms of total assets.
Retail banking is BNP Paribas' largest division that amounts to around 70% of its revenues, but it also offers an expansive menu of products and services like corporate banking, credit cards, wealth management, and home loans.
The bank also has a strong international presence. In the United States, BNP Paribas owns the Bank of the West which operates in 24 states.
Bank of the West has more than 530 branches in western and mid-western America, and around 1.8 million customers nationwide. It is also engaged in housing markets and financing niche clients like churches, agricultural businesses, and marine or recreational vehicles.
4. Truist Financial Corporation
Market cap: $75.6 billion
Headquarters: Charlotte, NC (USA)
Number of employees: 55,000
In 2019, Branch Banking and Trust Company (BB&T) and SunTrust merged to form Truist Financial Corporation. These two banks were the 11th and 12th biggest banks by total assets in America at the time.
The merger created the sixth-largest bank in the US by assets and fourth worldwide in terms of market capitalization.
Nowadays, the Truist Bank operates in more than 2,000 branches in Washington, D.C. and 15 states. Its core financial services include personal and corporate banking, credit cards, wealth management, real estate and mortgage loans, securities brokerage, and insurance products.
In fact, its insurance holdings division is the seventh-largest insurance broker in the world with $2.27 billion in annual revenue, according to finance company The Balance Small Business.
Read more: Housing market added $1.5 trillion in equity last year - what that means for originators
5. Mitsubishi UFJ Financial Group
Market cap: $73.6 billion
Headquarters: Tokyo, Japan
Number of employees: 32,200
The Mitsubishi UFJ Financial Group, Inc. (MUFG) is the largest bank in Japan. It is also part of the Mitsubishi group of companies together with Mitsubishi Heavy Industries and Mitsubishi Corporation.
Similar to BNP Paribas, MUFG is a product of another merger. Formerly the Mitsubishi Bank, Ltd., it merged with the Bank of Tokyo in 1996 – making it the largest bank in the world at the time.
In 2021, MUFG has 565 domestic branches and 110 offices in 50 countries, offering retail banking services, insurances, and mortgage loans.
The bank also offers real estate non-recourse loans in Japan, where the principal and interest are repaid by the customer using cash flows that originate from the underlying asset.
Regarding global markets, MUFG provides hedging tools using derivatives and forex. Meanwhile, its Global Markets Research division provides financial commentary and analysis services for international companies.
6. PT Bank Central Asia Tbk
Market cap: $56.1 billion
Headquarters: Jakarta, Indonesia
Number of employees: 27,500
Also known as Bank Central Asia (BCA), PT Bank Central Asia Tbk is the largest privately-owned bank in Indonesia.
After the Asian financial crisis in 1997, BCA sought assistance from the Indonesian government and later on went public to recover.
In the early 2000s, BCA fully recovered from the bank rush and became a pioneer in developing electronic banking and internet banking services in the country.
In 2007, BCA introduced fixed-rate mortgage products in Indonesia. This became one of the bank's flagship services under the Credit Services division, which include vehicle loans, working capital loans, syndication loans, and pre-export financing for businesses.
By the end of 2016, the bank successfully launched the electronic wallet and peer-to-peer money transfer app called Sakuku.
Besides conventional banking, BCA also offers Shariah-compliant financing services which adhere to the requirements and principles of the Islamic religion. These are available through its subsidiary called PT Bank BCA Syariah.
7. Qatar National Bank
Market cap: $46.5 billion
Headquarters: Doha, Qatar
Number of employees: 27,000
Qatar National Bank (QNB Group) is the largest bank in Qatar based on total assets, deposits, and loans. Founded in 1964, QNB was the first domestically-owned commercial bank in the country, and it eventually became the largest in the Middle East and Africa region (MEA).
QNB Group has expanded its operations to 31 countries across three continents, providing a comprehensive range of banking services and loans to both individual and corporate customers.
In the last five years, the bank has established a foothold in highly competitive markets in Asia including Hong Kong, Vietnam, India, and Myanmar.
Regarding the housing market and home loans, the bank provides mortgage financing to borrowers in Qatar and countries included in its international network. Prospective homebuyers can apply for a mortgage loan starting at $346,500.
As for eligibility, Qatari nationals and resident expatriates may qualify for the bank's Ready Property Finance program that allows a loan tenure of up to 20 years.
Read more: The 7 most popular types of mortgage loans for home buyers
8. Standard Chartered PLC
Market cap: $19.9 billion
Headquarters: London, England
Number of employees: 85,000
Standard Chartered is a British multinational bank and finance company with global operations. Including subsidiaries and associates, it has more than 1,200 branches in more than 70 countries.
Like several banks on this list, this company was formed by a merger. Its name came from the Standard Bank of British South Africa and The Chartered Bank of India, Australia, and China that merged in 1969.
Standard Chartered provides credit cards, asset management, consumer, corporate, and investment banking services. It has a consolidated asset of $789 billion.
As of August 2021, the bank issues various home mortgage and loan products to more than 59 markets in the world, including 20 countries in Asia and 16 countries in Africa. Its branch in the United States is located in New York City.
9. China Zheshang Bank
Market cap: $11.4 billion
Headquarters: Hangzhou, China
Number of employees: 15,000
China Zheshang Bank (CZB) is a joint-stock commercial bank that is regulated by the People's Bank of China.
As a privately-held company, it is jointly owned by large financial institutions like the Zhejiang Finance Development Corporation and Travelers Automobile Group. Founded in 2004, it now has 108 branches in major cities in Mainland China.
In addition to conventional banking and corporate financial services, CZB provides a digital banking and payment platform to customers and the Zengjin Wealth Pool, the first individual pooled credit financing product in China.
Over the past decade, the bank also launched several mortgage and consumption loan products called the Zhe Mortgage Loan. In 2016 alone, the loan volume issued by CZB increased by 165% and the number of active mortgage and credit card customers increased to 1.53 million.
Read more: The 10 best 30-year fixed-rate mortgages in the US
10. Federal National Mortgage Association (FNMA)
Market cap: $1.45 billion
Headquarters: Washington, D.C. (USA)
Number of employees: 7,500
Commonly known as Fannie Mae, the FNMA is a US government-sponsored enterprise (GSE) and a publicly traded finance company.
Unlike other institutions on this list, Fannie Mae doesn't directly originate mortgages for homebuyers who need funding. Instead, it buys and guarantees mortgages through the secondary mortgage market.
It was founded in 1938 during the Great Depression with the purpose of providing liquidity to the country's mortgage finance system. Before that, qualifying for a mortgage would require you to produce a down payment of 50% or more.
Similar to Freddie Mac, Fannie Mae purchases loans made by private firms, packages these into mortgage-backed securities, and ensures the timely repayment of interest and principal to outside investors.