Here are several best practices for success in the mortgage lending industry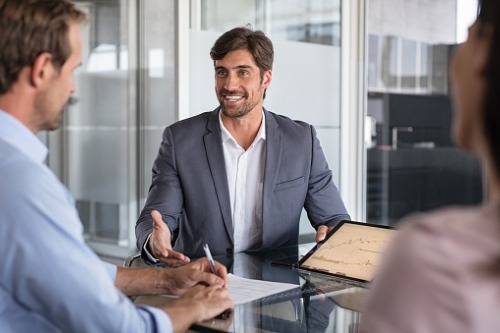 A career as a mortgage broker can be as challenging as it is rewarding. Success as a mortgage broker is based on strict legal compliance, good relationships with customers and financial institutions, and your own commitment to continuous improvement.
With this in mind, here are seven ways that can help you succeed as a mortgage broker and build trust between you and your clients.
Read more: 10 biggest wholesale lenders in 2021
1. Observe full legal compliance
As a mortgage broker, you are the financial intermediary between home buyers and potential lenders like banks and wholesale mortgage lenders. As such, you must comply with federal rules and your state's licensing requirements.
For example, you need to pass a written qualifying exam and submit fingerprints for a background investigation under the Secure and Fair Enforcement for Mortgage Licensing Act (SAFE).
Among the requirements are your mortgage surety bond agreement and proof of continuing education. Visit the National Mortgage Licensing System (NMLS) resource center for reference.
2. Always be prepared to offer multiple options
Clients have different housing needs and specific financial situations. You should be able to answer their questions, explain the various types of loans, and provide options depending on their incomes and debts.
Perhaps they have access to a VA loan, or they can qualify for government assistance. In any case, you must do your research and qualify potential customers for multiple mortgage options.
Run the numbers and try matching clients to the best products based on their credit scores and housing requirements. Do not push for a particular option but provide thorough guidance instead – and allow them make the final decision.
Read more: 7 questions from first time home buyers that every broker needs to answer
3. Be transparent about broker fees and closing costs
Learn to manage the client's expectations and handle tough conversations. After all, borrowing a huge sum of money can be terrifying and not everyone will be happy with the options you provide.
Make it less intimidating for your clients by sticking to the facts and laying down all critical information that they need to know. It helps to speak in a professional, calm, and reassuring tone.
Most importantly, you should remember to completely disclose any fees that can impact your buyer. Transparency is essential to building a positive, lasting relationship with clients and to comply with the Dodd-Frank Act.
For example, talk about closing costs in advance and why these can reach around 3% to 5% of the total loan amount.
Provide a complete breakdown of the charges due to the closing of a real estate transaction and fees related to loan origination, appraisal and survey, property tax, and title insurance.
4. Continue attending workshops and courses
Mortgage brokers must complete at least eight hours of continuing education within the same year of receiving an approved license status. These hours must include courses in ethics, federal law, non-traditional mortgage lending, and an elective that the state may require.
Also, according to the SAFE Act, you need to satisfy mandatory federal education requirements for license renewal. You can check the NMLS resource center and state-specific required education charts for more details.
Moreover, you should make time to attend industry workshops and optional courses. These will help you stay updated on the best business practices, newest trends, and compliance standards.
Read more: Should you become a mortgage broker?
5. Showcase proof of your success
Easing the minds of your overwhelmed clients is an essential part of your job as a mortgage broker. Build their confidence in you by providing testimonials from previous customers and letting them know about your qualifications.
Display your accolades and certifications in your office. You can also use your website or LinkedIn profile for mortgage lead generation and to showcase your achievements. Gather written endorsements from your connections, especially previous clients, and display them on your page.
6. Market yourself and nurture your network
Remembering personal details about your clients can go a long way. Making them feel that you care will put them more at ease. And do not forget your previous customers as well. If you have helped them satisfactorily, they will likely come to you when its time to renew their mortgage term.
Establishing connections to financial institutions and real estate brokers is equally as important. Go online, polish your profile, and reach out to prospective contacts.
To be successful, "brokers need to be able to market themselves and work as self-starters," says Kimber White, president of the National Association of Mortgage Brokers (NAMB).
"It is one thing to do big volume on refis and leads generated by your company's marketing department, it's another to develop a wide community network and the means of generating leads on your own."
Read more: Tech trends shaping the mortgage industry in 2021
7. Build resilience from rejection
Resilience and passion are underrated qualities of successful mortgage brokers. You will experience rejection and anxiety many times, especially if you're just starting out. Keeping a professional mindset and not taking rejections personally are vital to the job.
"On a daily basis, you'll face rejection from potential clients, the banks, and even solicitors and real estate agents as you try to line up settlement," says Otto Dargan, founder of Home Loan Experts (AU). "Sometimes it's simply a matter of accepting your defeats and moving on."