Company head shrugs off high price evaluation in monthly pep talk to brokers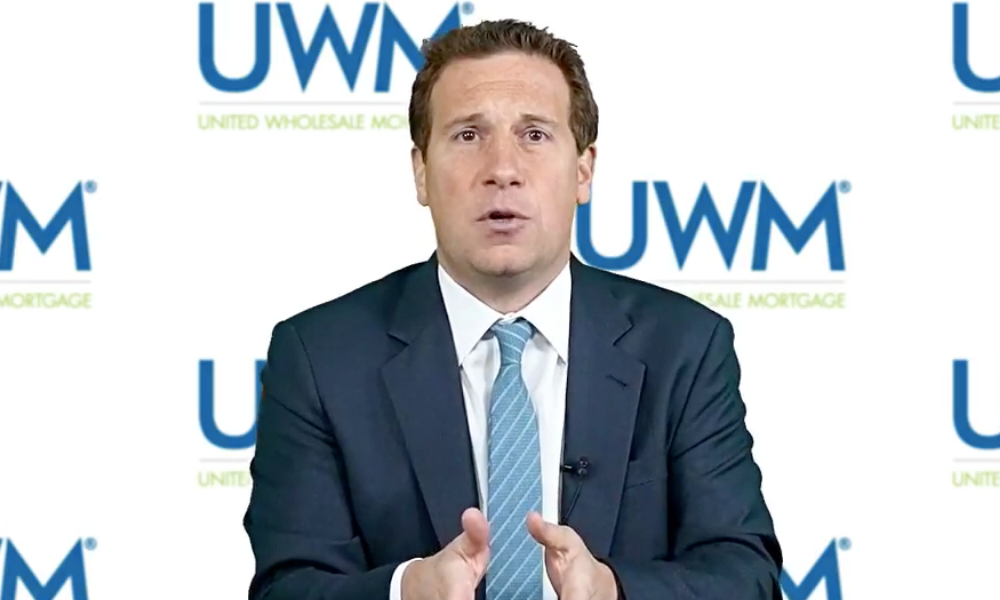 UWM's president and CEO Mat Ishbia has urged mortgage originators to take advantage of low rates and appreciation in home values by focusing more on offering jumbo loans.
In his monthly company video pep-talk, titled Three Points, Ishbia said there was "a great jumbo opportunity" for brokers.
He said: "Housing values going up means more people are fitting into jumbo loans, less into the Fannie Mae and Freddie Mac.
"This means you get to have a great jumbo opportunity, and jumbo borrowers and cash-out borrowers need your help."
The drop-in rates, together with the elimination of the FHFA fee on August 01, was a "big opportunity" for originators across the country to do business for the rest of the year and "right into 2022", he added.
Read more: UWM launches contest for independent brokers
Ishbia's monthly video appearance has become a regular UWM feature and is used primarily to motivate originators.
On this occasion, Ishbia stressed the need to take advantage of consumers' buying power and to shrug off concerns over high property prices.
He said: "Appreciation of home values has been really going up from May of 2020 to May of 2021 …up 16.6%, which is the highest annual increase since November of 2005. That's huge.
"People say, well, rates are low, but housing values are going up and I want to wait for a little while to see if values will come down. Well, if rates tick up and housing values slow down, you're still going to end up paying more for the house. People are still buying houses and it's all about how much you're paying for the house today."
He went on: "It means a lot of borrowers have a lot more equity in a house than you thought. Even borrowers that got refinances or bought houses during COVID might still have equity.
"So there's more buying power for consumers across America right now because rates are very, very low."
Read more: United Wholesale Mortgage's Mat Ishbia bites back
Ishbia spoke to MPA last month over a host of issues. This is what he had to say on:
Refinance and Purchase - "Refinance definitely slowed down across the industry because rates went up a little bit. Those who have picked up purchase business are the ones that are growing and succeeding, and those that have not picked up purchases are struggling. If you're not doing a lot of purchase business, you're probably going to be doing less business in the second and third quarter.
"The interesting thing is our brokers are more loan officers joining the broker channel as well. We're seeing a migration from retail loan officers to come over the broker channel, which has been really positive for our business."
Low inventory - "It doesn't worry me at all. Obviously, there's less houses for sale, which is why the values of houses are going up faster than normal, but there's also a lot of borrowers in forbearance that aren't making mortgage payments that might sell their house when forbearance ends.
"There's way more inventory (going to be) hitting the market in the third or the fourth quarter next year. I think a lot of times, people saying that they're not doing a lot of purchase businesses because inventory is low is just an excuse. It's just not the reality. Inventory's tight, but what's happening is that a lot of those purchases are being lost to cash buyers."
Detroit-based UWM was the country's fourth biggest mortgage lender last year, according to industry research group Inside Mortgage Finance.
UWM is also the second biggest wholesale lender in the US, after closing 2020 with a total of 560,798 originations, HMDA data shows.