This top originator is on track to double his business for the second year in a row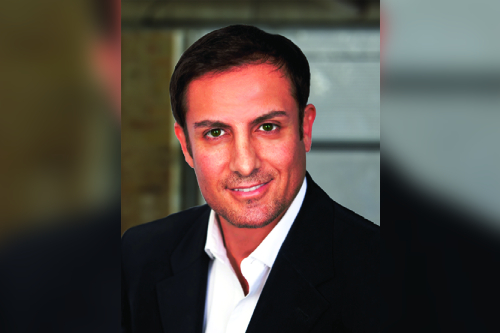 Simon Atik loves cars; he enjoys being in control, craves excitement, and looks at each goal like the finish line of a race. When he was first approached about a career in mortgage, he was skeptical. He had just spent 10 years building his own automotive engineering business, with another decade of finance experience behind him in investment banking. Could being a loan officer provide the same thrill as his past ventures? With six years under his belt, the answer is clear.
"It challenges me personally; I can leverage my experience as an entrepreneur and my knowledge in finance, and that sets me apart from my competition," said Atik, vice president of mortgage lending at Guaranteed Rate Affinity (GRA). "To help homebuyers through the process and see their anxiety fade is extremely rewarding."
The way Atik helps relieve his clients' anxiety is simply by putting them in the driver's seat. In fact, the education component to the job is what he loves the most. Atik has been doing classes for clients (and agents, too) for years. Since the COVID-19 pandemic, they now take place virtually, giving him broader access. Through education, Atik says homebuyers gain a better grasp of the mortgage process and feel comfortable in their decisions rather than feeling forced into a product they don't truly understand.
"Clients often start this process with immediate cynicism, and it takes time and effort to build up trust. If I can provide them with the knowledge they need to make the best decision for themselves – not because I say so, but because they understand – then they leave feeling happy and content."
In 2019, Atik funded $47 million in loans, and he's on pace to double that this year with close to $75 million in loans already closed. To achieve this new level of success, he had to overcome a major challenge. Before joining GRA, he was used to doing much of the process on his own; that included paperwork, processing, and taking the application, all while trying to speak to new clients, connect with agents, stay on top of business development, and of course, marketing. GRA uses a pod model which has proven to help loan officers scale their business, and also provides marketing tools and technology to help simplify the process. While Atik was excited to have the support, he struggled to delegate at first.
"I find it difficult giving up control, but it was coming at a detriment to my business. Last year, I really committed to trusting the process, and I doubled my volume," he said. "As a loan officer, you wonder how some of your colleagues can be originating hundreds of millions of loans, once you understand the system, you begin to see how that's possible."
Atik's number one advice for anyone new to the mortgage world, or another LO who is struggling to scale is learn your products inside-out. A good loan officer knows what they can and can't do, and from his experience, many LOs are leaving business on the table because they don't fully understand the breadth of what are able to offer.
"If you understand your products, there is tremendous value in effectively communicating that to clients. This is where you show your strength," he said.
As for heading into 2021, the unpredictability doesn't faze Atik. He's come to understand that this business is cyclical. As the market changes, he plans to prepare for all possibilities, and learn from past experiences.
"Our business is all about not knowing what to expect; right now, volume is incredible and managing the flow of busines is the focus. When business starts to decline – which it eventually will – you have to be ready to pivot and change that focus."