His double-digit increase in closed volume is the result of accountability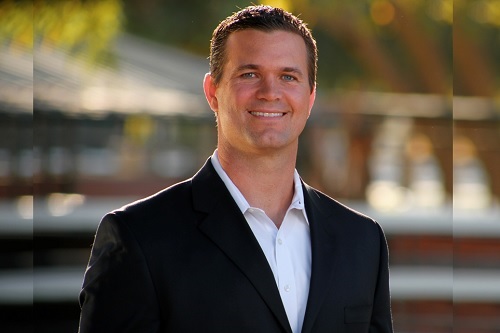 Brandon Knapp doesn't think that anybody has everything all figured out. And, he says, if you get to the point where you think you've got it all figured out, you're in trouble.
Knapp, it would seem, is somewhere comfortably in between.
Knapp began his career as an accountant with PriceWaterhouseCoopers and is now a branch manager at RPM Mortgage, where he's been for 10 years. He closed $104 million last year, and while he has a lot of professional advice on breaking that $100 million mark, one of the most impactful changes that he made when building his business started with himself and his increasing willingness to be uncomfortable during his first few years in the mortgage industry.
"I could talk about taxes and that's about it. I was very comfortable doing that . . . but when it came to selling myself or any of that, that was not my thing. So being willing to be uncomfortable if you really want to grow," Knapp said.
He couldn't sell something that he didn't believe in, or tell his clients something that he couldn't back up. In fact, he thinks that's why he did a lot of business early on, because his clients truly believed and trusted him. If he had been more willing to get in front of people more consistently to share his knowledge and add value to them, he said, "I'd probably be way ahead of where I am today."
Over the past decade, Knapp has combined three main building blocks to become a top producer: a system that keeps track of data and notifies the team of any change in the market that could present refinance opportunities for clients; consistently reaching out to and checking in with clients, and staying in front of them with good information via email campaigns; and knowing the specifics of client situations so that they know when would be a good time for them to make a move that's beneficial to their personal bottom lines.
Above and beyond those building blocks, Knapp notices several other things that he has made a priority in his business:
Extreme customer service: if you're not living that model with clients, Knapp said, it's going to be tough to make it and beat out the other mortgage entities that are dominating the online space. Borrowers do value professionals who reach out with truly objective advice.
Team and company support: Being able to move quickly when needed and having people that are knowledgeable and are all in for the team is really important right now.
Consistent prospecting: You've got to stay on people for a long time and go beyond just a phone call to building a relationship, Knapp said. "Don't hide behind email and text message; I think you've got to pick up the phone and as much as you can get in front of people."
Adaptability: Everyone whines about changes, Knapp said, but they don't do anything differently when it comes to their business to account for those changes. "If you're not careful, you'll wake up and go, 'wait, why is my business down to 30% of what I did five years ago?'"
Openness: Being open and sharing your personal story with others allows people to find commonalities and connections. Not only does this build trust, but it makes you memorable so people have a reason to come back to you.
Accept the facts: Recognize that this business is difficult and stop complaining. There is very little overlap between that which creates success and that which is easy.
Knapp attributes a lot of his growth over the past year and a half ago to joining The CORE Training program, which helped him with prospecting.
"I think I always had the customer service, but I wasn't really good at marketing at putting myself out there and consistently pushing to prospect," Knapp said. "It was more like, we have a lot of business coming in so we'll just take that. But they really pushed me to prospect more, so I think that's a lot of the reason why did we did have some growth."
A college athlete, Knapp knows the value in having a good coach. He not only gained a variety of best practices based on a variety of perspectives and skill sets, but he also found great value in accountability. Most originators will listen to a great podcast or read a fantastic book, but don't apply those lessons to their business in any real way, and just like that, the motivation is lost, he said. Having a good coach and being accountable to them makes a big difference.
Knapp left the accounting and tax world because he desired the freedom and ability to build his own business without being beholden to the limitations of a particular timeline. And although he's not certain that it was the right move ("I mean, I'm pretty sure it was a good idea. It's paid off well, but sometimes you're always wondering, what if I went that route?"), he staying the course and is growing faster than ever.
Maybe it's true that nobody has it all figured out. But Knapp is on the right track, with a pretty good handle on his borrowers, his business, and his approach in the months ahead.