Delegating to his trusted team has become this top originator's superpower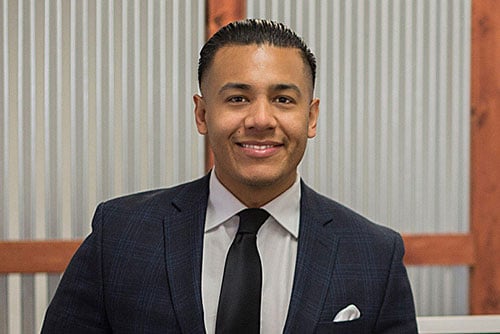 It's not always easy to give up control and delegate. But that's the number one piece of advice from one of the youngest top producers in the country.
At 30 years old, Andrew Quezada has over a decade of experience in the mortgage game and has been running his own brokerage for seven of those years with the help of his trusted team. In 2018, he closed over $75 million in volume. He stressed the importance of finding a team of dedicated people who share the same values and healthy habits that you do.
"We all have the same eight hours in the workday that we have to make the most of. The people I work with every day in this office have earned my trust over the years and they handle the actual intricacies of my files so I can focus on the actual origination side and helping more clients," said Quezada.
This hasn't always been easy for Quezada, but since he's learned to let go, it's made a huge difference to what he's been able to accomplish.
"Having a strong and dynamic group of people behind me and leveraging their unique talents is what has led to a lot of my recent success. I am able to do what I do best and have learned to delegate the rest to them," he said. For this to work, investing in your team must also be big on the list of priorities, and not just with money, he added. Time, effort, training and equal support is the key to creating a great work culture and getting the best out of a group of people who share a focus on one common goal.
Quezada said he works alongside his team every single day, leading by example and proving his commitment. "I won't ask them to do anything I am not willing to do myself."
The same way Quezada emphasizes the importance of support in the office, he also underlines how beneficial it is to have trusted people to lean on at home as well. When he started in the industry at 18, encouragement from his parents were crucial.
Being a young person in finance was also something that he fought to overcome, but with support from multiple strong professionals throughout his career, he was able to skyrocket into success.
"These mentors also led by example. A key aspect was that I was humble and focused on being the best student of the business I can be. I was focused on picking up all the positive habits I could. Everything I do is a small piece of someone who has mentored me in the past."
For anyone looking to get into the mortgage space, Quezada says it's a very gratifying career. "I love how transactional the mortgage industry is. It's fast-paced, competitive and you get to help families get their dream home." Personal growth is a big part of success in mortgage and everything must be done with intent, he said. "Natural talent will only get you so far. It's very critical to be knowledgeable on products and industry guidelines, practice good habits, and go all-in. There's no room for a plan B. Everything you've got needs to go into this job."