This top producer threw off the retail handcuffs and got to nearly $75 million in closed loan volume, using his eagerness and drive to propel him forward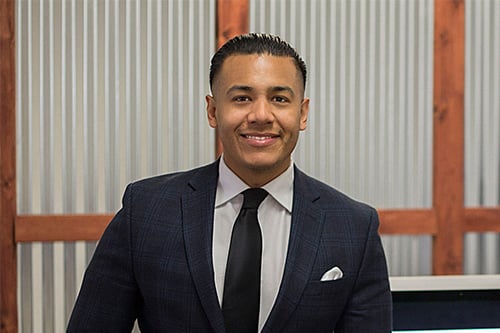 If you're lucky, you have a competitive edge that gives you some sort of an advantage. Andrew Quezada has three.
He's been in the mortgage business since he was 18 years old, when he began helping an agent flip houses by working on his marketing campaign (i.e., distributing flyers) in 2007 and 2008. The industry was in such a state of disarray that there was really nowhere to go but up, and Quezada was able to learn the ropes from a group of seasoned veterans. He began his career as a mortgage broker but switched to retail after the post-financial crisis regulation changes began to take shape. Within two years, he got frustrated by being limited to certain products, as well as the corporate structure that dictated his business.
He opened his own brokerage in 2013, and he thinks that with the large number of mortgage originators still working in the retail channel, being a broker gives him a competitive edge.
"Here, on the wholesale channel, I have access to 50+ conduits, and every single bank has its own pricing parameters. And then with the actual volume, if you put volume with these wholesale banks, they can help you get the deals through," Quezada said. "I think it's about pricing and also the fact that I'm not handcuffed to only one bank's products."
Quezada considers himself lucky to have received information and guidance from experienced mortgage professionals, because at the time it was much harder to get advice from top producers. Today, avenues such as formal coaching and training programs and educational summits and conferences have exploded in popularity, and originators are more willing to share information with their peers.
"With the web, it's a whole different game . . . when I first started, I didn't see lots of actual resources for the information sharing. Now it's like everything is there," he said.
Working in this type of environment has allowed Quezada's business to really take off.
He's been running his own business for five years, and he's built a team that allows him to focus his time on what he calls his highest and best use. The low-level processes get handled by his team, which consists of six operations staff members, a junior sales agent, and a telemarketing team that handles the flow of inbound data. His team also focuses on generating their own leads by prospecting with their own aged leads, with their agents' aged data, and direct mail marketing. Quezada says that their ability to self-generate leads and provide that value to their partners is another big competitive edge.
"A lot of [originators] chase down agents trying to beg for business but if you focus on self-generation, it's going to create value," he said.
Part of Quezada's philosophy is not to work with a lot of agents. He says that about half of his business come from agents, but rather than working with a large number of agents, he works with a small, tight-knit group of "really, really good" ones. Getting plugged in with the best agents and getting them to trust him allowed many more doors to open, which led to more people trusting him, and so the cycle began.
"With volume comes trust. I think when you're first starting, it's hard to get agents and clients to trust you, but as soon as you're plugged in with the best agents, it's a big competitive edge," Quezada said. "It's a high trust business, and if you do right by agents and borrowers, it's going to make your business grow exponentially."
With growth comes a constant attention to efficiency, and this year, he's trying to cut out any waste in the process, in terms of both time and effort. Rather than take his foot off the gas as he's risen to top producer status, he's pressed down even further. Getting more deals does a lot of great things for business, but it doesn't make business easier, Quezada said. It still requires a lot of work and an "incredible" number of hours to continue to meet and exceed expectations.
Another thing that Quezada has figured out is how not to get stuck in the technology trap, which, he admits can be a big draw for other originators, both younger and older.
"It's a delicate dance. I have friends of mine who are both LOs and agents, who get lost in the technology piece of it. It's like a bicycle: it'll help you get there faster, but it's easy to look for an app and a tool and a platform so that LOs don't have to work. You've got to be careful with that."
Being one of the younger mortgage originators out there—and certainly one of the younger top producers—made it hard for him to gain trust from partners in the beginning. It's something that he thinks about often, but ultimately thinks his youth has had a positive impact on his career.
"As a young twenty-something when I first started, I was blessed to have agents take a chance on me," he said. "Along with youth comes an eagerness; you have a very, very strong drive, and I see it as an edge."
And why wouldn't he? In an industry where disruption is the norm, having that drive and eagerness is much more than an edge. It's a necessity.